Beetroot and butternut salad
8 June 2015 / Posted in
Salads
I know you may think a salad in winter is a bit crazy, but once you've tried this I promise you will change your mind. This beautiful salad can be served as a light meal or as a side to a grilled steak.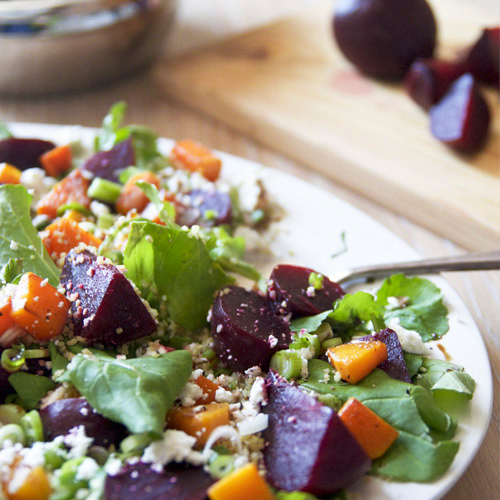 beetroot and butternut salad
Serves 4 - 6
4 - 6 small beetroot, washed
100 ml water
1 cup (250 ml) bulgur wheat
1 cup (250 ml) hot chicken or vegetable stock
20 - 30 ml olive oil
salt and freshly ground black pepper to taste
300 - 400 g butternut, peeled and cubed
4 - 6 spring onions, finely sliced
100 g goat's cheese, crumbled
balsamic reduction to taste
Method
Place beetroot in an AMC 20 cm Low with water and heat over a medium temperature until the Visiotherm reaches the first red area.
Reduce heat to lowest setting and simmer for 30 - 45 minutes or until beetroot is tender. Remove from unit and allow to cool before peeling and cutting into wedges.
Meanwhile, place bulgur wheat in an AMC 20 cm Dome and pour hot stock over. Cover and leave to stand for 20 minutes then fluff with a large fork. Season with 20 ml olive oil and salt and pepper.
Preheat an AMC 28 cm Chef's Pan over a medium heat until the Visiotherm reaches the first red area. Add 10 ml olive oil to the unit and lightly brown the butternut on all sides. Reduce the heat, cover with lid and cook for 5 - 10 minutes or until cooked through. Spoon out and set aside to cool.
Assemble the salad by layering the beetroot, butternut, spring onions and goat's cheese on top of the rocket and bulgur wheat. Season to taste and drizzle with balsamic reduction.
Tips & variations:
Add toasted pumpkin seeds, slivered almonds or sunflower seeds to this salad.
Substitute goats cheese with feta.
If you don't have a balsamic reduction, make a small dressing by mixing olive oil, balsamic vinegar and a little bit of honey.
Substitute bulgur wheat with couscous. The couscous will be cooked in 5 minutes as opposed to 20 minutes.
Cookware that we used in this recipe: