Our Contribution to SA
As a Direct Sales business, we contribute to South Africa in two areas. We provide employment in Atlantis, Western Cape where our cookware is manufactured as well as the employment of our staff at our Support Centre and Distribution Centres throughout the country. And then we offer all South Africans the opportunity to become an AMC Consultant, and set them up for success selling our cookware. In turn, they provide local contribution in their area by recruiting and offering the same opportunity to neighbours and friends.
At AMC we are proud of our contribution to South Africa over the past 40 years. Our direct selling business offers an opportunity to all South Africans to earn an income, regardless of their background or education. There are no employment boundaries, and there never have been. As a result, we have had many sales consultants that might have turned to AMC in desperation to earn cash, but as a result, were able to make a good living, educate their children, pay their bills and live a good lifestyle.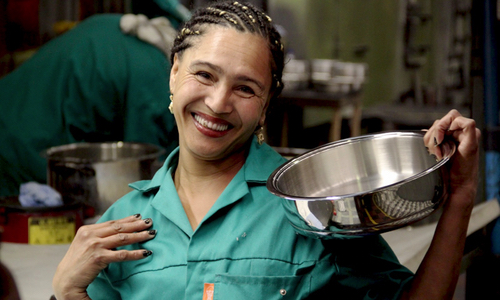 AMC is manufactured in South Africa at our factory in Atlantis, where we employ up to 200 people. Local manufacturing also means that, not only do we contribute to fighting unemployment in SA, we also make use of other South African suppliers and companies in the manufacturing process.
Integrity is a cornerstone of our business practices and decisions at AMC - we believe in doing the right thing, for the right reason. Our lifetime guarantee on all cookware we manufacture is testament to the pride we take in our product, and the peace of mind we offer our customers when they invest in AMC.
And as a result we manufacture a sustainable product:
Save electricity costs by cooking on medium to low temperatures and cutting back on oven use;
Save on food costs by using less fats and oils;
Buy cookware once, and never again. If cared for correctly your cookware will outlive you and more than likely be passed on to your grandchildren.