Pan-fried prawns & chorizo with chimichurri sauce
This summer supper is super easy to prepare, and the bright green Chimichurri sauce adds a beautiful pop of colour to your plate. This recipe serves two, but you can easily double or triple the ingredients to feed more.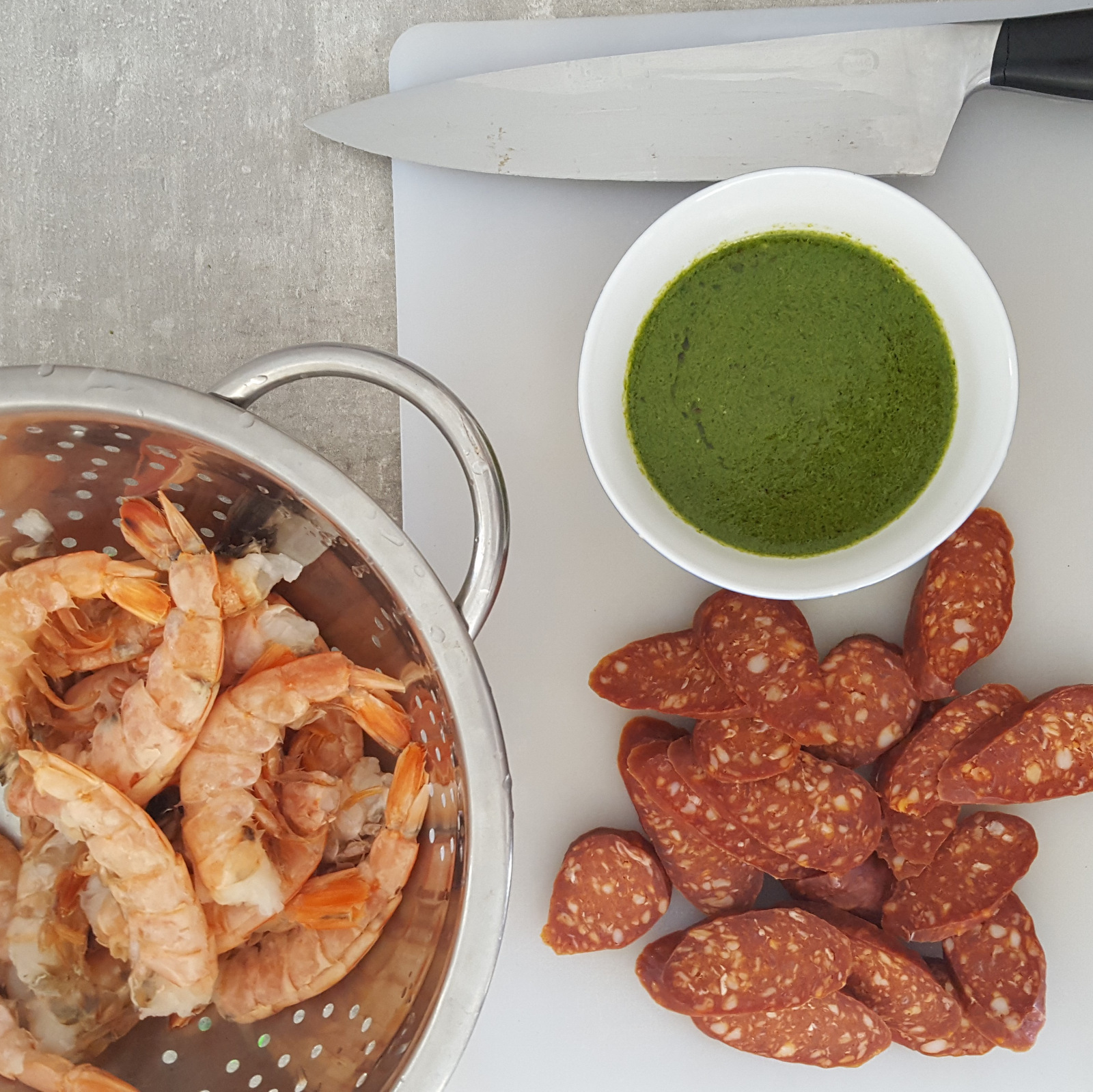 Pan-fried prawns with chorizo & chimichurri sauce
Serves 2

Sauce:
30 g flat leaf parsley leaves
10 g oregano leaves
4 garlic cloves
5 ml smoked chilli flakes
pinch of smoked paprika (optional)
60 ml red wine vinegar
180 ml olive oil
salt and freshly ground black pepper to taste
125 g Chorizo, thinly sliced
400 g cleaned and deveined frozen prawn tails, thawed overnight or soaked in cold water
olive oil for drizzling
Method
Sauce: Place herbs, garlic, chilli, paprika and vinegar in a food processor and pulse until very finely chopped, almost liquidised, and bright green.
Spoon into a bowl and slowly add the oil in a steady stream whisking all the while, until you've reached a thickish salad dressing consistency. Season with salt and pepper. Set aside or chill in the fridge until ready to use.
Heat an AMC Gourmet Paella Pan over a medium temperature until the Visiotherm reaches the first red area. Add the chorizo and fry until almost crispy. Add a little oil if necessary.
Add the prawns and fry, tossing them with the chorizo until they are bright pink and opaque. Season to taste. Serve immediately drizzled generously with chimichurri . Enjoy with crispy bruschetta on the side.
Tips
The longer it stands the more the flavour will develop.
To make bruschetta: Slice ciabatta and toast in the oven until golden and crispy. Rub with raw garlic and drizzle with olive oil.
Recipe developed by AMC Brand Ambassador Carey Erasmus.
share this delectable prawn & chorizo dish!