Baked egg cups
Brand Ambassador Heleen Meyer shares a tasty recipe from her cookbook Make Five with us in this post. If you are looking for a different way to serve eggs then give this recipe a try. These baked eggs are kid friendly and are perfect for an on-the-go breakfast bite or brunch. Plus all the preparation can be done ahead of time and the eggs can be baked just before you want to serve them.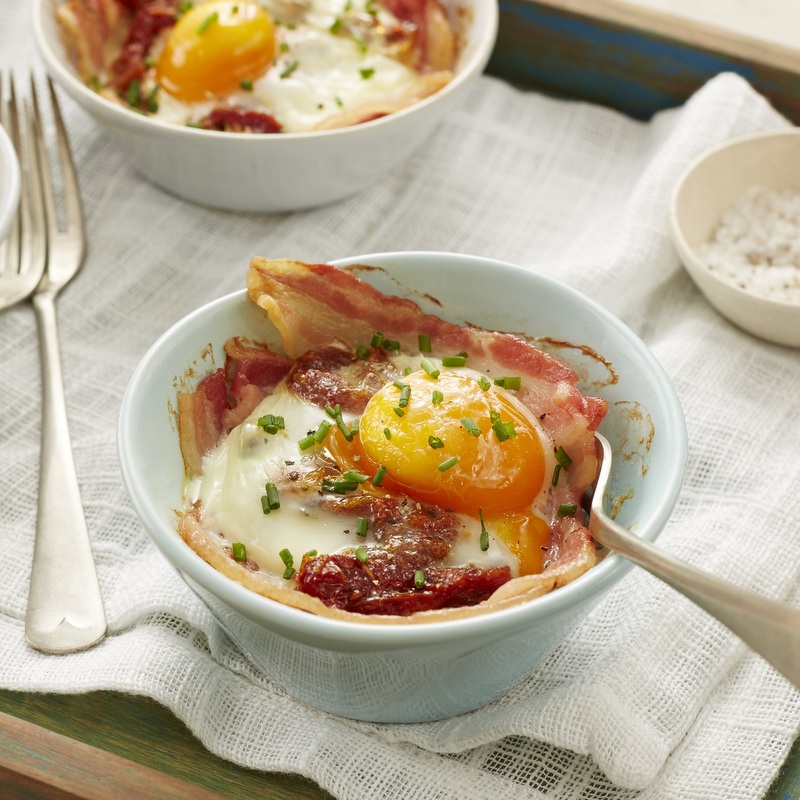 Baked egg cups
Serves 6
10 ml olive or avocado oil
250 g streaky bacon
1 small onion, halved and thinly sliced
125 g mushrooms, sliced
10 ml dried mixed herbs
lemon juice, salt and pepper to taste
6 marinated sun-dried tomatoes, sliced
6 eggs
30 ml chopped fresh chives
handful fresh rocket leaves to serve
Method
Preheat an AMC 24 cm Chef's Pan over a medium temperature until the Visiotherm reaches the first red area. Sauté onion and mushrooms with the herbs until soft. Season to taste.
Preheat the oven to 180 °C. Grease six large ramekins or 125 ml containers with a little of the oil. Line each ramekin with a few rashers of bacon and pack onto a baking tray. (A muffin pan could also be used.)
Divide the mixture between the ramekins and sprinkle sun-dried tomatoes on top. Crack an egg into each ramekin. Gently cover each ramekin with foil.
Bake for 10 - 15 minutes or until the eggs are cooked to your preference. Sprinkle chives over and serve with rocket and toast or as is.
Tips:
Save electricity by cooking this on the stove – easily prepare in an AMC 24 cm Synergy Fry Pan or Roaster. Place 500 ml water in the pan and heat over a medium temperature until the Visiotherm reaches the first red area. Continue with the above recipe until step 4. Then carefully place the bowls in the preheated unit. Cover with a lid, reduce heat to the lowest setting and cook for approximately 10 - 15 minutes, or until the eggs are set to your preference.
Recipes from Make five, by Heleen Meyer, published by NB Publishers, photographs by Neville Lockhart.