Repolishing Services
One of the unique aspects of our business is the repolishing services that we offer to our customers. Whether you purchased your cookware last year or 5 decades ago, your cookware can be sent to our factory for a nominal fee to be polished and buffed to a high shine again. Keeping your cookware in sparkling condition has never been easier. Your nearest AMC Sales Centre will assist you with your repolishing requests and assist if the factory needs to repair your cookware.

PLEASE NOTE: To curb the spread of Covid-19 and in an attempt to minimise any non-essential contact at our Consultant Centres, we are suspending the AMC repolishing service until further notice. Once it is running again, we will communicate this via our website and social media channels.
This service requires that you bring in your cookware to one of our Consultant Centres, and necessitates close personal interaction, which we all need to try avoid with social distancing.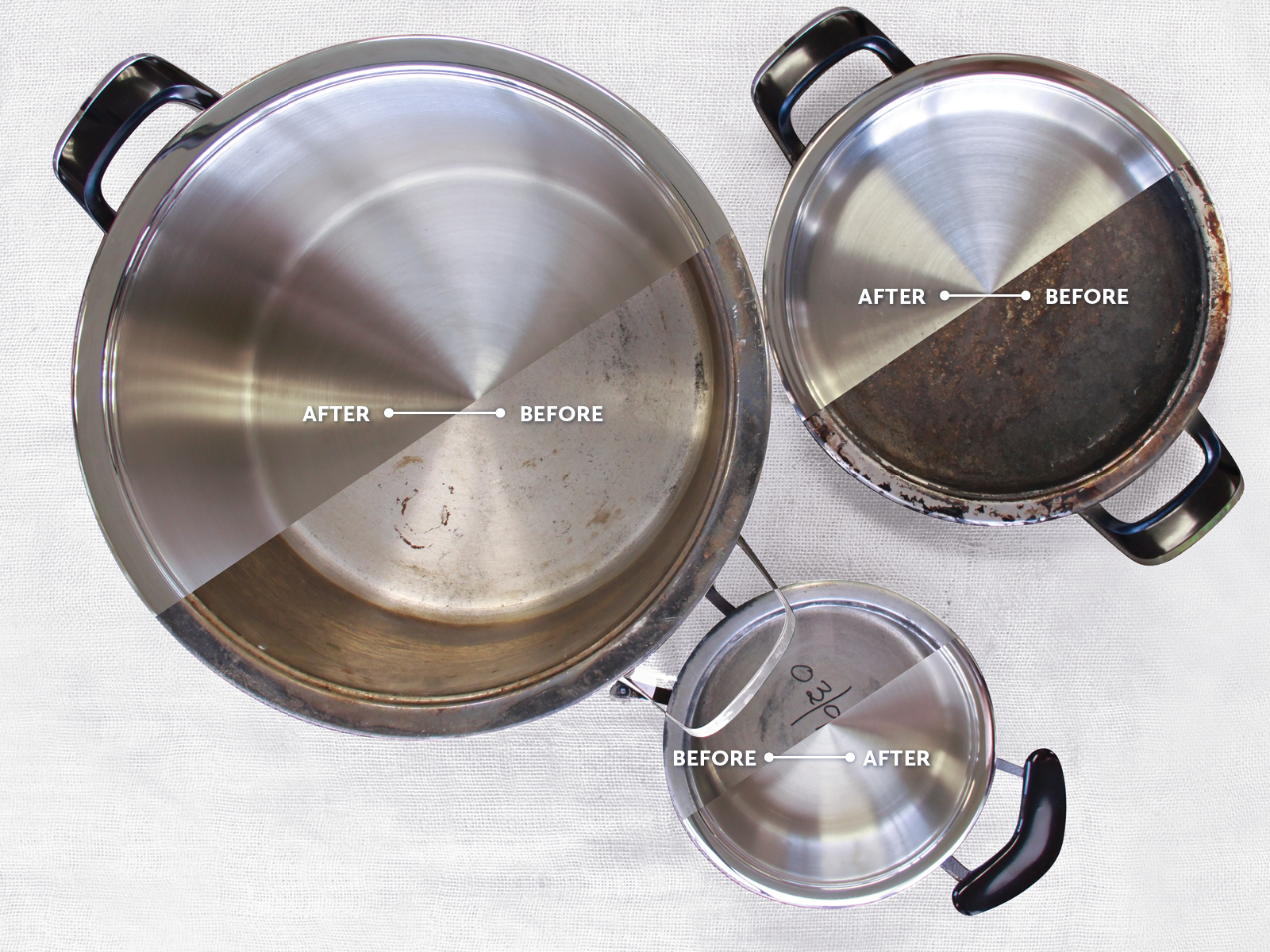 Repolishing
We know your cookware works hard, and that over time it may start to lose its AMC shine. That's why AMC offers a repolishing service that will put the sparkle back in your cookware at a nominal cost.

How do I do this?
Take your cookware to your nearest AMC Sales Centre.
Pay upfront for the repolishing.
When your repolished cookware is completed it will be returned directly to you, either by post or delivered to your door, free of charge.
Important info:
Repolishing usually takes 4 - 6 weeks, but you may need to wait longer depending on demand. If you have a few items that you want repolished, decide if you'd like to do them all at once or only a few at a time.
If demand for repolishing is too high, we reserve the right to temporarily suspend acceptance of new repolishing orders.
Cookware can be very badly burnt and come back looking amazing from repolishing. Do be aware though that dents, scratch marks and pitting cannot be removed and these can become more visible against the high shine after repolishing. Pitting is the presence of small holes and mild corrosion on the stainless steel. This happens when cookware is cleaned with harsh chemicals or foods rich in salts and halogens are stored in the cookware.
We do not have stock of the old screw-on long handles required for certain items of cookware. If you would like to repolish cookware with these hanldes, please contact our Customer Service Department.
Pricing:
Included in the repolishing cost is the replacement of black side handles and lid knobs (excludes black long handles from AMC Skillets and Chef's Pans). If preferred, your AMC Visiotherm can be replaced at 50% of the current retail price.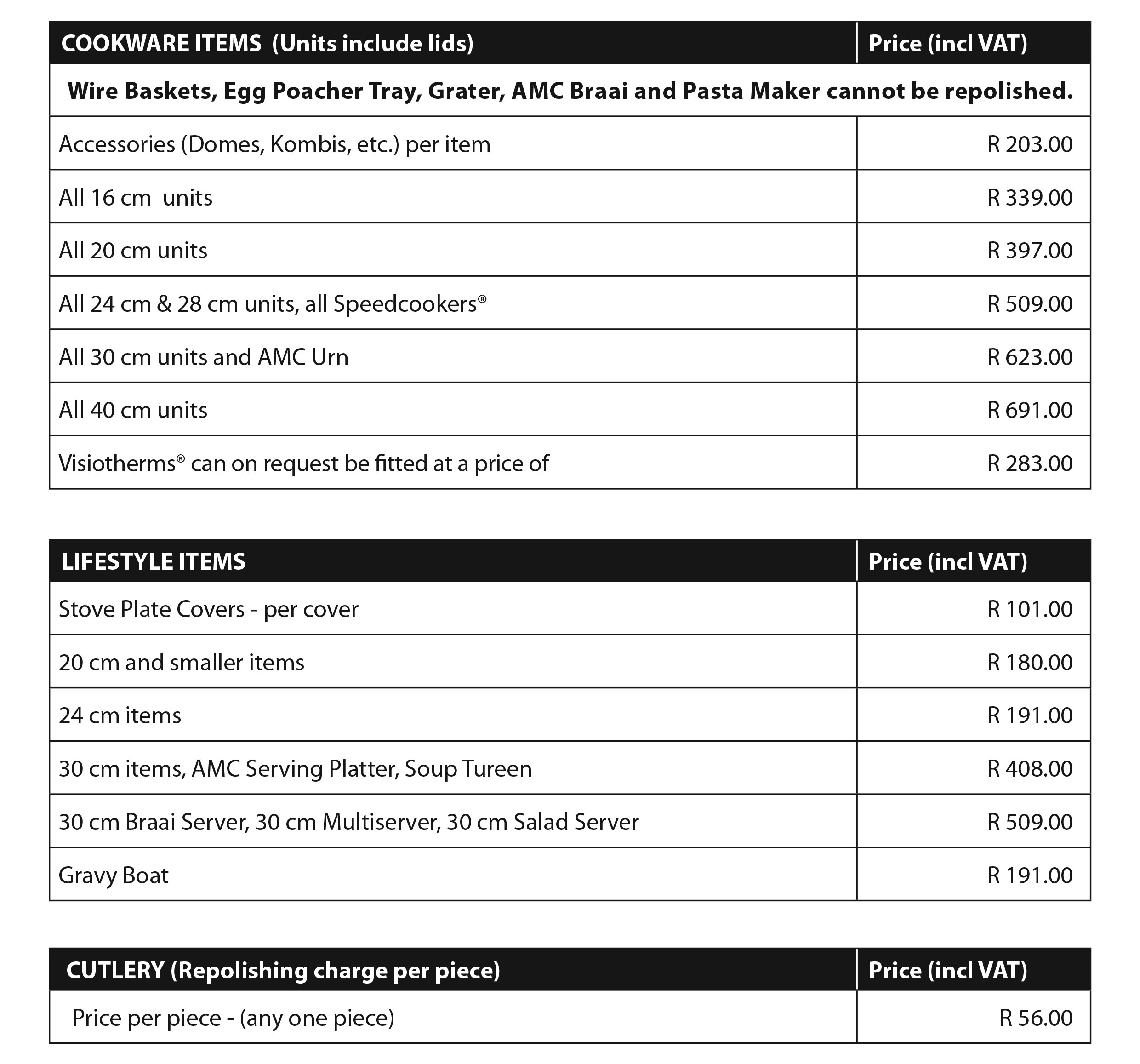 Customer Testimonials
I would like to record my thanks for the good service I have received from AMC.I sent 2 saucepans to be repaired/re-polished. One could not be repaired and was replaced with a new one.The other was re-polished and looks like new! I cannot remember when I bought these saucepans….It was in the early days of my married life and I was married 46 years ago! I don't know another company that really would honour the life-time guarantee.

- J. Hully 08/2010
I just want to say that I received my pots back and that they are so beautiful that I really don't want to cook in them. Would you please be so kind and to thank your Head Office for the wonderful job they did to pots that was 37 years old and look terrible.

- I. Cuendet 02/2012
Baie dankie vir die pragtige manier waarop julle my AMC kastrolle hersien het. Ek is baie beindruk en tevrede met julle flinke diens en kan dit vir enigiemand aanbeveel om die kastrolle weer skoon te maak.

- E. Herbst, 01/2014
Just a quick note to say that we have just recently had three pots repolished, with handle replacements, and the end result is amazing! Despite the pots having been in our family for over thirty years, they still continue to deliver excellent cooking results and now look like new again. Well done!

- R Worship 09/2014