Mushroom soup
3 September 2015 / Posted in
Soups
Goodbye ready-made mushroom soup and hello to the simplest soup there is! Nothing beats homemade mushroom soup and after trying this quick recipe, we're sure you will add it to your trusted recipe collection. Serve drizzled with a swirl of cream and warm crusty bread, perfect!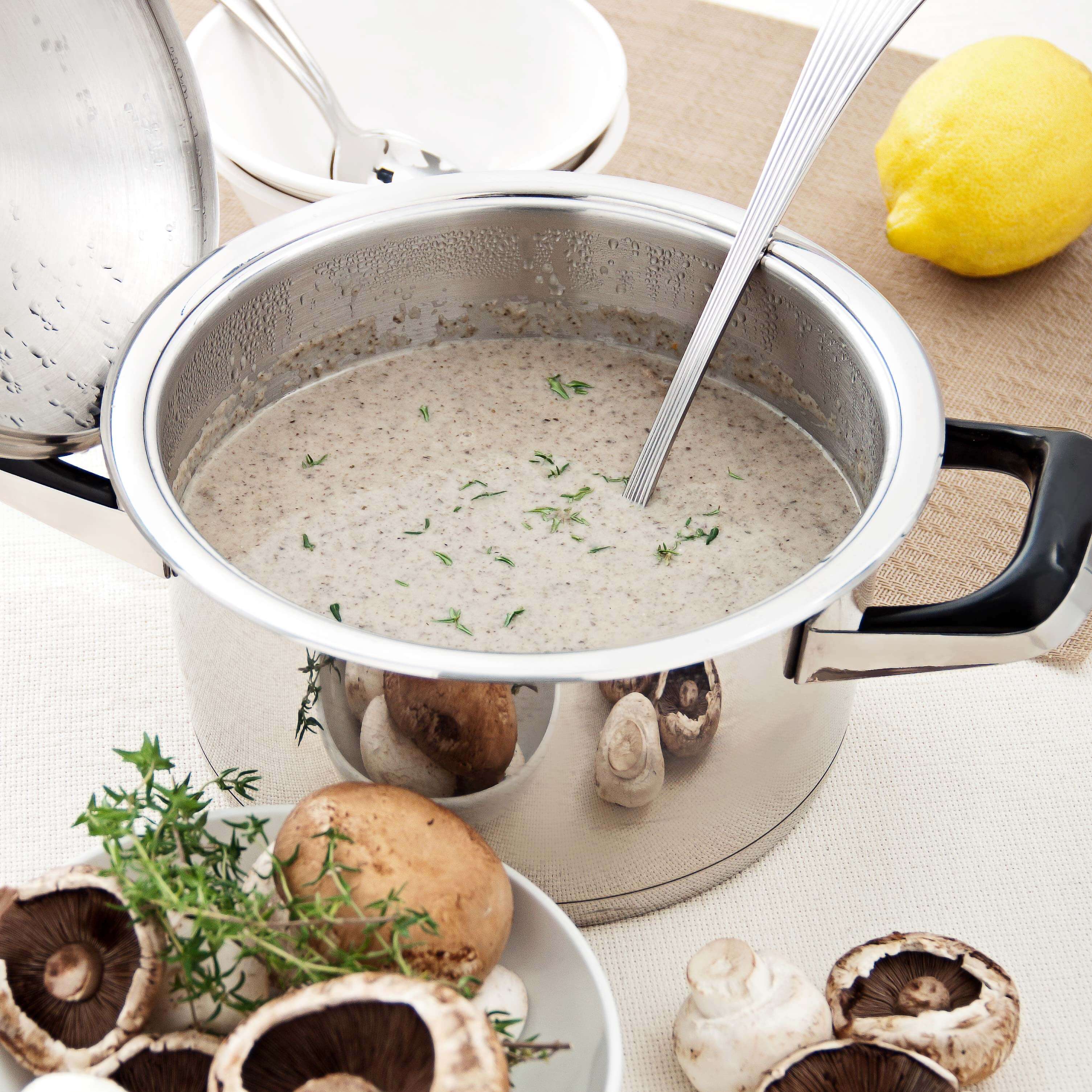 Mushroom soup
Serves 6
250 g brown mushrooms, halved and thinly sliced
250 g button mushrooms, thinly sliced
2 onions, chopped
15 ml balsamic vinegar
60 ml cake flour
950 ml chicken stock
50 ml white wine or chicken stock
5 ml each fresh, chopped or 2,5 ml dried rosemary and thyme
15 ml lemon juice
125 ml milk, cream or sour cream
salt and freshly ground black pepper to taste
Method
Heat an AMC 20 cm High over a medium temperature until the Visiotherm reaches the first red area.
Sauté all the mushrooms until tender and the liquid has evaporated. Spoon out one-third and set aside.
Sauté onions with remaining mushrooms until transparent and add vinegar. Stir flour into mushrooms until absorbed.
Gradually add stock and stir. Add wine or stock and herbs and simmer with lid on over a low heat for 15 - 20 minutes.
Spoon half the soup mixture into a food processor and blend, repeat with remaining soup and pour back into cookware. Or blend soup in the cookware with a stick blender.
Heat over a low temperature and stir in reserved mushrooms, lemon juice and milk, cream or sour cream. Season to taste. Garnish with fresh sprigs of thyme and serve.
Variations:
Add 125 g bacon, crisply fried and chopped
Substitute thyme with fresh, chopped chives just before serving.
Mad about mushrooms? Share this recipe!