Beetroot hummus
2 July 2018 / Posted in
Snacks
Hummus is an easy spread to make, and great to have in the fridge to spread on sandwiches or wraps or to use as a dip for crudites, chips and savoury biscuits. This makes a large batch, so you can easily freeze half the hummus and enjoy it at a later date too. These veggies are delicious chopped up into a salad, roasted in the oven or even pickled. Or even used in your next red velvet cake. We've tried our hand at making beetroot hummus. Traditionally made with only chickpeas, we've added beetroot cooked in our AMC Speedcooker® II.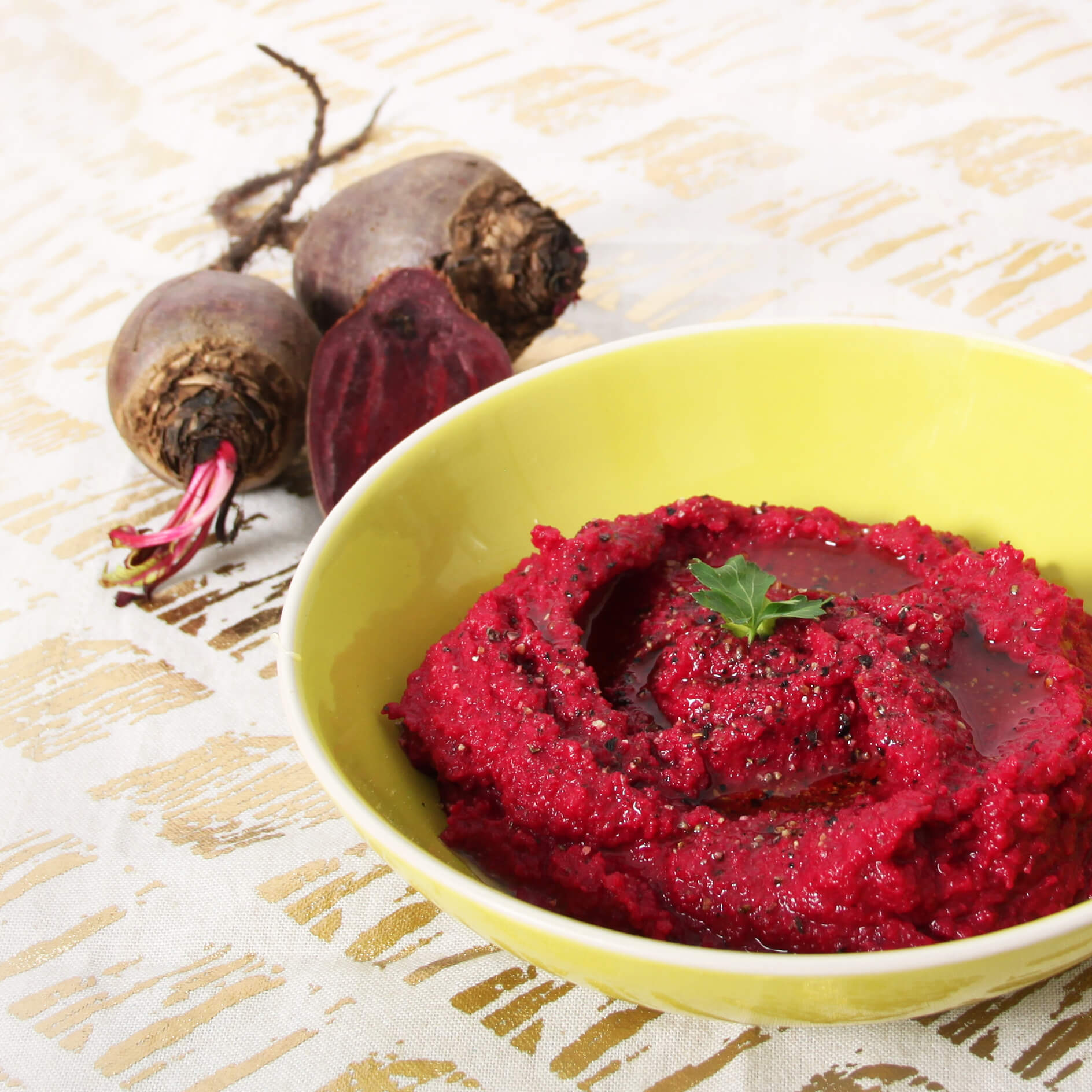 Ingredients
Makes 5 cups

500 g beetroot bulbs
300 ml boiling water
2 tins chickpeas
2 – 3 cloves of garlic, crushed
20 ml peanut butter
60 ml lemon juice, or more to taste
30 ml olive oil
salt and freshly ground black pepper to taste
Method
Place beetroot in an AMC Pressure Cooker and cover with boiling water. Seal with Speedcooker® II lid and turn grey pressure setting valve to low pressure. Heat over a medium temperature, until the red pressure valve has risen and seals. Reduce heat slightly and cook beets for 10 - 15 minutes.
Remove unit from the heat and allow red pressure valve to drop completely. Release excess steam by pressing down the red pressure release button and open unit. Rinse beets under cold water and remove skins– this should come off easily. Cut the roots off and slice into quarters and set aside.
Meanwhile drain the chickpeas, reserving some of the brine.
Place chickpeas, garlic, peanut butter and beetroot in a food processor and blend. Add lemon juice and olive oil with about 50 ml of the reserved brine.
Blend again and season to taste with salt and pepper. Adjust flavour as preferred, adding more or less garlic, peanut butter, lemon juice, olive oil or brine. And blitz to a texture that you enjoy – some like their hummus super smooth and others not.
Tips and variations:
Serve as a dip with crudites, biscuits or chips or as a spread for sandwiches and wraps.
Share this beetroot hummus recipe!