Festive rice with spices & nuts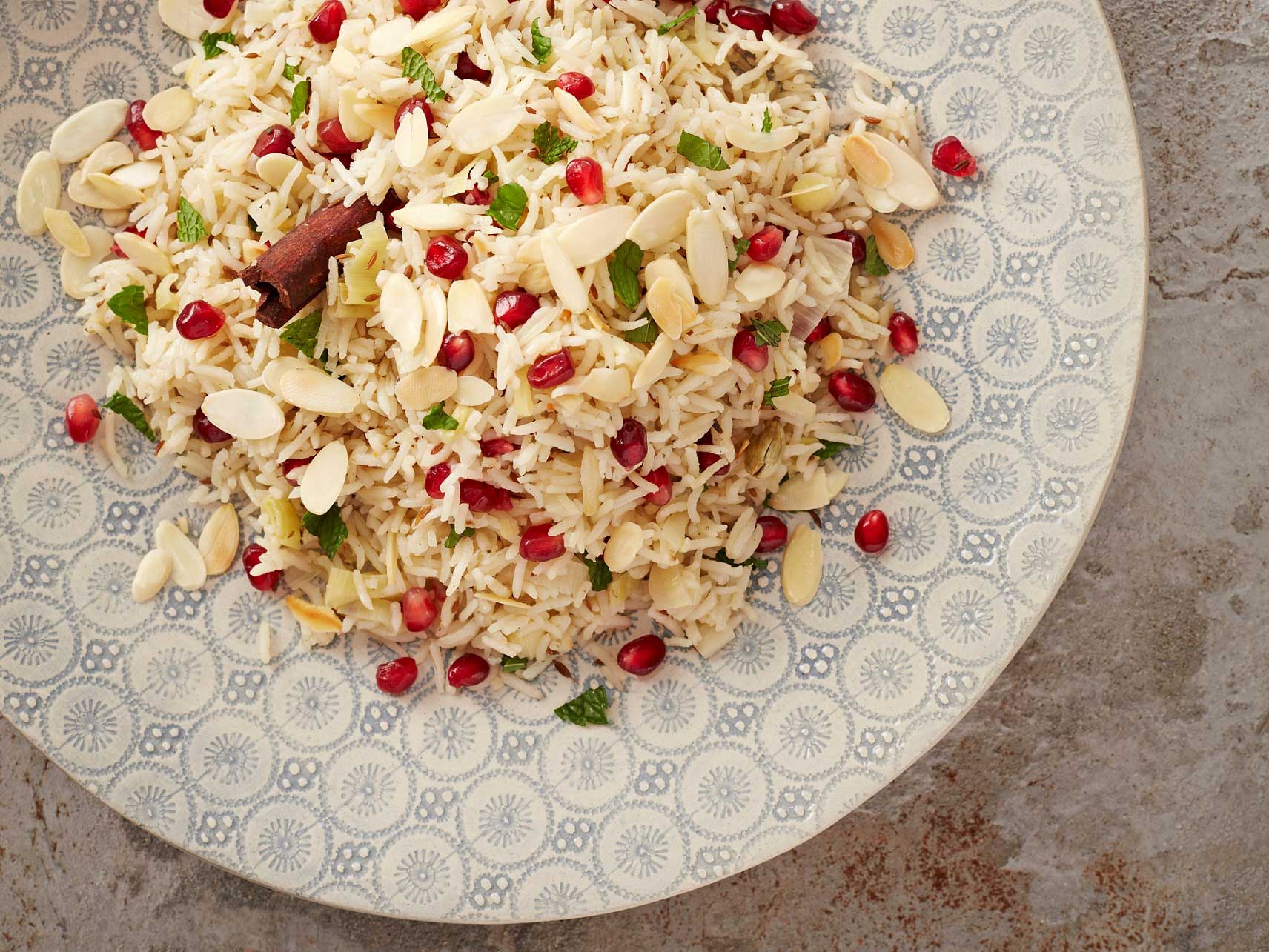 AMC Brand Ambassador Heleen Meyer, shares this easy but festive side with us, as well as some other tips for a easy festive season.

The festive season is upon us, and more and more, we gather around tables with friends, family and loved ones. Although many associate it with a time of over-indulging, Heleen sees it as an opportunity to play with beautiful ingredients. Keeping end-of-year celebration menus simple, yet healthy, is her strategy.

Rather than spending hours slaving over a hot stove, Heleen, chooses a few recipes that pack a flavour punch and look impressive. With one or two delicious side dishes, a meat dish (that is inevitably cooked outside over the coals) and some fresh seasonal fruit or veggies, you have more than enough for a feast. And yes, something baked or sweet is always on the cards.

When it comes to side dishes, it is important to make sure that they help to keep the meal balanced. For example, roasted potatoes and a pasta salad are two starchy side dishes. Instead, choose a veggie-based dish or a salad as one of the sides. This recipe is always at the top of my list for a starchy side. The fragrant basmati rice is wonderful and the combination of spices reminds me of a festive feast: cinnamon, caraway, cardamom and of course, my favourite, cumin. The nuts add crunch and a toasty flavour and the dried cranberries are like little red jewels hidden in the rice. It can be enjoyed at room temperature, so you don't have to worry about keeping it warm, which is always a bonus.

The AMC Gourmet Paella Pan is ideal for cooking rice this way. The wide base makes it easier to sauté the leeks and spices, but is still deep enough for all the rice and liquid. The AMC 'Akkutherm' base prevents any hot spots where the rice can burn or stick to the pan and controlling the heat to simmer the rice until just tender, is so easy.

Find more vegetable & side recipes here.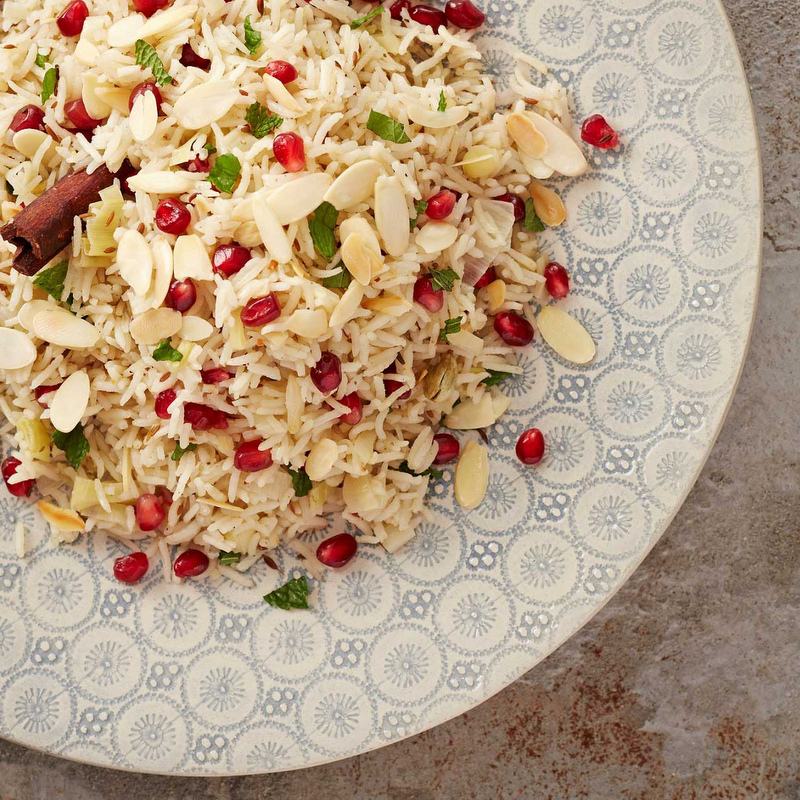 Festive rice with spices & nuts
Serves 6

2,5 ml (½ tsp) caraway seeds
7,5 ml (½ tbsp) cumin seeds
3 cardamom pods, crushed
½ cinnamon stick
20 ml (4 tsp) olive or avocado oil
3 leeks, thinly sliced
1 clove of garlic, crushed
500 ml (2 cups) uncooked white or brown basmati rice
750 ml (3 cups) weak vegetable or chicken stock
375 ml (1½ cups) water
125 ml (½ cup) orange juice
large handful dried cranberries or pomegranate pips (when in season)
50 g flaked almonds or pistachio nuts
handful fresh mint leaves
Method
Heat an AMC Gourmet Paella Pan over a medium temperature until the Visiotherm® reaches the first red area. Toast spices, without any oil, until aromatic.
Add half of the oil and sauté leeks and garlic until soft. Stir in 80 ml (⅓ cup) water and allow to simmer until the water has evaporated. This process enhances the flavour of the spices and softens the leeks without drying them out.
Stir in the rest of the oil and rice and sauté for a few minutes. Stir in the stock, water and orange juice and bring to a boil.
Reduce the temperature and cover with a lid. Simmer gently, allowing the Visiotherm® to stay around the 1-2 o'clock position. Simmer white basmati rice for 10-12 minutes or brown basmati rice for 30 minutes or until just cooked, but not too soft and all the liquid has been absorbed.
Stir in the cranberries or pomegranate pips, nuts and mint just before serving. Enjoy as a side dish with any meat of your choice.
Tips
Add 8-10 soft Turkish apricots, cut in cubes, to the dish with the cranberries. It gives the rice an extra pop of colour and a lovely sweet-sour flavour.
If preferred, add a handful of coriander leaves to the rice before serving.
Leftover meat or chicken can be added to the rice to enjoy as a meal-in-one.
Credit
Recipe from Make five/ Maak vyf | Photographs by Neville Lockhart | Facebook link: http://www.facebook.com/HeleenMeyerFood
Share this festive rice with spices & nuts now!