Homemade dukkah
Whenever you need to add an extra crunch or a little bit of oomph to a meal, dukkah is the answer. Not only is it a great way to add the health benefits of nuts and seeds to a meal, it is delicious and easy to make. Make a double batch and store in the fridge for up to a month.

Enjoy dukkah as a salad sprinkle or to season couscous. It combines very well with goat's cheese or feta and veggies like roasted butternut, baby marrow and brinjal or beetroot. Salad ingredients like fresh fruit, cucumber or green beans are delicious, seasoned with a good sprinkle of dukkah. This recipe is ideal to prepare in your AMC unit, as good temperature control is important for the best results.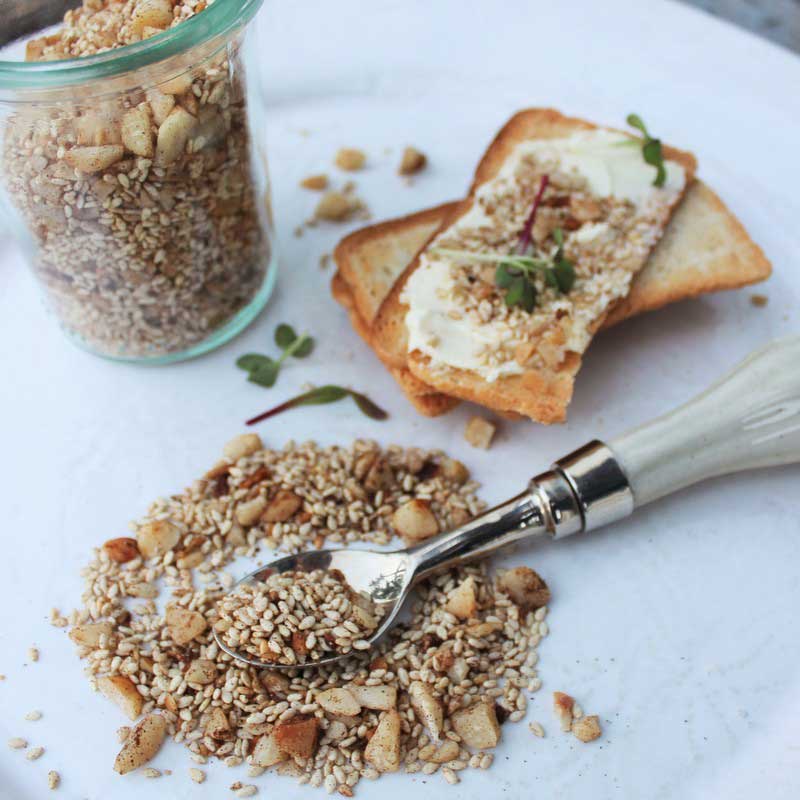 Homemade Dukkah
Makes about 225 ml
125 ml (½ cup) chopped nuts, such as macadamia nuts, almonds, cashews or a combination of these
125 ml (½ cup) raw sesame seeds
2,5 ml (½ tsp) ground cinnamon
1,2 ml (¼ tsp) ground cumin

Method
Heat an AMC 28 cm Chef's Pan over a medium temperature until the Visiotherm® reaches the first red area. Toast nuts without any oil until golden brown. Toss the nuts to prevent it from burning.
Add the sesame seeds and toast until golden brown. Remove from the heat and add the spices.
Allow to cool and store in a clean glass jar or airtight container.
Ideas with Dukkah
Spread cream cheese or goat's cheese on bruschettas or savoury biscuits, sprinkle with dukkah and garnish with fresh herbs. Serve as a cocktail snack.
Sprinkle dukkah over chicken or veggies before roasting for a delicious nutty flavour.
Coat chicken fillets with buttermilk and then roll in dukkah. Pan-fry over a medium heat until golden brown and cooked.
Dip bread in olive oil and then in dukkah as a snack.
Add to a green salad for extra crunch and flavour.
Share this Dukkah recipe!
Credit
Recipes from Heleen Meyer
Photographs: Dukkah photograph: Heleen Meyer
Facebook link: http://www.facebook.com/HeleenMeyerFood