Oat & ricotta crumpets with chocolate sauce
8 January 2018 / Posted in
Sweets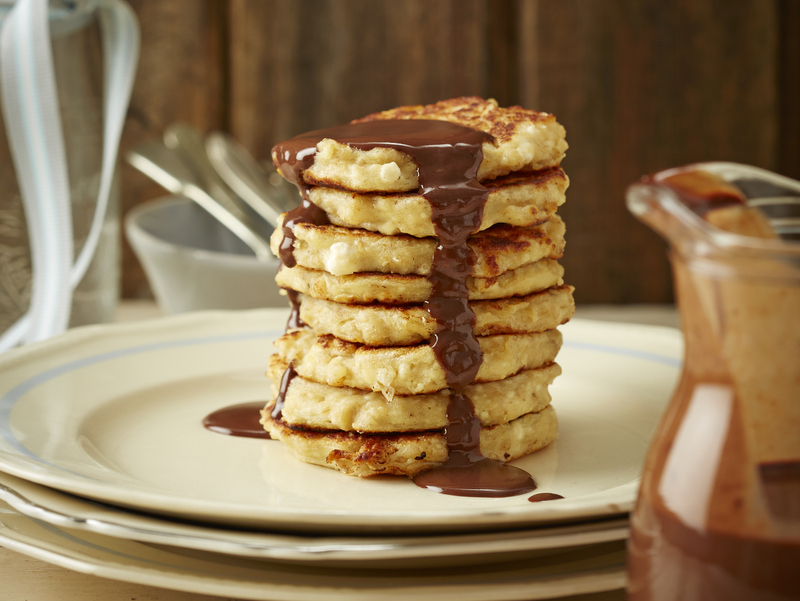 Heleen, our AMC Brand Ambassador shares a delicious and easy crumpet recipe. These crumpets are a little different to your average mixture – instead of just milk she uses ricotta cheese, which isn't only healthy, but also adds a soft texture to the crumpet. Half the flour is replaced with oats to add fibre and flavour. And to give some extra kick ground cinnamon is added to the batter.
Although chocolate isn't exactly a breakfast food, making your own chocolate component is much healthier than a shop-bought version. The sauce is a delicious accompaniment with a subtle spiciness from the cardamom.

Serve the crumpets and chocolate with fresh fruit and a sprinkle of toasted nuts as the sweet treat for the brunch. Or enjoy them with dollops of Greek yogurt and fresh fruit or even cinnamon sugar and a lemon wedges. Alternatively, the crumpets are just as delicious with crispy bacon, fresh fruit and a drizzle of honey. (Then you can enjoy the chocolate sauce over scoops of ice cream later in the weekend.)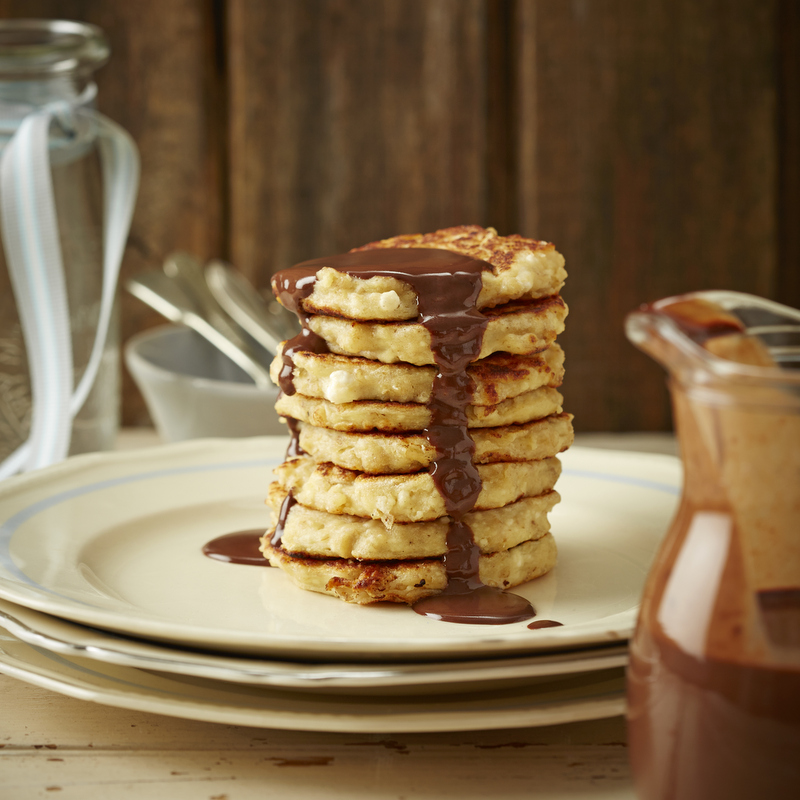 Ingredients
Makes 25 – 30 small crumpets

Chocolate sauce
15 ml cocoa powder
125 ml milk
60 ml fresh cream
50 g milk or dark chocolate, chopped
10 ml soft brown sugar
2 cardamom pods, crushed

Crumpets
2 eggs, beaten
300 g ricotta cheese
350 ml milk
5 ml vanilla essence
250 ml self-raising flour
5 ml ground cinnamon
250 ml oats
45 ml butter, melted
oil for frying
Method
Sauce: Mix cocoa with some of the milk to make a paste. Mix with the rest of the ingredients and pour into an AMC 16 cm Gourmet High. Heat over a low heat until the chocolate melts and the sugar dissolves. Simmer for a few minutes until it has thickened slightly and set aside.
Crumpets: Beat eggs, ricotta, milk and vanilla in a large mixing bowl. Stir in the flour and oats until well mixed. Stir in the melted butter.
Heat an AMC 28 cm Chef's Pan over a medium heat until the Visiotherm® reaches the first red area. Add a thin layer of oil and pour spoonfuls of batter into the pan. Fry until bubbles form on top. Carefully turn over and fry until golden brown and cooked.
Spoon out, drain on paper towel and keep warm. Repeat with the rest of the mixture and more oil if necessary. Serve with the chocolate sauce or as suggested above in the blog.
Tip
Stir a handful of blueberries, four or five chopped strawberries or one grated apple or pear into the batter and fry as above. Add a handful for dried cranberries or raisins if you love them in a hot-crossed bun.
Share this crumpet recipe!