Pea & mint soup
31 October 2017 / Posted in
Soups
This vibrant pea and mint soup is so quick and easy to prepare, plus it's delicious. The use of fresh mint and lemon juice adds another dimension to this soup. Serve elegantly, whether you choose to serve it hot or cold, in an AMC Soup tureen with a dollop of Greek yoghurt or cream.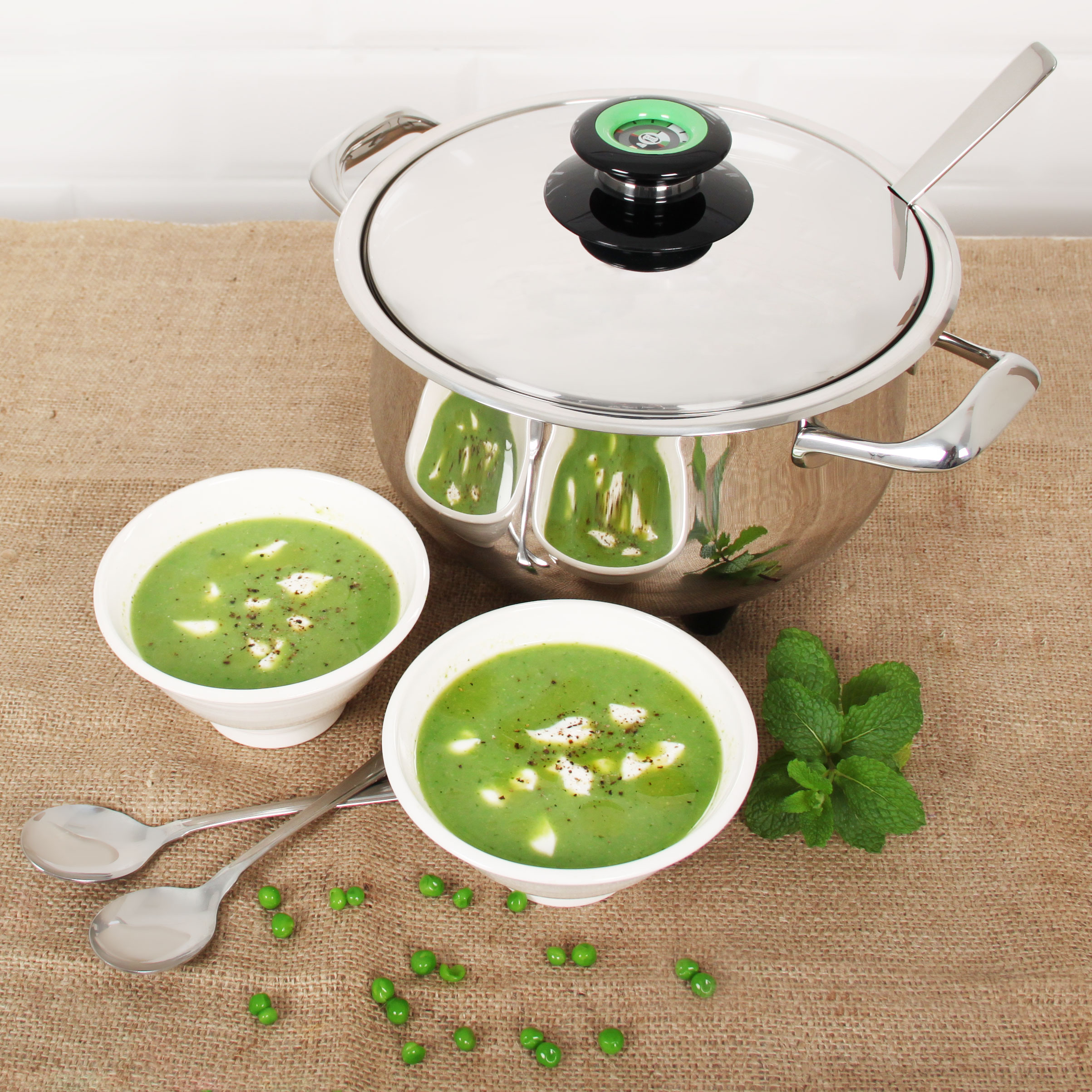 Pea & mint soup
Serves 8 – 10

1 onion, chopped
2 cloves for garlic, crushed
1 large potato, peeled and cubed
850 ml vegetable or chicken stock
1 kg frozen peas, rinsed in water
30 g fresh mint, roughly chopped
juice of 1 lemon
150 ml Greek yoghurt, sour cream or cream, plus extra for garnish
salt & fresh ground black pepper
olive oil to drizzle
Method
Heat an AMC 24 cm Gourmet High over a medium temperature until the Visiotherm® reaches the first red area.
Add onions and sauté for a few minutes before adding garlic, potato and stock to the unit. Cover with lid and reduce heat to the lowest setting and simmer for 10 – 15 minutes until the potatoes are tender.
Remove from heat and add peas, mint and lemon juice. With a stick blender puree until smooth. Stir through Greek yoghurt, sour cream or cream and season to taste.
Serve with a dollop of yoghurt or cream, a drizzle of olive oil and freshly ground black pepper.
Tips and variations:
When serving the soup cold you may have to add additional water, stock or milk to further thin the soup.
Top with crispy bacon bits to add extra flavour.
This soup will last for 4 days in the refrigerator.
Share this tasty pea & mint soup!