All day egg & sausage dish
Eggs are such a versatile ingredient, and a staple in almost every kitchen. Use eggs to prepare this super quick and easy meal that can be served all day! With a flavourful combination of ingredients, you can dress it up or down as you like.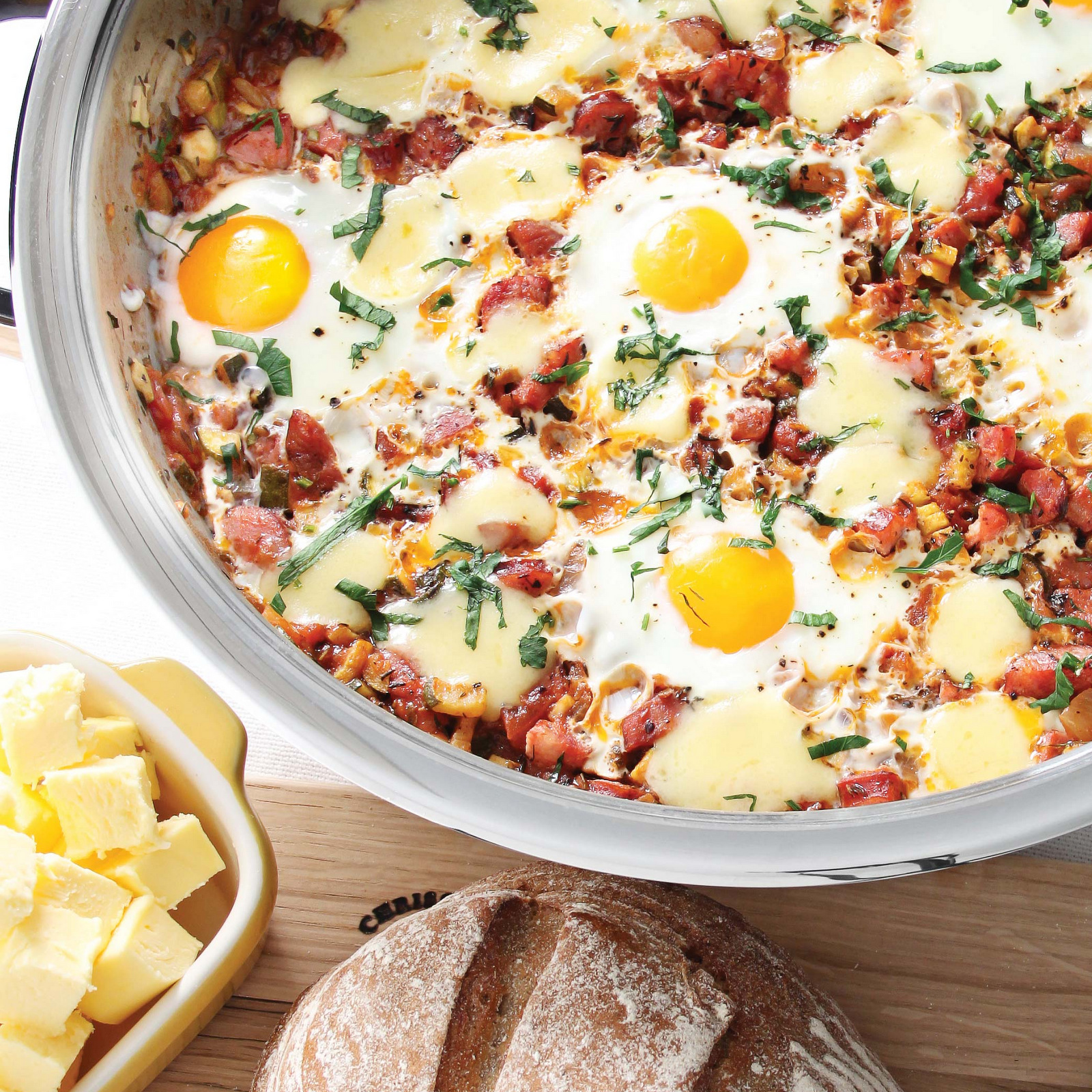 All day egg & sausage dish
Serves 4 - 6

2 medium baby marrows, diced
150 - 200 g ready-to-eat spicy sausages, such as Cabanossi, diced
10 ml dried thyme
1 tin tomato & onion mix
salt and freshly ground black pepper to taste
10 - 15 ml oil for frying
4 - 6 eggs
50 g cheddar cheese, diced
15 - 20 ml fresh, chopped Italian parsley
salt & freshly ground black pepper to taste
Method
Heat an AMC 28 cm Chef's Pan, 30 cm Gourmet Fry Pan or Electric Frying Pan over a medium temperature (probe on 6) until Visiotherm reaches first red area.
Sauté baby marrow and sausages until the baby marrow is almost tender. Add the thyme. Sauté for another few minutes and add tomato mix. Stir well and reduce heat to a lower setting.
Allow mixture to simmer gently for a few minutes and then season to taste. Add oil and stir well so that the oil covers the base of the unit.
Make an opening in the sauce for each egg and break the eggs into this. Sprinkle cheese over the sauce and cover with lid. Cook for 10 – 15 minutes, or until the yolks are set to your preference. The Visiotherm should stay between the 11 – 12 o'clock positions, but not higher than this as the eggs should cook over a gentle heat.
Sprinkle with parsley and serve eggs with the sauce on toast, and with a green salad if served for lunch or supper.
Tip:
If more than 6 eggs are used or the recipe is doubled, use a unit with a large shallow base so that the layer of sauce does not become too thick. If it is too thick the eggs will take quite a while to cook.
Variations:
For a vegetarian version, omit the sausages and sauté 1 small aubergine, diced, with baby marrow until cooked, before adding the tomato mix. Use a total of 30 ml thyme and season with Worcestershire sauce.
Salami, diced, can also be used instead of the sausages.
Substitute thyme with 2 red chillies, seeded and finely chopped, and sauté with sausages.
Avocado can also be served with this dish.
Stir chunks of spinach into tomato sauce just before adding the eggs.
Use 1 tin of Mediterranean ratatouille or any other flavoured tin of tomatoes. Simmer tomato mix long enough to reduce any excess liquid before adding the eggs, as otherwise the sauce will be watery.
Share this all day egg & sausage dish!