Avocado & citrus salad with biltong
19 May 2017 / Posted in
Salads
Avocadoes are filled with creamy goodness, taste delicious and are so versatile; eat them sprinkled with salt and pepper, or as a topping on toast or pizza. In a recipe shared by brand ambassador Heleen Meyer, she pairs it with biltong – the perfect match. In the same sense, avo and citrus pair well – so can you imagine what happens if you put them all together… just try it! The Westfalia lemon flavoured avocado oil is the perfect fit for these ingredients.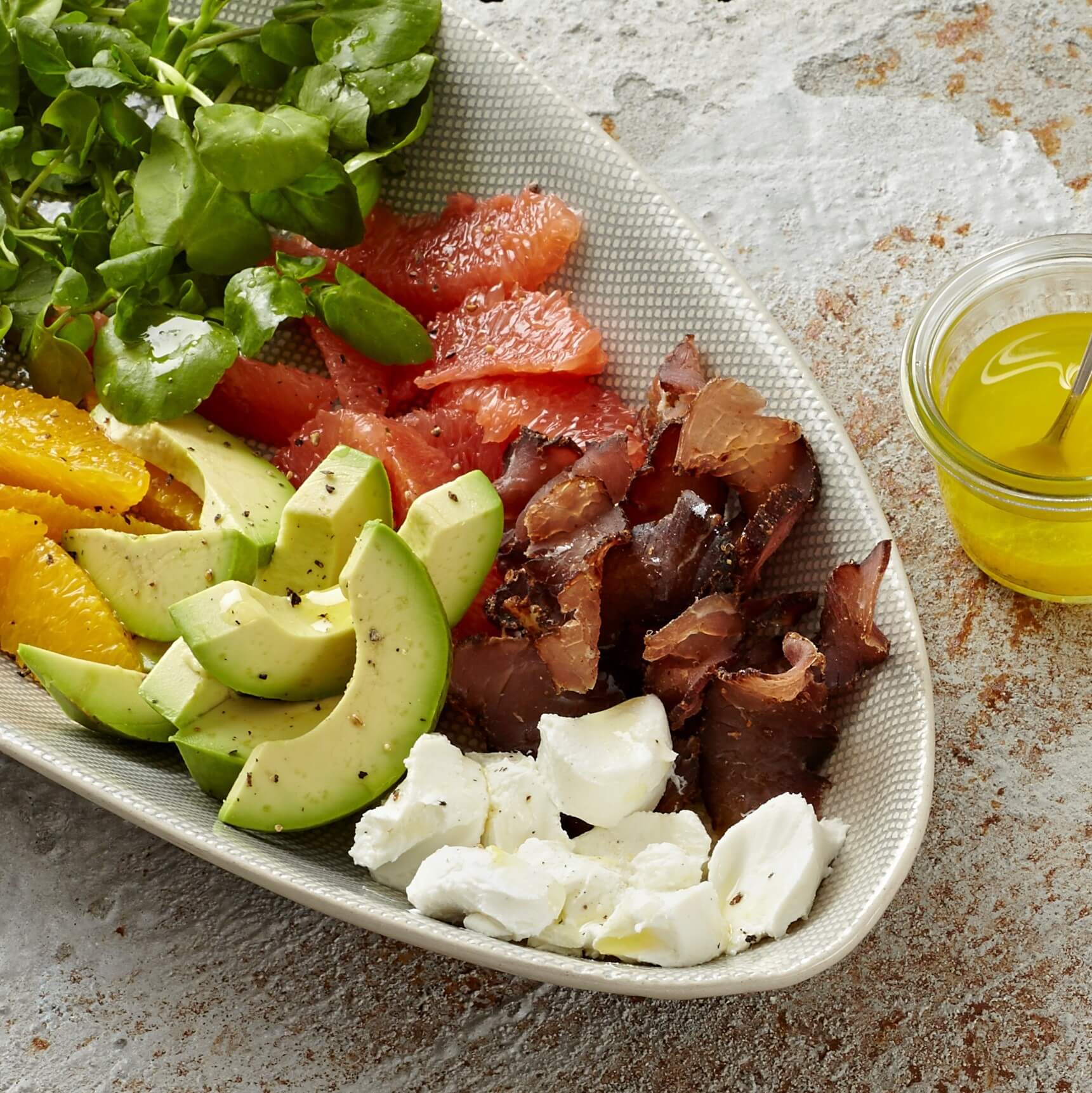 avocado & citrus salad with biltong
2 oranges
1 grapefruit
25 ml lemon-favoured avocado oil
2 avocados, quartered and sliced
50 - 100 g biltong slices
100 g goat's cheese, sliced or crumbled
handful fresh watercress
freshly ground black pepper to taste
Method
Carefully cut away the rind and white pith from the oranges with a sharp vegetable knife. Hold citrus in your hand over a bowl and cut into segments catching the juices – you need 25 ml (5 tsp). Peel and segment the grapefruit.
Mix the orange juice with the avocado oil to form a dressing.
Arrange the rest of the salad ingredients, with the fruit on a salad platter and add a grind of black pepper. Serve with the orange dressing as a light meal or side dish.
Tips
When in season, strawberries are delicious to substitute grapefruit, or try cucumber.
This orange dressing is great on any salad or use as a sauce for a stir-fry or over green veggies.
Credit
Image from the the Westfalia Fruit recipe booklet, Join the Avo exports, taken by Neville Lockhart. Recipe developed by Heleen Meyer, food consultant and AMC brand ambassador.
Share this yummy Avocado, citrus & biltong salad!