Baked chicken, spinach and butternut pasta
Indulging in a rich, cheesy pasta is always a treat, and this baked pasta is simply delicious. Loaded with chicken, butternut and spinach it will please the whole family and more, as this recipe easily feeds 8 to 10 people. And by being prepared in our oven friendly cookware, there will be less washing up too. What's not to love!?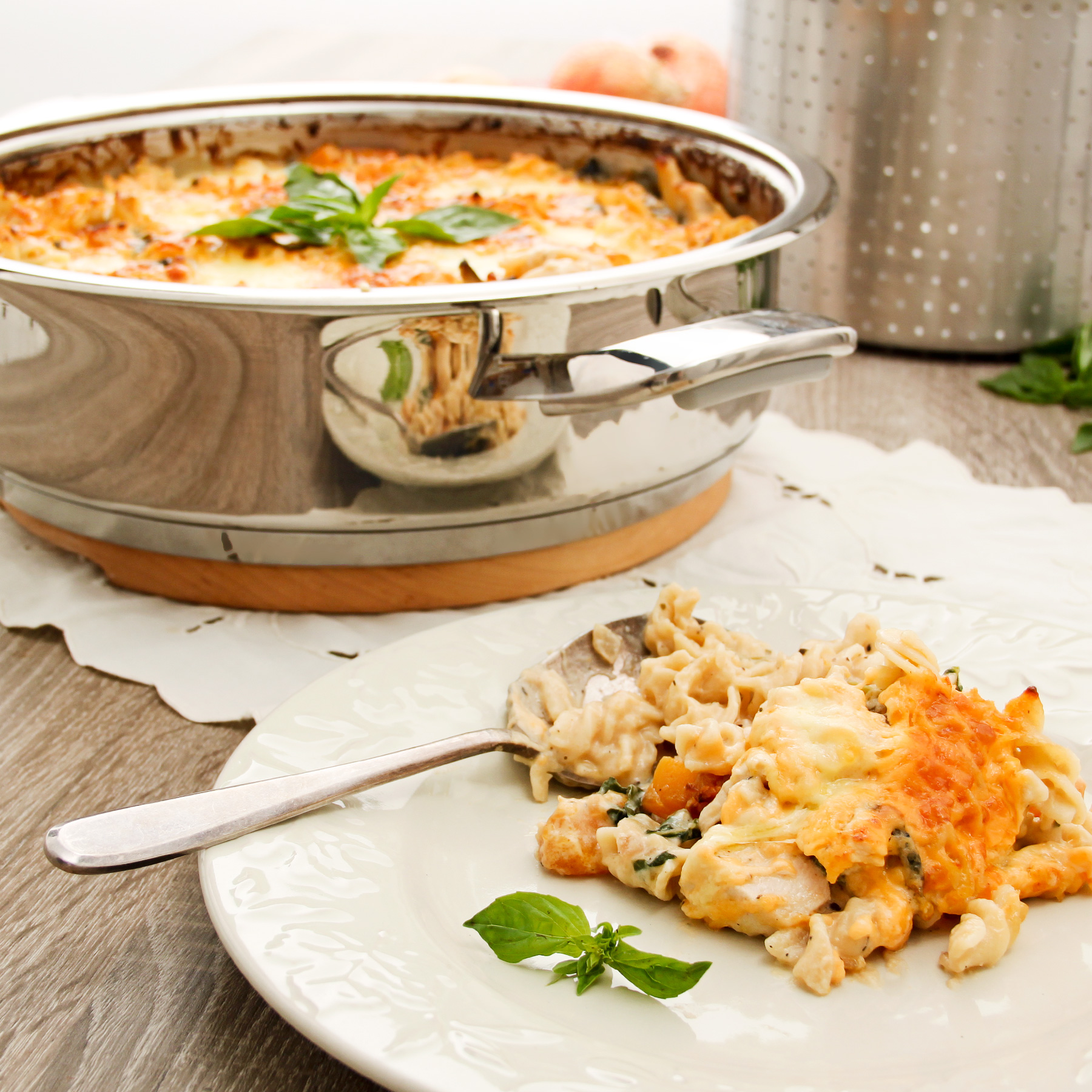 Baked chicken spinach and butternut pasta
Serves 8 - 10
500 g pasta of your choice
2 onions, finely chopped
1 green pepper, chopped
2 garlic cloves, crushed
400 - 500 g butternut, peeled and cubed
15 ml water
50 ml butter
50 ml cake flour
1 litre milk
15 ml dried basil or dried mixed herbs
3 - 4 chicken breast fillets, in small cubes
6 spinach leaves, thinly sliced (or more to taste)
100 g each cheddar and Mozzarella cheese, grated
salt and freshly ground black pepper to taste
Method
Heat an AMC 30 cm Synergy Roaster over a medium heat. Allow the indicator of the Thermocontrol to reach the first blue line. Add onions and green pepper sautéing for a few minutes before adding garlic.
Add butternut cubes and water. Cover with lid, reduce heat to lowest setting and allow to cook for 10 - 15 minutes or until butternut is tender.
Meanwhile, using an AMC 24 cm Synergy Super Gigant bring 2,5 litres of water, with salt added, to a boil over a high temperature. Place pasta in an AMC 24 cm Synergy Pasta Maker and immerse in boiling water. Boil for 8 - 10 minutes until tender but not too soft. Remove Pasta Maker from Gigant and rinse. Set aside until needed.
Once the butternut is tender, add butter to the 30 cm Roaster and allow to melt before adding flour. Stir until all the flour is absorbed. Gradually add milk, stirring continuously to avoid lumps. Sauce will begin to thicken. Increase heat slightly if necessary.
Stir herbs, chicken, spinach and half the cheese through the sauce. Season to taste. The chicken will continue to cook in the hot sauce. Top with remaining cheese. Place unit in oven and grill for 5 -10 minutes or until golden brown. Top with fresh basil or fresh herbs of your choice before serving.
Variations:
Omit chicken and add mushrooms or cubed aubergine in step 2 for a vegetarian option.