Barley soup with sausages and sour cream
3 August 2015 / Posted in
Soups
With all the cold weather we've been having a warm and tasty soup is always welcome. When prepared in your AMC Speedcooker®, this soup will be cooked and ready to eat in 20 minutes. Awesome supper in a pinch!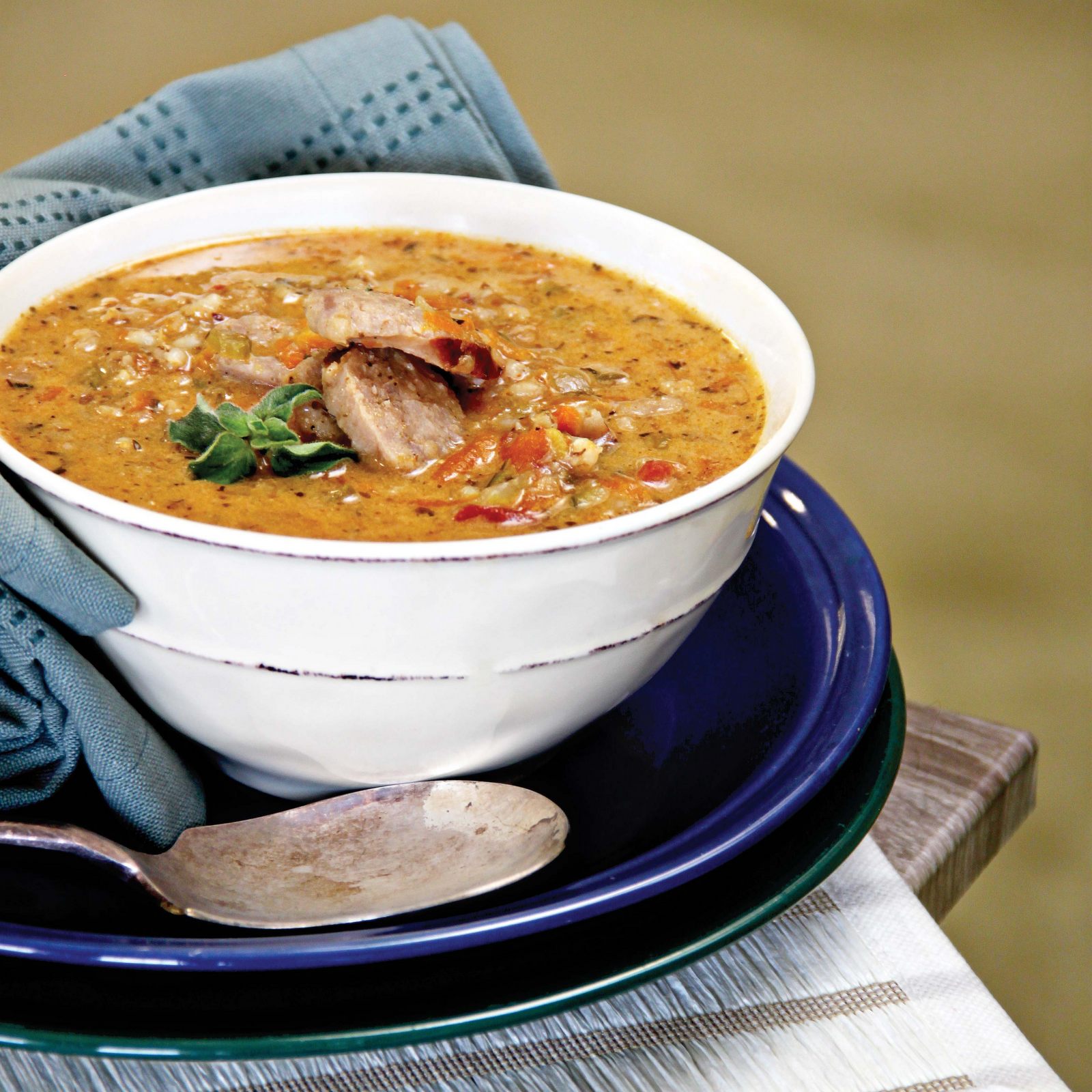 Barley soup with sausages & sour cream
Serves 6 - 8
5 pork sausages or frankfurters
2 onions, chopped
2 cloves of garlic, crushed
2 - 3 celery stalks, sliced
4 carrots, coarsely grated
4 baby marrows, coarsely grated
1 large potato, coarsely grated
2 litres chicken or vegetable stock
2 bay leaves
30 - 40 ml dried mixed herbs or origanum
150 - 200 ml pearl barley
1 tin (410 g) chopped tomatoes
10 ml sugar
125 ml sour cream
salt and freshly ground black pepper to taste
fresh origanum leaves for garnish
Method
Place sausages in a cold AMC 8 Litre Speedcooker®, cover with a normal lid and heat over a medium temperature until the Visiotherm® reaches the first red area. Remove the lid, turn sausages over and cook until golden brown and almost cooked through. Spoon out and set aside.
Sauté onion, garlic and celery in the same unit until transparent. Add carrots, baby marrows and potato and sauté for a few more minutes. Add stock, bay leaves, dried herbs, barley, tomatoes and sugar to the unit, mix well and bring to a simmer.
Seal the unit with the Speedcooker® lid and heat until the red ring on the indicator shows. Reduce the temperature slightly to maintain the indicator at this level and cook for 15 - 20 minutes.
Remove from heat and allow indicator to drop completely before opening Speedcooker.
Thinly slice the sausages and add with the sour cream to the soup. Heat the unit over a low–medium heat and simmer for 5 minutes. Season to taste, garnish with fresh origanum and serve with bread.
Tips:
If you don't have a Speedcooker®, prepare this dish in an AMC 24 cm High. Follow step 1 - 2 as above, cover with lid and reduce heat to the lowest setting. Cook for 1 - 1½ hours or until barley is cooked.
For a vegetarian version, omit the sausages and instead sprinkle finely grated Pecorino or Cheddar cheese over the warm soup.
The more barley you use, the thicker the soup becomes. So add barley to taste if you prefer a thicker or thinner soup.
Share this mouthwatering soup: