Basil pesto
Pesto is typically Italian and can easily become a standard item in your fridge. It adds intense flavour and makes a simple meal delicious – pesto stirred through hot pasta, use topped on a baked potato or spread on fresh ciabatta. Traditionally made with pine nuts, we've used cashew nuts in our recipe.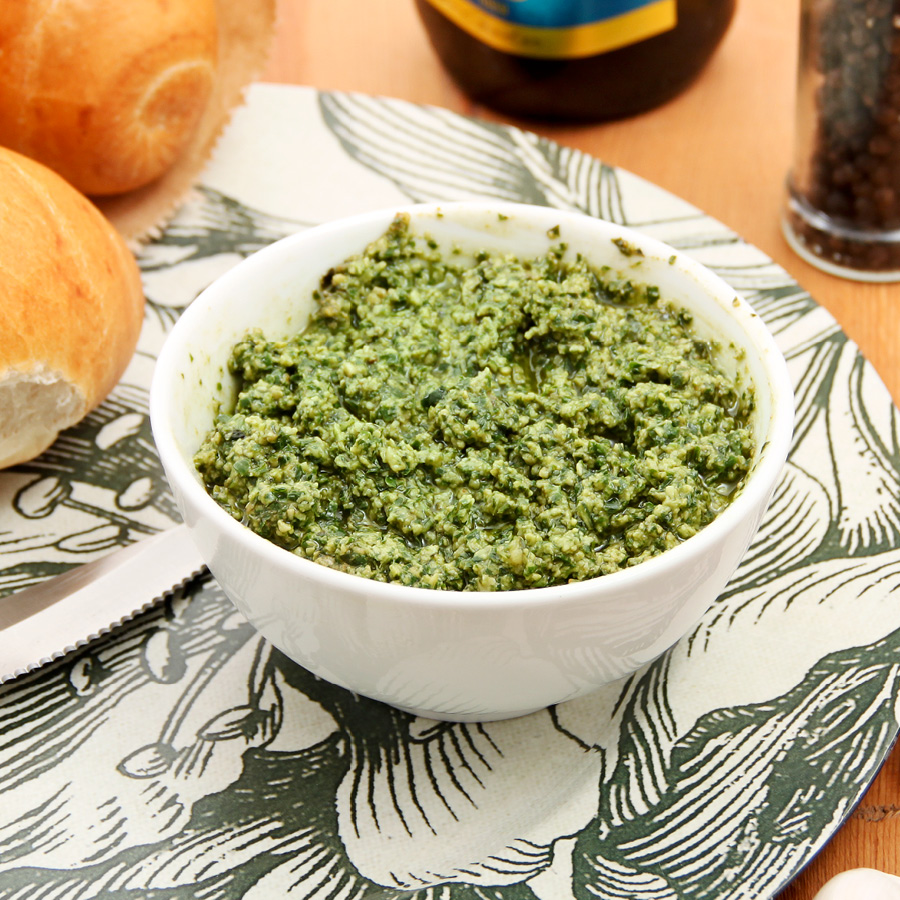 Basil Pesto
60 - 70 g fresh basil leaves
2 - 3 cloves of garlic, crushed
30 - 50 g pine nuts, ground almonds or cashews, lightly toasted
60 g (120 ml) Pecorino or Parmesan cheese, finely grated
125 ml olive oil
salt and freshly ground black pepper to taste

Method
Place basil, garlic, nuts, cheese and half of the oil in a food processor and blend. Once it starts to form a mixture, add rest of oil and blend until smooth. Season to taste and mix through. Spoon pesto into a sterilised glass jar, top with a thin layer of olive oil and refrigerate.
Tips & variations
Pesto will turn brown when exposed to air. To remedy this, you could blanch the basil leaves for 10 - 15 seconds in salted, boiling water until they turn bright green. Immediately submerge in ice water.
If you have a lot of basil leaves, make a big batch of pesto and freeze what you're not going to use now.
Use pesto in any of the following ways: On baked potatoes; mix with mayonnaise as a dressing for potato salad or a green salad; on a chicken salad; sandwiches or pizzas; add to Bulgarian yoghurt as a dip, serve with tomatoes, as a condiment with meat or chicken or just to add flavour to almost any other dish.
For more of a twist, substitute basil leaves with coriander and mint leaves, or plain coriander or even some carrot fronds.
Make a betroot pesto by replacing herbs with 1 cup of cooked betroot.