Beetroot & orange salad
7 April 2020 / Posted in
Salads
This simple salad is a fabulous combination of autumn colours and flavours and can be served as a side or a starter. Bulk up the salad by adding some shredded roast chicken or chickpeas.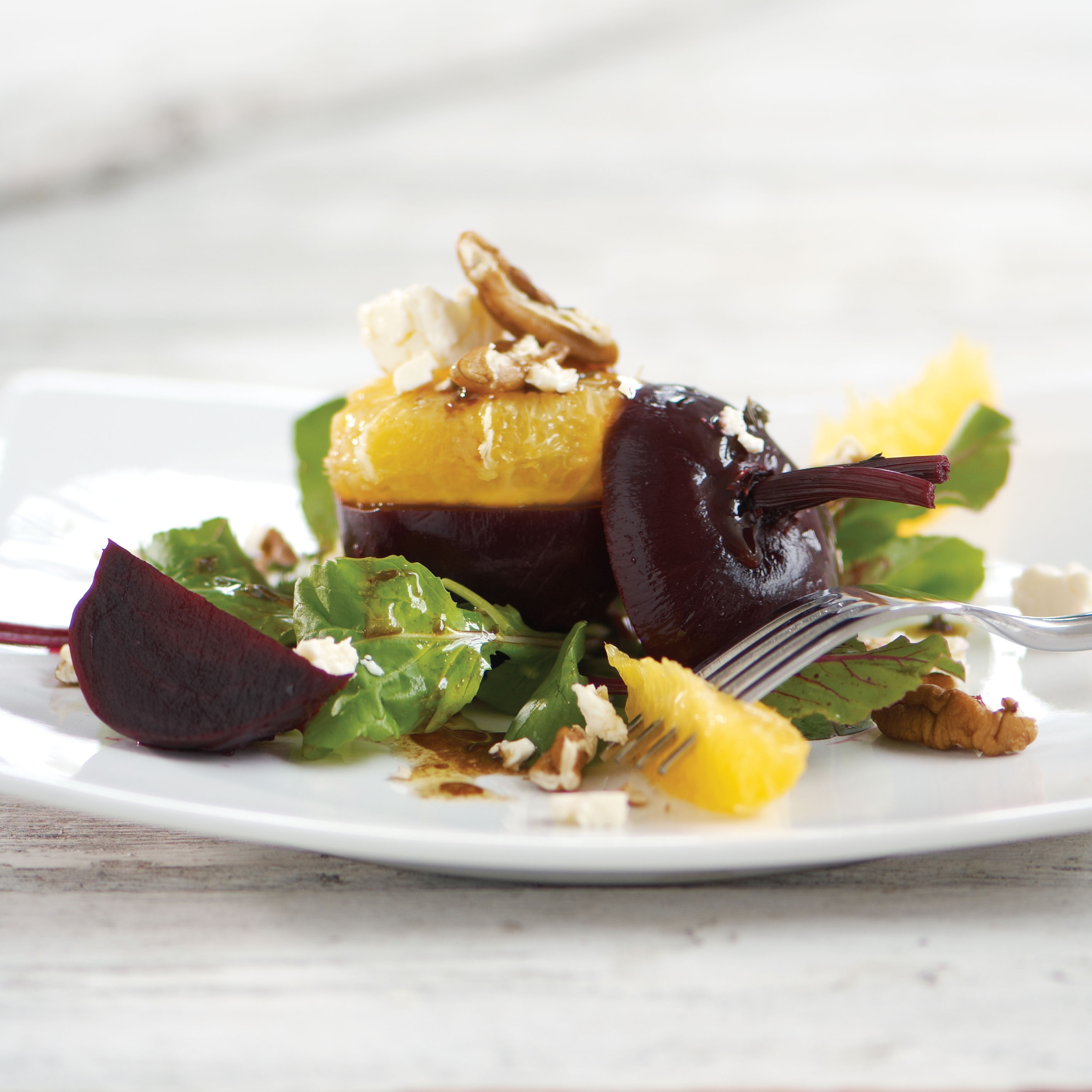 Beetroot & orange salad
Serves 4 - 6

10 - 12 small beetroot, washed
2 - 3 oranges, peeled and white pith removed
100 - 150 g mix of lettuce, rocket, watercress & baby spinach
1 - 2 slices of Feta, coarsely crumbled
50 - 75 g pecan nuts or 75 ml dukkah

Dressing
50 ml olive oil
30 ml balsamic vinegar
20 ml honey
5 - 10 ml fresh or 2.5 ml dried thyme
salt and freshly ground black pepper
Method
Leave 2 - 3 cm of the beetroot stems intact for a different look, if preferred. Place beetroot in an AMC 20 cm Gourmet High, add 200 ml water and salt and heat over a medium temperature until the Visiotherm reaches the first red area. Reduce the heat to the lowest setting and simmer for 30 - 45 minutes or until just tender. Leave to cool.
Meanwhile, whisk all the dressing ingredients together and season to taste.
Carefully peel cooled beetroot, without removing stems. If the peel doesn't slip off when peeled by hand, use a small vegetable knife. Halve some of the beetroot horizontally and quarter the rest. Slice one orange in thin slices and segment the rest.
Place greens on a platter or individual plates and top with remaining ingredients. Drizzle with dressing and serve immediately. Warm Italian bread makes a perfect accompaniment.
Variations:
Substitute feta cheese with goats cheese.
Substitute pecan nuts or dukkah with walnuts.
Any combination of salad greens will work with this salad.