Boeber
One of our colleagues asked us to please share this recipe from the AMC Cook's Book on our site and we couldn't say no - it's too delicious not to share! This is a traditional Cape Malay recipe for a sweet pudding or thick creamy drink, served on the fifteenth night of Ramadan to celebrate the middle of the fast. There are many variations to the recipe, so adjust to your liking.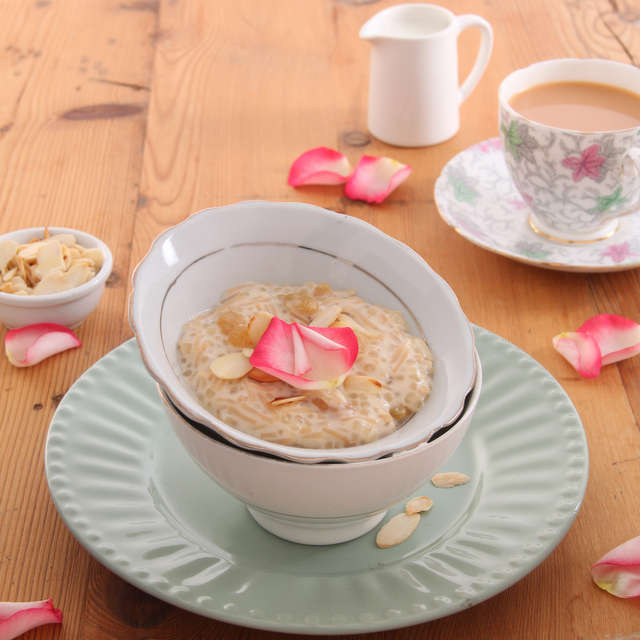 Boeber
50 ml sago
1,2 litres milk
50 g butter
250 ml (100 g) vermicelli, broken into shorter lengths
4 cardamom pods, lightly crushed
2 sticks of cinnamon
100 ml sugar
100 ml sultanas
10 ml rose water or vanilla essence
100 ml flaked almonds, toasted
Method
Soak sago in 200 ml of the milk for 30 minutes.
In an AMC 20 cm High, melt the butter over a medium temperature. Allow the butter to bubble before adding the vermicelli, cardamom and cinnamon. Sauté until the vermicelli is golden brown, stirring constantly, being careful not to burn the butter.
Add the milk with the soaked sago and any remaining milk, along with the sugar. Reduce the heat slightly and simmer for 15 - 20 minutes or until sago is transparent. Stir occasionally to prevent it from sticking.
Add the sultanas and cook for another 5 minutes until the boeber has thickened, stirring constantly.
Once cooked, remove from heat, stir in rose water and top with flaked almonds.
Tips & variations:
To toast almonds, heat an AMC 16 cm Low over a medium temperature until the Visiotherm reaches the first red area. Place almonds in unit and toast to your liking, being careful not to burn the almonds.
If preferred, substitute vermicelli with angel hair pasta (lokshen). More or less sago can also be added to the boeber to either make it less or more thick.
If you prefer a sweeter dessert, use more sugar or either add or substitute some of the milk and sugar with condensed milk for a richer and sweeter end result.
Sugared rose petals, sugared star anise or chopped pistachios are also often traditionally used to decorate the cooked boeber.