Butternut, tomato & basil pasta
This pasta recipe is perfect for an "I don't know what to cook" evening. Easy to prepare and delicious too. Add leftover chicken or a tin of butter beans or tuna to bulk it up if preferred, and you're ready to go. Any leftovers are also perfect for lunch the next day – two meals done and dusted.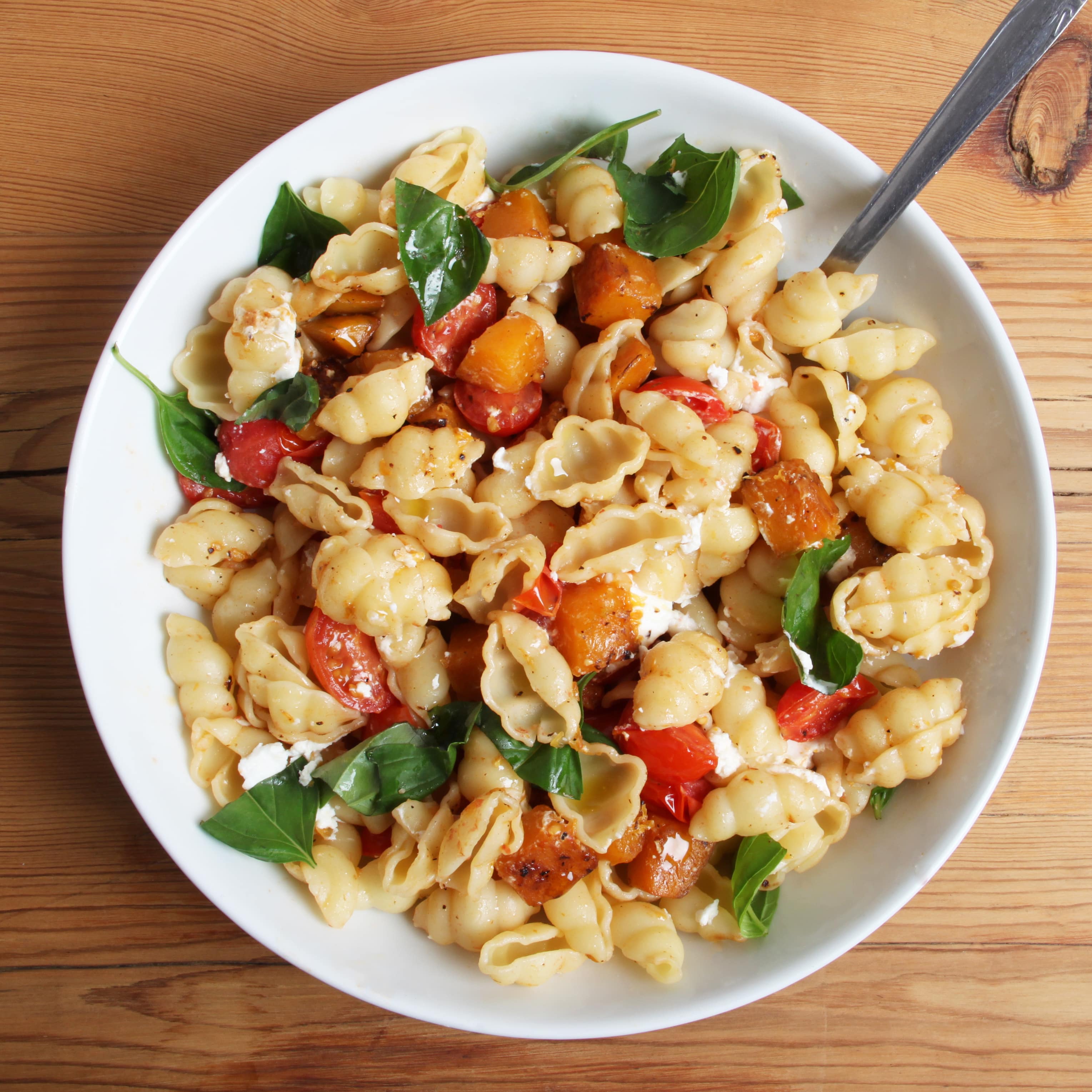 Butternut, tomato & basil pasta
Serves 4

300 g butternut, cut in small cubes
300 g - 400 g pasta shells or penne
olive oil, to taste
250 g baby tomatoes, halved
100 - 150 g ricotta
salt and freshly ground black pepper
a handful of fresh basil leaves, roughly torn
Method
Heat an AMC 28 cm Chef's Pan over a medium temperature until the Visiotherm® reaches the first red area. Sauté butternut for a few minutes until lightly golden. Reduce the heat and add 15 ml water to the unit. Cover with lid and cook for 5 minutes, or until butternut is tender.
Meanwhile, place your AMC Pasta Maker in your 24 cm Gourmet Gigant and bring 2,5 - 3 litres water, with salt to a boil over a high heat. Add pasta to boiling water and cook for 10 minutes or until al dente.
When the pasta is cooked, slowly remove the AMC Pasta Maker from the AMC Gigant, allowing the water to drain away. Dispose of the remaining pasta water once cooled. Toss pasta with olive oil.
Remove butternut from unit and set aside. If needed increase the heat, then toss baby tomatoes in the Chef's Pan until skin starts to blister.
Add the tomatoes and butternut to the cooked pasta. Crumble the ricotta on top and season to taste. Drizzle with more olive oil if needed and mix basil through pasta. Serve immediately.
Variations:
Substitute the baby tomatoes with a can of chopped tomatoes. Add this to the sautéed butternut instead of water, and continue to cook over a medium temperature, without the lid, to reduce slightly.
For a cheesier flavour, top pasta with parmesan shavings.
For a slightly different flavour, substitute ricotta for goat's cheese or feta.
Share this tasty pasta recipe now!