Cape Malay pickled fish with roti tacos
Preparing enough pickled fish to feed an army is an Easter tradition. On Good Friday pickled fish is a staple with a few other seafood dishes, as well as plenty of hot cross buns of course! I have fond memories of my grandfather starting his Good Friday with a cup of black coffee and a bun topped with pickled fish before heading off to church. Carey Erasmus from Bits of Carey shares her unique pickled fish and tacos recipe with us.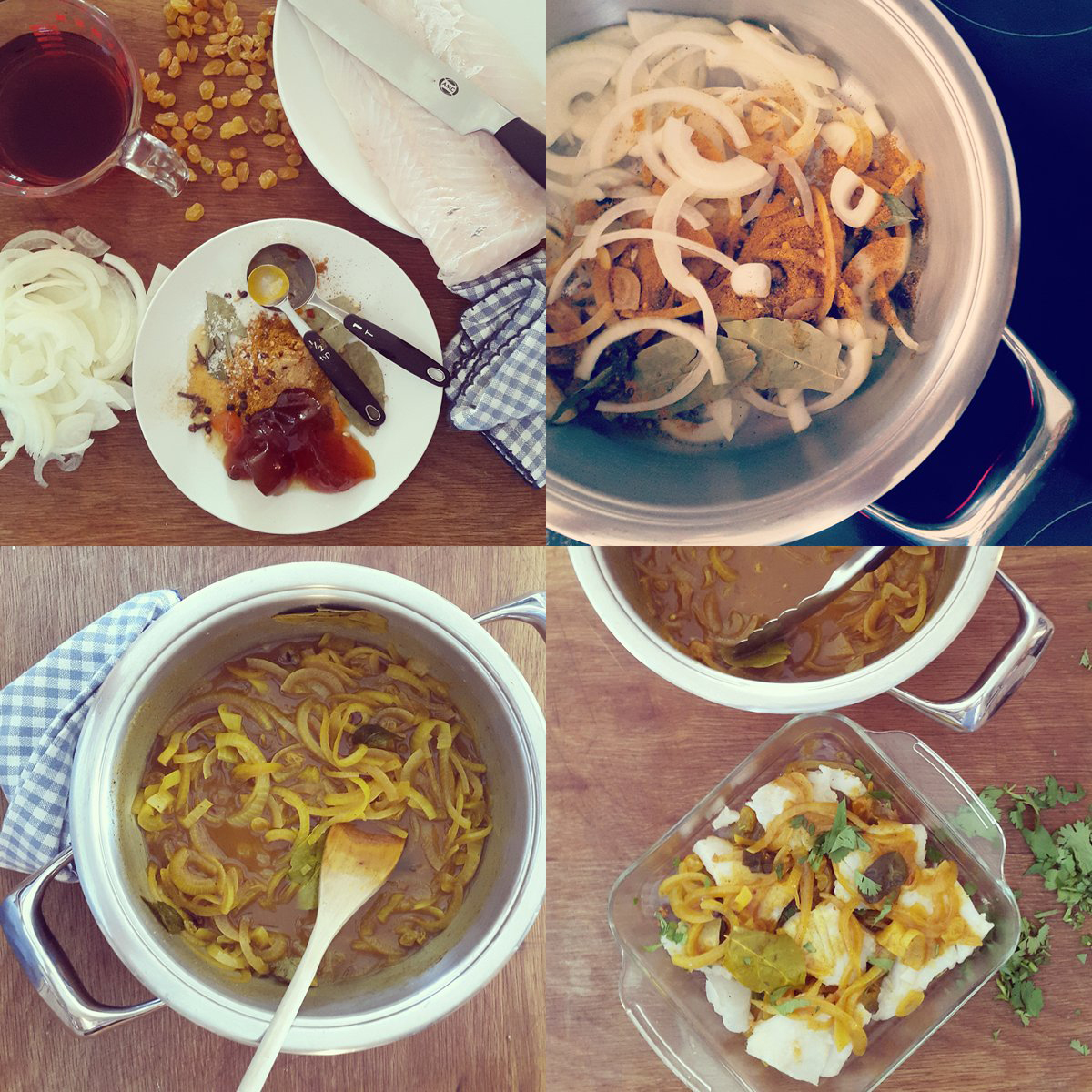 Cape Malay pickled fish with roti tacos
Makes 14 tacos
1 large onion, finely sliced
15 ml medium curry powder
2,5 ml turmeric
2,5 ml coriander seeds
2 of each bay and curry leaves
3 cloves
4 black peppercorns
180 ml brown vinegar
150 ml water
45 ml apricot jam
45 ml sultanas (optional)
2,5 ml salt
7,5 ml cake flour
500 g hake fillets (or a combination of hake, yellowtail and angel fish)
60 ml seasoned flour
30 ml oil
handful fresh coriander leaves, roughly chopped
salt and freshly ground black pepper to taste
Roti tacos
350 g cake flour
5 ml salt
2 ml baking powder
about 400 ml ice cold water
80 g softened salted butter
125 ml extra flour for rolling
oil for greasing
Method
Fish: Heat an AMC 20 cm Gourmet Low over a medium temperature until the Visiotherm reaches the first red area. Add onions and spices, frying for 2 minutes. Add the vinegar, water, jam, sultanas and salt, cover and bring to a simmer. Cook for about 10 minutes – the onions should be cooked but still have a bite to them.
Make a paste using some of the cooking liquid mixed with the flour and add to the sauce stirring to thicken it up a bit. Season to taste.
Cut the fish into 6 thin portions. Coat with seasoned flour. Heat an AMC 24 cm Gourmet Dome Fry Pan over a medium temperature until the Visiotherm reaches the first red area. Add oil and fry the fish in batches for 3 - 5 minutes (depending on thickness). If fish begins to flake, remove.
Layer the fish, onion, sultanas and coriander in a shallow, medium sized dish. Pour the sauce over the fish ensuring everything is covered. Cover and make sure it's airtight and chill in the fridge until ready to eat. It tastes best on the 3rd day.
Roti tacos: Place the flour, salt and baking powder in a food processor and add the water. Blend until it comes together forming a pliable dough. With floured hands remove and place onto a floured surface. It's important not to overwork the dough as it will become tough and difficult to roll. Divide the dough into 14 equal pieces and roll into balls.
On a floured surface roll each ball into round discs about 10 cm in diameter. Cover the dough or discs you're handling with a damp towel to prevent drying out.
Spread butter onto each disc and fold into quarters (will look like mini crepes). Cover with cling-wrap and rest in the fridge for 30 minutes. Then gently form them into balls again and repeat the process one more time and chill covered again for at least 20 minutes or when ready to roll out and fry. This process makes the rotis nice and flaky.
When ready, gently form into balls again and roll out into discs for the final time. Heat an AMC 28 cm Chef's Pan over a medium temperature. Lightly grease pan and fry rotis until dark blisters form, then turn over to brown the other side and turn again until they puff up a bit. Then remove from unit and slap between your hands – this also brings on more flakiness. If your hands are fragile, use oven gloves so you don't burn yourself. Keep warm wrapped in foil.
Spoon some pickled fish onto mini rotis and fold to resemble a taco – you may need to use small skewers to keep them intact. Serve with dollop of raita.