Caramelised onions
Heleen Meyer, AMC Brand Ambassador shares two recipes that she always has up her sleeve (or in her fridge), allowing her whip up something exciting without too much effort.

A jar of caramelised onions can put an ordinary, everyday recipe in a whole new light. Try them on braaibroodjies, spooned over pap with a braai or added to gourmet hotdogs. Burgers will never be the same without caramelised onions and added to a simple green salad with cheese will have everyone wanting more. Don't miss our next blog with an easy homemade dukkah recipe.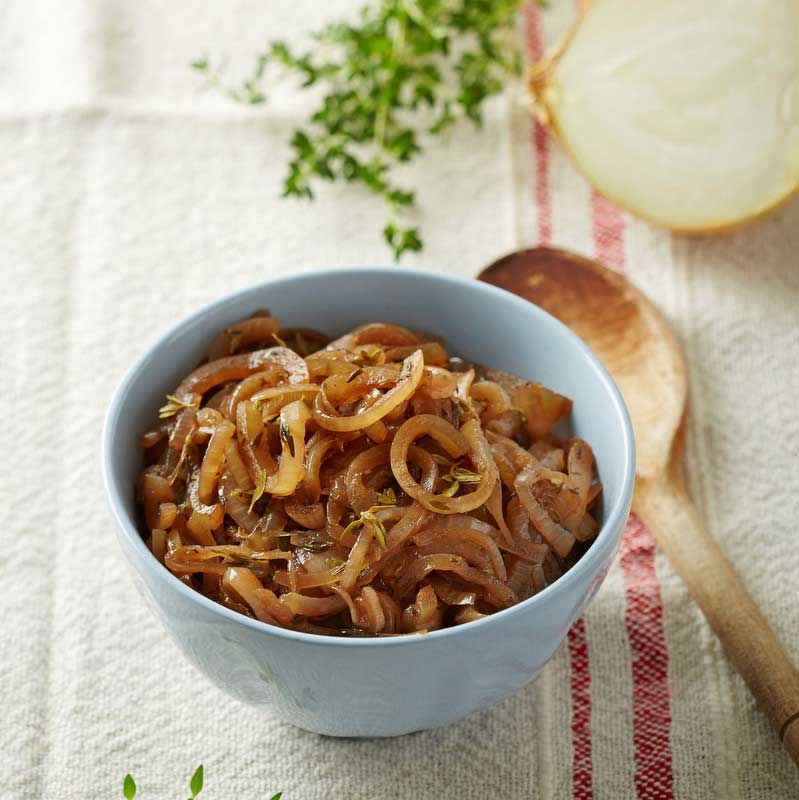 Caramelised onions
Recipe from Make five/ Maak vyf
Makes 500 ml

30 ml (2 tbsp) olive or avocado oil
4 large onions, halved and thinly sliced
15 ml (1 tbsp) dried thyme or 5 ml (1 tsp) cumin seeds
45 ml (3 tbsp) soft brown sugar
45 ml (3 tbsp) balsamic vinegar
salt and pepper
45 ml (3 tbsp) fresh thyme leaves
Method
Heat an AMC 28 cm Chef's Pan over a medium temperature until the Visiotherm® reaches the first red area. Add the oil and sauté the onions slowly with the thyme (or cumin seeds) until almost soft.
Add the sugar and vinegar and sauté the onions until completely soft and caramelised – for about 10-15 minutes. Season to taste and stir in fresh thyme.
Serve hot or at room temperature. Allow to cool and store in a sterilised glass jar. The onions will keep for a few weeks in the fridge.

Tips & ideas with caramelised onions
Robust herbs, such as fresh rosemary, also work well with the onions and dried herbs are ideal. Spices like caraway or fennel seeds will also be delicious. You can try different vinegars or flavoured oils for different flavour combinations.
Make a big batch of these onions and store them in sterilised glass jars (in the fridge) with a thin layer of olive oil on top.
Use caramelised onions hot or at room temperature on homemade hamburgers, pizzas or in wraps.
Use as a sauce on roasted or pan-fried meat or chicken.
A bowl of onions on a cheese board will be devoured very quickly. Try it with a mature cheddar cheese or a camembert.
It is delicious as part of a filling in an omelette or mixed into scrambled eggs.
Serve onions with blanched broccoli and green beans on a bed of lettuce and a cheese of your choice as a popular salad.
Stir into couscous with fresh herbs and sprinkle with toasted nuts or dukkah for an easy salad.
Share these caramelised onions!
Credit
Recipes from Heleen Meyer, AMC Brand Ambassdor
Photographs: Caramelised onion photograh: Neville Lockhart
Facebook link: http://www.facebook.com/HeleenMeyerFood