Cardamom & rooibos creme brulee
7 June 2017 / Posted in
Sweets
Crème brûlée can be quite tricky to make as it's sensitive to heat. With our cheats version we make a basic crème patissieré flavoured with rooibos tea and cardamom. Then topped with caramalised sugar for the perfect crack when you knock it, you are sure to enjoy this dessert! We've prepared one large dessert to share, but you could also make individual portions too.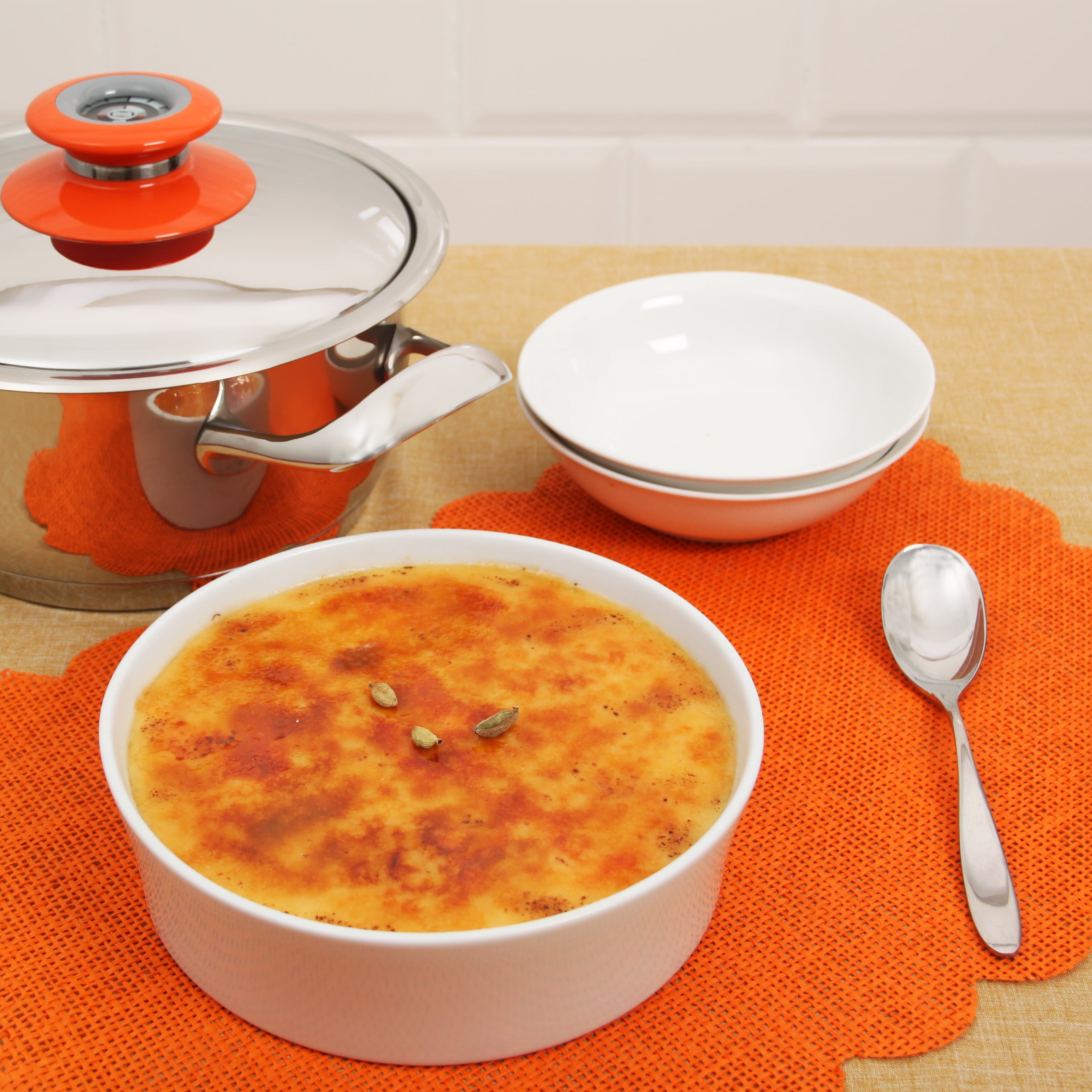 Cardamom & rooibos creme brulee
Serves 8 – 10

8 extra large egg yolks
120 ml castor sugar
90 ml corn flour
400 ml milk
250 ml cream
3 rooibos tea bags
4 - 5 cardamom pods, seeds removed and crushed
150 g (190 ml) sugar
Method
Place egg yolks, sugar and corn flour in a bowl and beat until pale.
Heat milk, cream, rooibos and ground cardamom in an AMC 20 cm Gourmet Low over a medium temperature until the Visiotherm reaches the 7 o' clock position, you do not want the mixture to boil. Turn stove-plate to lower setting. Remove tea bags.
Gradually add milk mixture to eggs, while whisking constantly, creating as few bubbles as possible. Return mixture to unit and whisk constantly over a low temperature until mixture thickens. Note that this is a quick process.
Pour custard into a large flat bowl. Place in fridge and allow to set. Before serving, remove from the fridge and sprinkle with equal amounts of sugar. Use a blow torch to caramelise the sugar and form a crust. Serve immediately as is or with fresh berries
Variations:
Flavour the custard differently by adding a vanilla pod or the zest of a lemon or orange in step 2.
If you don't have a blow torch, heat the grill of your oven till hot, then place your pudding under the grill to caramelise. This happens quickly so keep an eye on it.
Prepare individual portions in ramekins, espresso or small tea cups for this dessert.
Share this delicious dessert!