Chicken & samp curry
Not a truly traditional curry, we've instead prepared a one dish chicken curry with samp. A one-pot meal is always a winner in our home, and by using the Speedcooker® this tasty curry is ready in 60 minutes even though the samp is not pre-soaked. Even better is as soon as you have all the ingredients in your Speedcooker®, you can sit back and relax. The curry has some bite, so serve with plain yoghurt or deseed the chilli if preferred.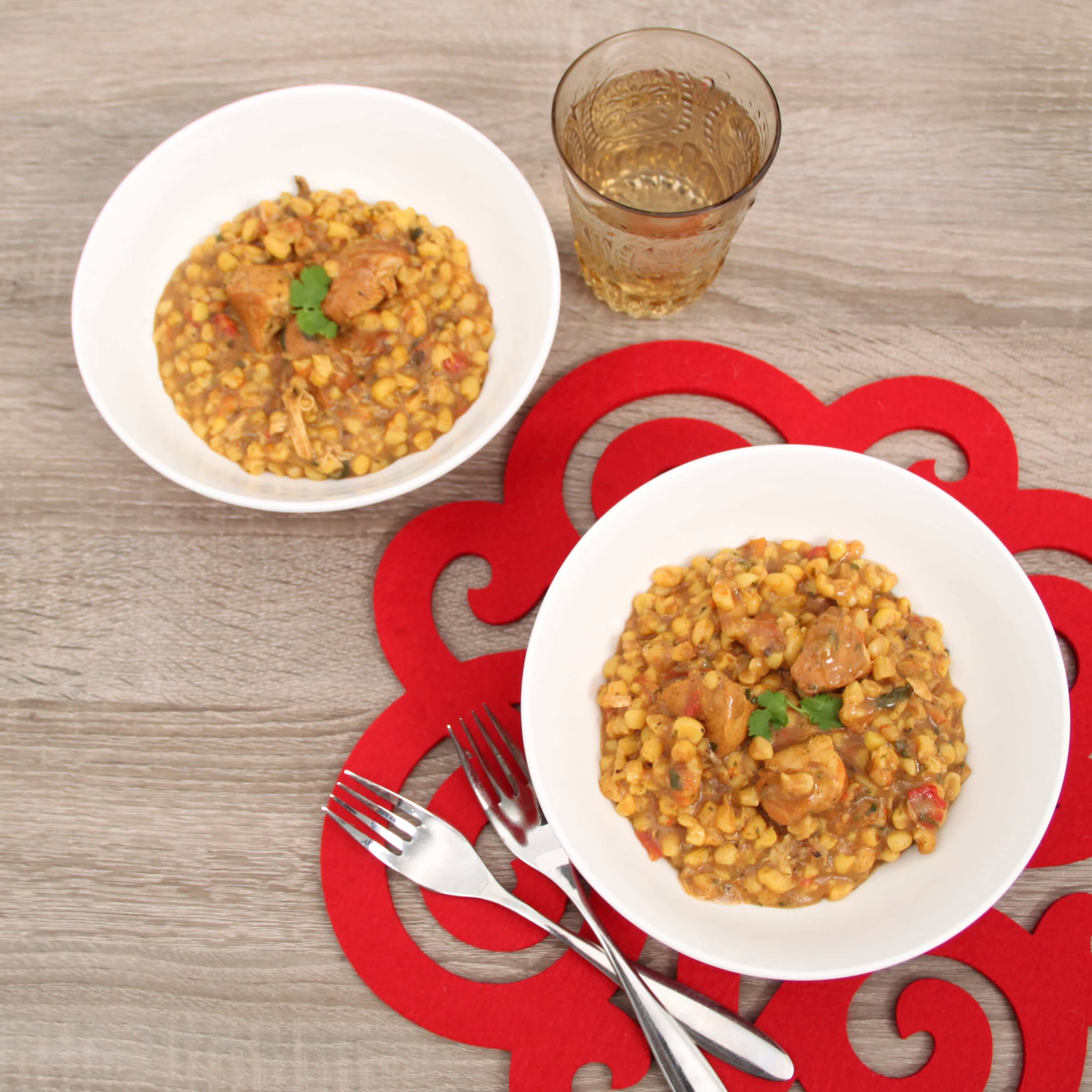 ingredients
Serves 6 - 8
3 - 4 chicken breast portions
1 onion, chopped
2 cloves of garlic, crushed
5 ml fresh ginger, grated
1 chilli, chopped
10 ml each ground cumin and coriander
5 ml cumin seeds
20 ml curry powder
1 each bay leaf and stick cinnamon
2 cups (500 ml) uncooked samp (no need to soak)
1.5 litres chicken stock
1 tin tomato puree
15 ml sugar
salt and freshly ground black pepper
handful fresh coriander, chopped
Method
Heat an AMC 8 litre Speedcooker® with normal 24 cm lid on, over a medium temperature until the Visiotherm reaches the first red area.
Place chicken portions skin side down and brown on both sides before removing from unit. Allow to cool slightly before cutting each portion into three pieces.
Sauté onions for a few minutes before adding garlic, ginger, chilli and spices.
Return chicken portions to unit and add remaining ingredients, except coriander. Seal with Speedcooker® lid.
Cook over a medium heat until the indicator reaches the red level. Lower temperature slightly to maintain indicator at this level. Cook for 50 minutes. Remove the Pressure Cooker from the stove plate. Allow indicator to drop completely before opening Speedcooker®.
Add tomatoes and sugar and simmer for 10 minutes. Season to taste, garnish with fresh coriander and serve.
Tips & variations:
Add freshly, chopped spinach in step 6. Heat through and allow to wilt before serving.
Alternatively prepare this dish in an AMC 24 cm Gourmet High. To do so soak samp overnight. Follow recipe as above, but boil for 2 - 2½ hours or until samp is tender.