Chorizo, chickpeas & kale in a spicy tomato sauce
Having a lazy evening but you still need to make a tasty and filling supper? This one pot recipe created by food blogger Carey Erasmus is the perfect answer. Substitute the chorizo with pork sausage or add a tin of lentils for a vegetarian option, and supper will be ready in 20 minutes.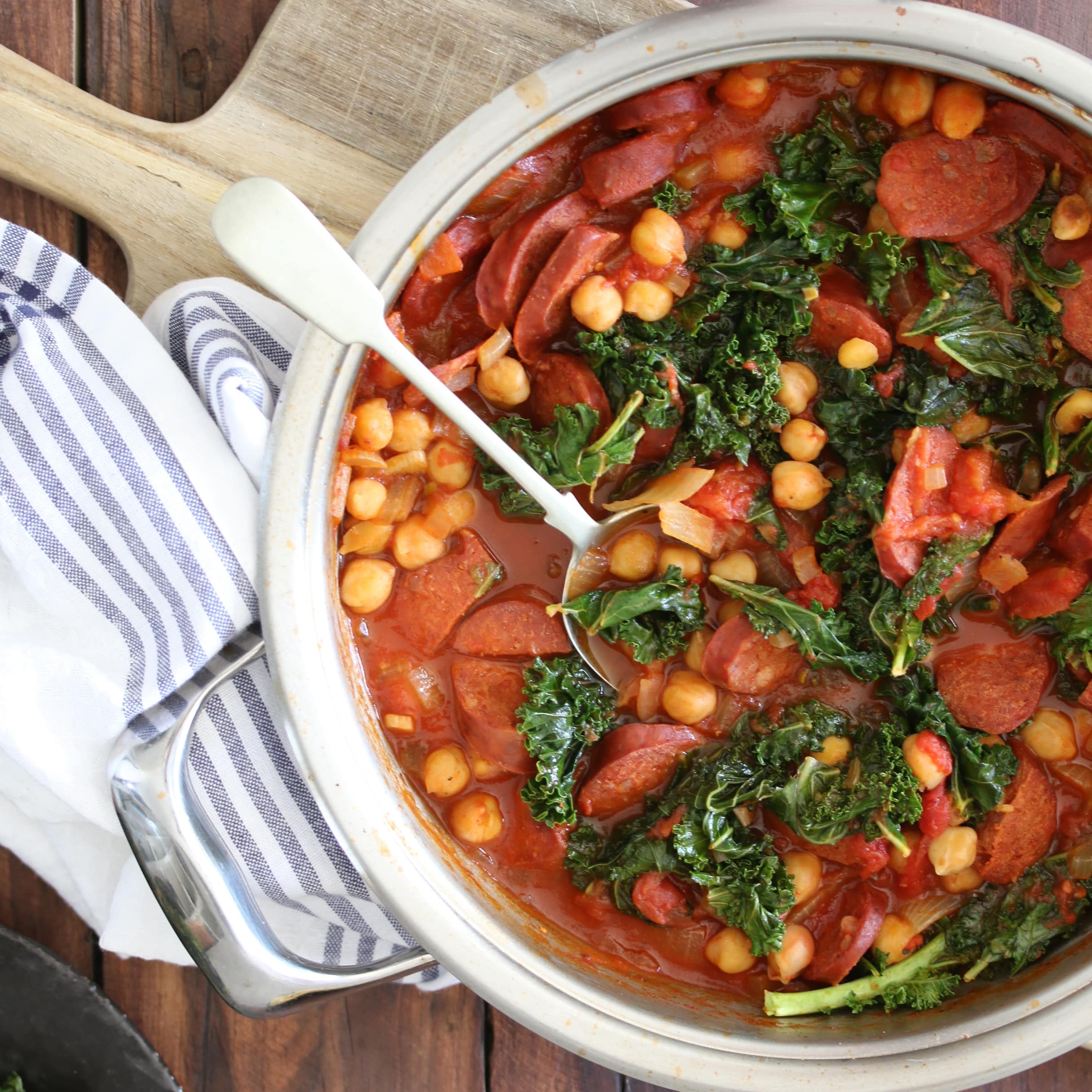 Chorizo, Chickpeas & Kale in Spicy Tomato Sauce
Serves 2 - 4
250 g chorizo sausages, sliced or good quality pork sausages
1 onion, finely chopped
2 garlic cloves, chopped
5 ml ground cumin
2,5 ml dried chillies
2,5 ml smoked paprika
375 ml dry white wine or stock
400 g tin chopped tomatoes
15 ml tomato paste
5 ml dried oregano
5 ml honey
400 g tin chickpeas, drained and rinsed
100 g kale, broken into pieces
salt and freshly ground black pepper to taste
Method
Heat an AMC 24 cm Gourmet Dome Fry Pan or 20 cm Gourmet Low over a medium temperature until the Visiotherm® reaches the first red area. Add the chorizo or pork sausages and sauté until almost crispy and the flavourful oil of the chorizo has released.
Add the onion, garlic and spices, fry over low heat until softened and fragrant. Add half of the wine and to reduce to a third.
Add the chopped tomatoes, tomato paste, oregano and honey. Bring to the boil, add the chickpeas and remaining wine and simmer gently for 10 - 12 minutes.
Add the kale and cover with a lid and simmer for 5 minutes or until kale is wilted.
Season with salt and pepper to taste. Serve on bulgar wheat or quinoa drizzled with good olive oil. For some crunch, serve with kale chips.
Tips & Variations:
To make kale chips: Add only half of the kale to your mixture, use the balance for your chips. Preheat the oven to 200°C. Spread kale out onto a large baking tray, drizzle with olive oil and season to taste. Roast for 10 - 12 minutes or until crispy and slightly browned.
Substitute chorizo with cooked or tinned lentils for a meat free option.
Share this easy chorizo & chickpea dish