Date balls
A quick and easy healthy snack. These yummy bites can be prepared in advance and stored in the fridge or freezer. Pop these date balls into a lunch box and you are ready for a guilt-free snack. They give you a great boost when you are feeling a bit peckish or low in energy.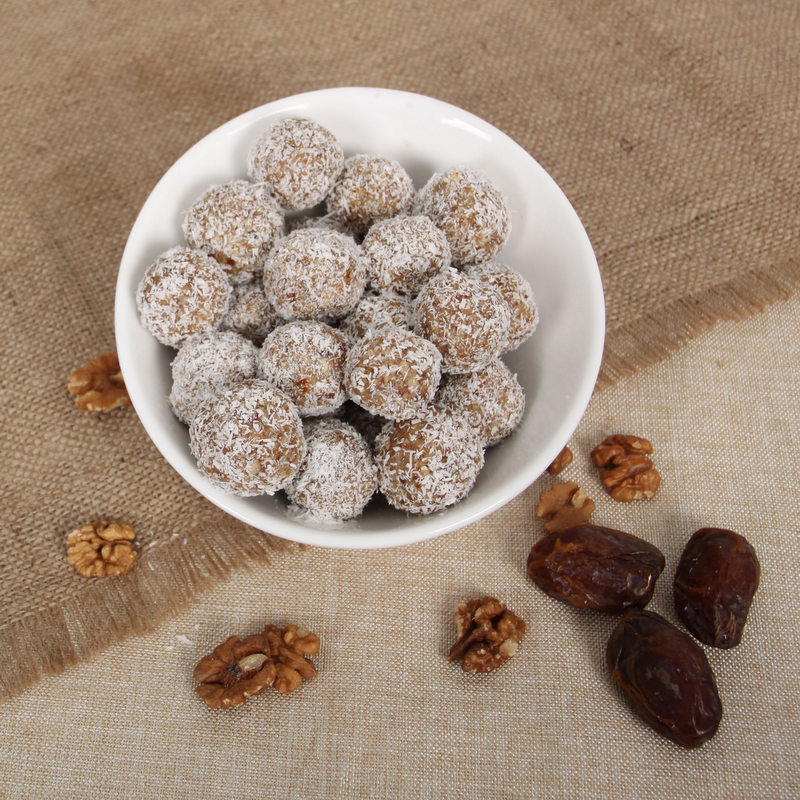 Date balls
Makes 20 – 25

100 g walnuts or nuts of your choice
100 ml sunflower seeds or seeds of your choice
100 ml desiccated coconut
250 g soft Medjool dates, pitted
15 ml coconut oil
5 ml vanilla extract
extra coconut for dusting
Method
Place nuts, seeds and coconut in a large food processor, fitted with an "S" blade. Process until crumbly.
Add in the dates, coconut oil and vanilla extract and process again until a sticky batter is formed.
Shape batter into bite-sized balls and roll in coconut. Store date balls in a sealed container in the fridge for up to a week or in the freezer for an even longer shelf life.
Tips & variations
The added coconut oil will help the date balls to firm up once in the fridge.
For extra flavour roll in toasted coconut.
Add 5 – 10 ml cocoa powder for chocolate hit.
Get the kids to munch on the date balls by rolling them in some hundreds & thousands