Fish cakes & mielies for supper
Fish cakes can be so versatile – serve with veg for a healthy and balanced family dinner, pack leftover fish cakes in lunchboxes to snack on, or serve for lunch on a wholewheat roll. They're also inexpensive as well as quick and easy to prepare. If serving with mielies, remember not to cook the mielies in too much water.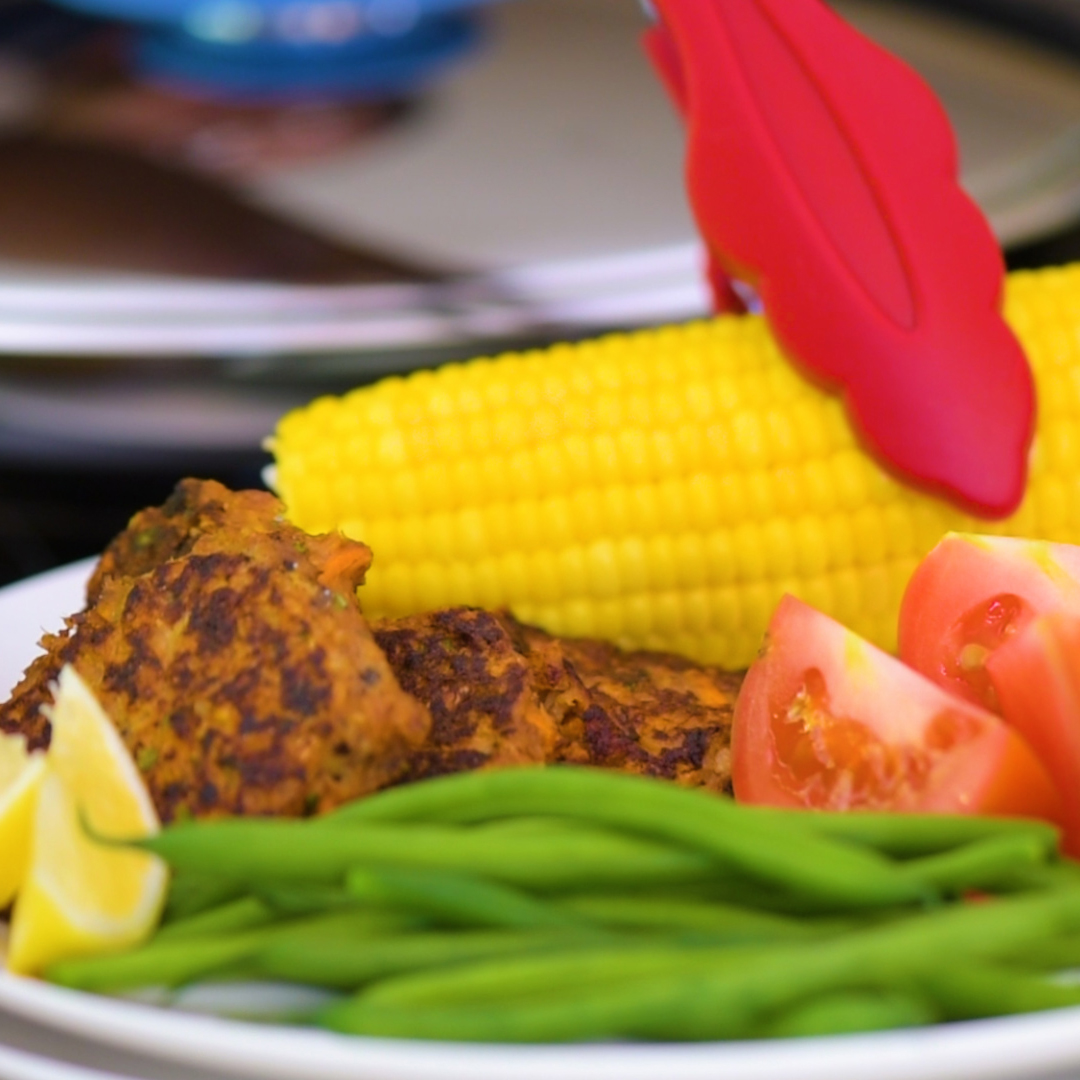 Fish cakes & mielies
Serves 4

1 x 410 g tin pilchards in tomato sauce
1 small onion, grated
2 carrots, coarsely grated
60 ml (¼ cup) chutney or tomato sauce
60 ml (¼ cup) cake flour
15 ml (1 tbsp) lemon juice
125 ml (½ cup) uncooked oats
5 ml (1 tsp) ground coriander
2 eggs
60 ml (¼ cup) chopped fresh herbs, such as Italian parsley and coriander
45 ml (3 tbsp) water
salt and freshly ground black pepper to taste
30 ml (2 tbsp) olive or avocado oil for frying

4 mielies (corn on the cob) for serving
green beans, fresh tomato and lemon wedges for serving
Method
Place the fish, with the sauce, in a large mixing bowl and break up into smaller pieces with a fork. Add the remaining ingredients, except the oil. Mix well and season to taste – it's quite a runny batter.
Heat an AMC 28 cm Chef's Pan over a medium heat until the Visiotherm® reaches the first red area. Add a thin layer of oil in the unit. Fry spoonfuls of the batter for 3-5 minutes on one side. Turn over and fry for a few more minutes or until golden brown and cooked.
Repeat with the rest of the mixture and add more oil, if necessary. Keep fish cakes warm, while frying the rest.
Meanwhile, place mielies with 125 ml (½ cup) water in an AMC 20 cm Gourmet High. Heat over a medium temperature until the Visiotherm® reaches the first red area. Reduce the heat to the lowest setting and simmer for 5-8 minutes or until the corn is just cooked. Drain and keep warm.
Serve fish cakes and mielies with lightly cooked green beans, fresh tomato and lemon wedges.
Tips
Any leftovers are perfect for a lunchbox the next day.
Avocado slices are also delicious with the fish cakes.
Share this fish cake recipe!