Gazpacho
29 August 2017 / Posted in
Soups
A cold Spanish gazpacho is perfect refreshment on a hot summer day. This traditional Spanish soup that is served cold, making it incredibly easy to prepare. Pop all your ingredients into a blender, blend to desired consistency and allow to chill for a few hours before serving.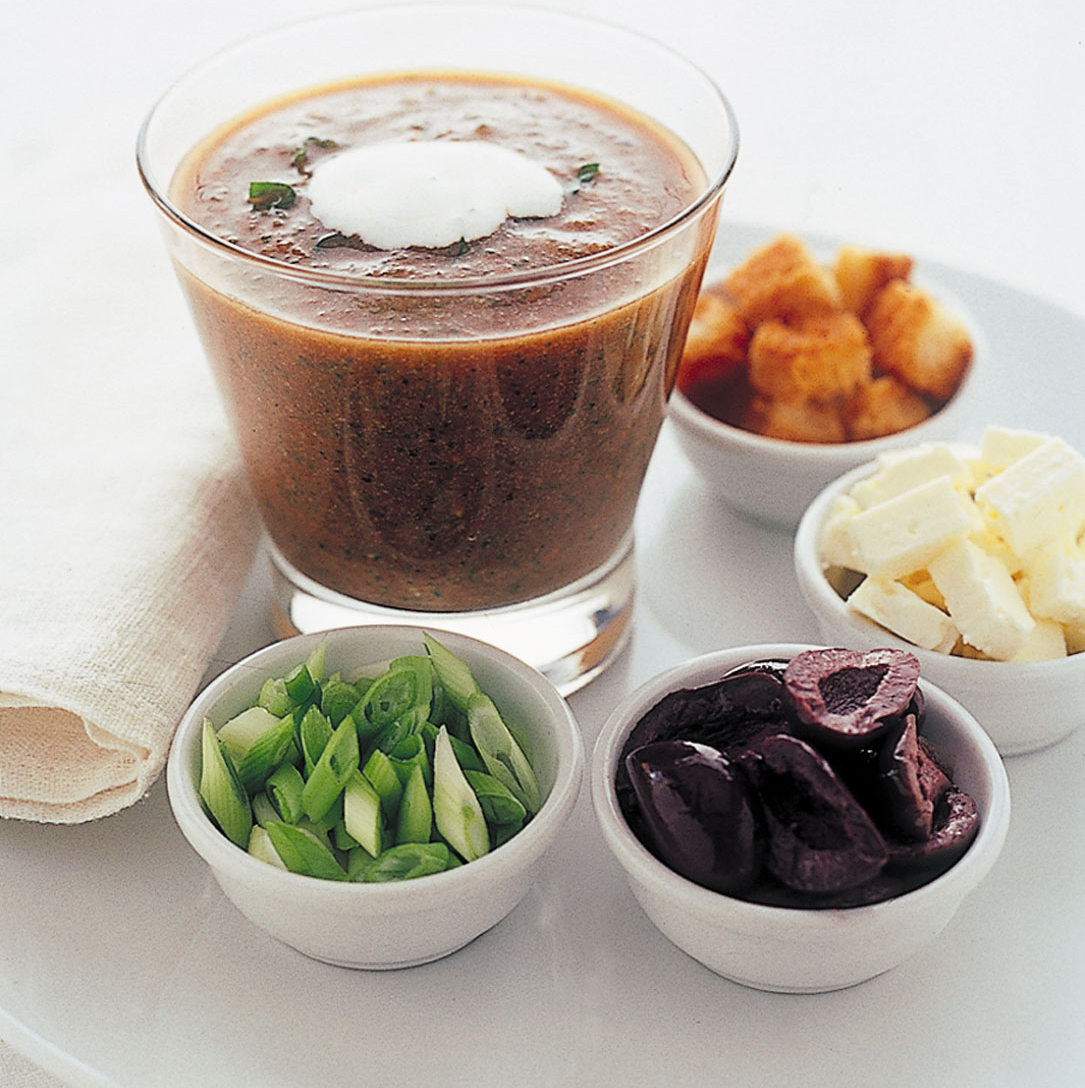 Gazpacho
Serves 6 - 8
1 slice of white bread
2 tins (200 ml each) tomato juice, chilled
1 clove of garlic, crushed
4 spring onions, finely chopped
½ English cucumber, seeded and cubed
1 celery stalk with leaves, chopped
½ each red and green pepper, seeded and chopped
1 tin (400 g) chopped tomatoes
5 ml tomato paste
15 – 20 ml balsamic or red wine vinegar
Tabasco sauce or cayenne pepper, to taste
salt and freshly ground black pepper to taste
10 – 12 basil leaves, shredded
Optional accompaniments
250 ml crushed ice
croûtons
125 ml sour cream
large prawn per person, pan-fried and seasoned
50 g olives, halved and pitted
2 celery stalks or ¼ cucumber, finely diced
2 slices Feta cheese, diced
2 – 4 spring onions, diagonally sliced
Method
Place bread in an AMC 20 cm Dome and pour tomato juice over. Allow to stand until soft.
Place bread with juice, garlic, all the vegetables and tomato paste in a liquidiser or food processor or mix it with a hand blender. Blend to a smooth mixture.
Pour soup into Dome and stir in remaining ingredients, except basil. Season to taste. Refrigerate in Dome for 1 – 2 hours or overnight, until well chilled.
To serve: Add basil and pour soup into individual bowls and garnish with any of the accompaniments. You could place crushed ice in the bottom of a glass, top with soup and spoon some sour cream over. Skewer a pan-fried prawn on a kebab and place on edge of the glass. Or serve from the AMC Soup Tureen and let everyone help themselves.
Tips:
Serve as a starter or cocktail on a summer's evening.
Serve in glasses with a dash of gin or vodka.
Substitute basil with coriander leaves or cayenne pepper.
Can also be prepared with 500 g ripe tomatoes, skinned, seeded and chopped.
Share this delicious gazpacho!