Lamb Pilaf with cranberries & dates
AMC Brand Ambassador Bits of Carey shares her interpretation of a pilaf with us. With sweetened bites of cranberries and dates, this dish is absolutely delicious. Perfect to create if you have leftover rice at home, this pilaf can be enjoyed both hot or cold, making it the ideal meal for warm summer evenings.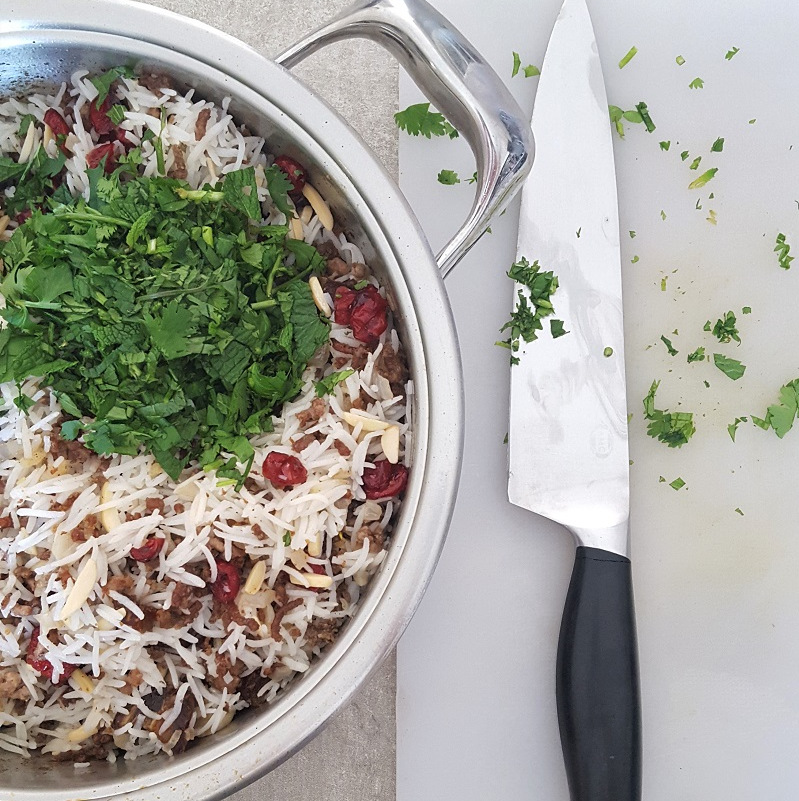 Lamb Pilaf with cranberries & dates
Serves 4
250 ml basmati rice, soaked in cold water for 30 minutes
100 g slivered almonds
600 g lamb mince
15 ml oil
2 onions, finely chopped
2 large garlic cloves, crushed
10 ml fresh ginger, grated
10 ml ground cumin
10 ml ground coriander
5 ml ground cinnamon
6 cardamom pods, squashed
5 ml dried chilli flakes
6 - 8 medjool dates, pips removed and chopped
100 g dried cranberries
handful of fresh coriander, roughly chopped
handful of fresh mint leaves, roughly chopped
freshly ground salt and pepper to taste
Method
Place rice in an AMC 16 cm Gourmet High and cover with 625 ml water. Heat over a medium temperature until the Visiotherm® reaches the first red area. Reduce the heat to lowest setting and cook for 10 - 15 minutes or until rice is cooked to your liking. Remove from the heat, drain though a sieve and rinse well with cold water. Set aside.
Heat an AMC 24 cm Roaster over a medium heat until the Visiotherm reaches the first red area. Add almonds and lightly toast – keeping a close eye. Remove from heat and set aside. In the same pan, fry the mince until browned and broken up, then remove from pan and set aside.
Heat some oil in the pan and fry the onions, garlic, ginger and spices over a gentle heat until translucent and fragrant. Return mince to the pan, followed by the dates and cranberries. Sauté together for 5 minutes.
Add rice and stir through the mince mixture until well combined. Sauté for a further 5 - 10 minutes to heat through and develop the flavours. Remove from the heat and stir in the herbs and almonds. Serve hot or at room temperature.
Variations:
Prepare with leftover rice.
Serve topped with soft sunny side up fried eggs.
Add dried Turkish apricots too.
Substitute almonds with pine nuts or pistachios.
Add a little turmeric or saffron.
For an extra kick, add curry powder or more dried chillies.
share this delicious Lamb Pilaf!