Nutty chicken casserole
While making the paste your mouth will already start watering! Add some chicken, peanut butter and Greek yoghurt and this dish is a winner. This chicken casserole will give takeaways a run for its money any day. And if you enjoy a bit of heat, don't be afraid to add an extra chilli or two.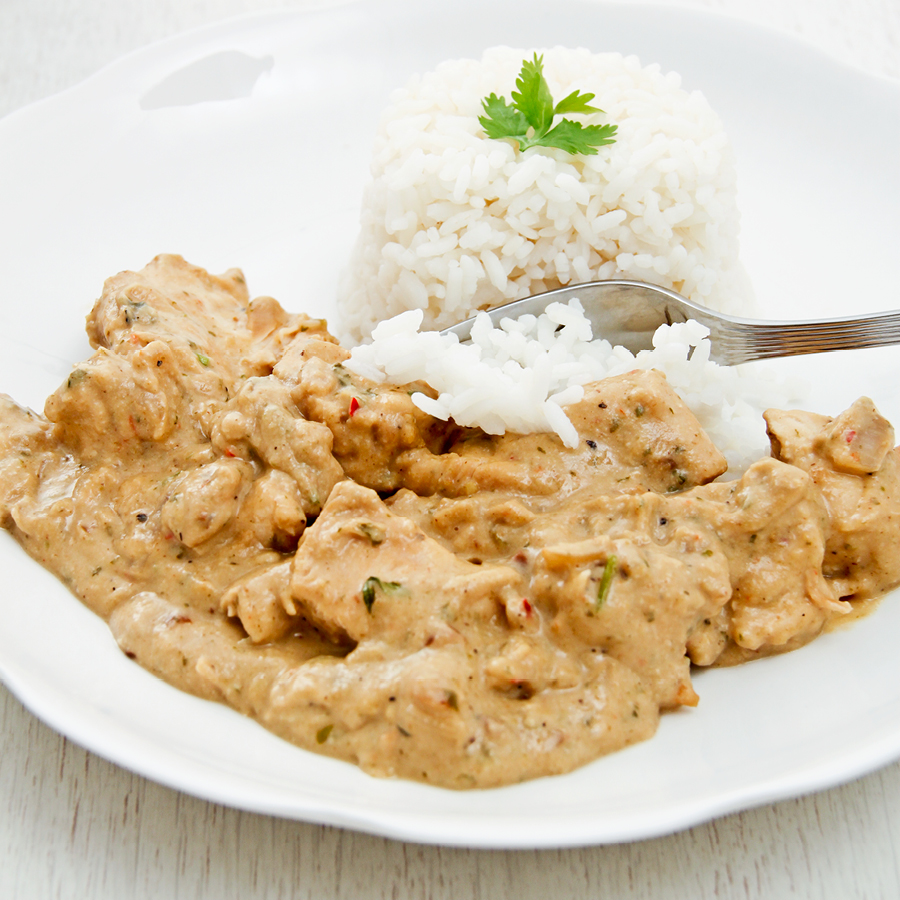 Nutty Chicken Casserole
Serves 4
Paste:
1 chilli, seeded & chopped
15 ml ginger, grated
2 cloves garlic, roughly chopped
30 g fresh coriander
10 ml water
10 ml oil for frying
4 chicken breast fillets, cubed
1 onion, chopped
5 - 10 ml ground cumin
75 - 100 ml crunchy peanut butter
250 ml Greek yoghurt
50 ml chicken stock
salt and freshly ground black pepper to taste
coriander, roughly chopped, for garnish
Method
Place chilli, ginger, garlic, coriander and water in a food processor and blend until a paste forms.
Meanwhile heat an AMC 24 cm Gourmet Fry Pan or Synergy Fry Pan over a medium temperature until the Visiotherm reaches the first red area.
Cover base with oil and add chicken pieces to unit, brown on all sides. Remove from unit and set aside. Sauté onions until soft before adding cumin and paste, cook for 1 minute further.
Return chicken to unit and stir in peanut butter, yoghurt and stock. Cover with lid, reduce temperature, and simmer for 5 - 7 minutes until chicken is cooked through. Season to taste and garnish with coriander, serve on basmati rice.
Variations:
Use Bulgarian yoghurt instead of Greek yoghurt, adding at the end of the cooking process.
If you do not have crunchy peanut butter add 30 - 50 ml chopped cashews instead.
Nuts about this chicken casserole - share it!