Red lentil dhal
Dhal, a traditional Indian dish made from lentils, is usually served as part of a meal. You can also make this economical dish as a light vegetarian supper, served with basmati rice, flat breads or pappadums.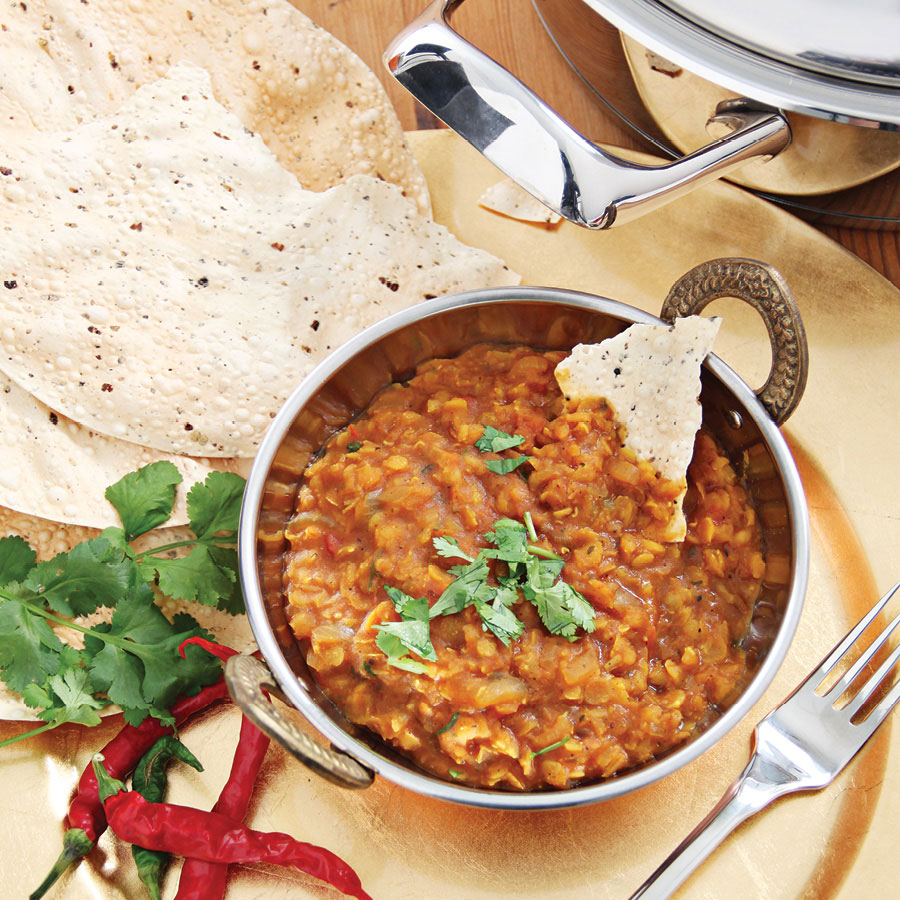 Red lentil dhal
Serves 4
1 onion, finely chopped
2 cloves of garlic, crushed
15 ml grated ginger
1 chilli, chopped, or more to taste
2,5 ml turmeric
5 ml cumin seeds
5 ml ground coriander
1 stick of cinnamon
1 cup (250 ml) red lentils
2 tomatoes, skinned and chopped
600 ml stock
2,5 ml garam masala
salt and freshly ground black pepper to taste
coriander leaves to garnish
Method
Heat an AMC 20 cm Low over a medium temperature until the Visiotherm reaches the first red area. Add the onion, garlic, ginger and chilli, and sauté for a few minutes before adding the spices. Fry until fragrant.
Add lentils, tomatoes and stock and mix through. Cover with lid and reduce heat to lowest setting. Simmer for 20 minutes or until lentils are soft and pulpy. Stir occasionally, adding more liquid if it becomes too dry.
Once cooked, stir through garam masala, garnish with coriander and serve with rootis, basmati rice, pappadums or naan bread.
Variation:
Grated or cubed vegetables of your choice can also be added to the dhal.
Share this blog post now!