Rice with chicken and broccoli
If you have leftover rice at home then this recipe from Heleen Meyer could be ready in minutes! Or quickly cook up 2 cups of rice for this very easy and satisfying meal. The aromatic flavour of Basmati or jasmine rice will be a good substitute if you don't have the slightly nuttier tasting brown rice or brown basmati rice on hand.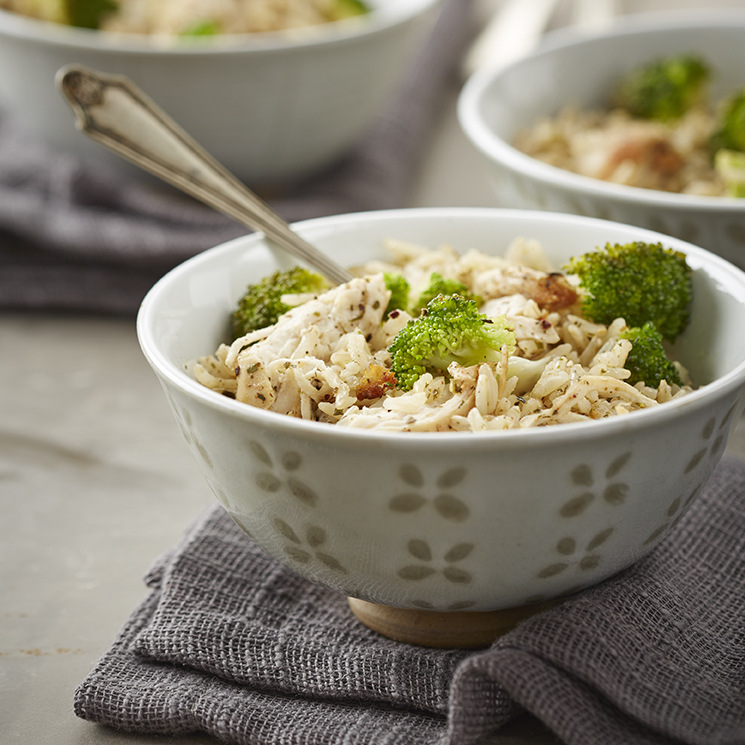 Rice with broccoli and chicken
Serves 4 - 6
500 ml uncooked brown rice or brown basmati rice
1 large onion, chopped
2 cloves garlic, crushed
15 ml dried mixed herbs
200 g broccoli, cut into large florets
30 ml olive or avocado oil (or lemon flavoured oil)
500 ml cooked chicken, cut into pieces (see tip)
2,5 ml Chinese five-spice or paprika to taste
lemon juice, salt and pepper
Place the rice with 1,25 litres (5 cups) water and a pinch of salt in an AMC 20 cm Gourmet High or 20 cm Synergy Super High. Heat over a medium temperature until the Visiotherm reaches the first red area. Reduce heat to lowest setting and simmer with a lid on for 30 minutes or until just cooked. Drain and rinse with cold water. (This can be done ahead of time.)
Heat an AMC 24 cm Gourmet Roaster over a medium temperature until the Visiotherm reaches first red area. Sauté onion and garlic until soft. Add herbs and broccoli, sautéing until the broccoli is nearly cooked. Cover with a lid and steam broccoli for a few minutes.
Stir the oil and cooked rice into the broccoli and sauté for a few minutes. Reduce the heat, stir in the chicken and spices and cover with a lid. Allow to steam for a few minutes until the rice and chicken is heated through.
Season to taste with a little lemon juice, salt and pepper. Drizzle with a big glug of olive oil and serve with some avocado slices and some extra oil at the table.
Tips & variations
Substitute chicken with 2 x 170 g tuna in water, drained.
Any leftover chicken is delicious in this dish and roasted chicken adds a lovely flavour. Alternatively cut two to three chicken breast fillets into strips and sauté with the broccoli. You may need a little bit of extra oil. You could also fry the chicken first and spoon it out so that it doesn't become dry. Stir in the chicken at step 3.
Substitute broccoli with frozen peas.