Samp & beans with meat
This traditional South African dish, Umgqusho, is so quick and easy to make when using your AMC Speedcooker®. There is no need to soak your samp and beans before the time and your meal is done in an hour. And yes, this is one tasty stew! Samp and beans is a perfect one-dish winter meal that fills you right up.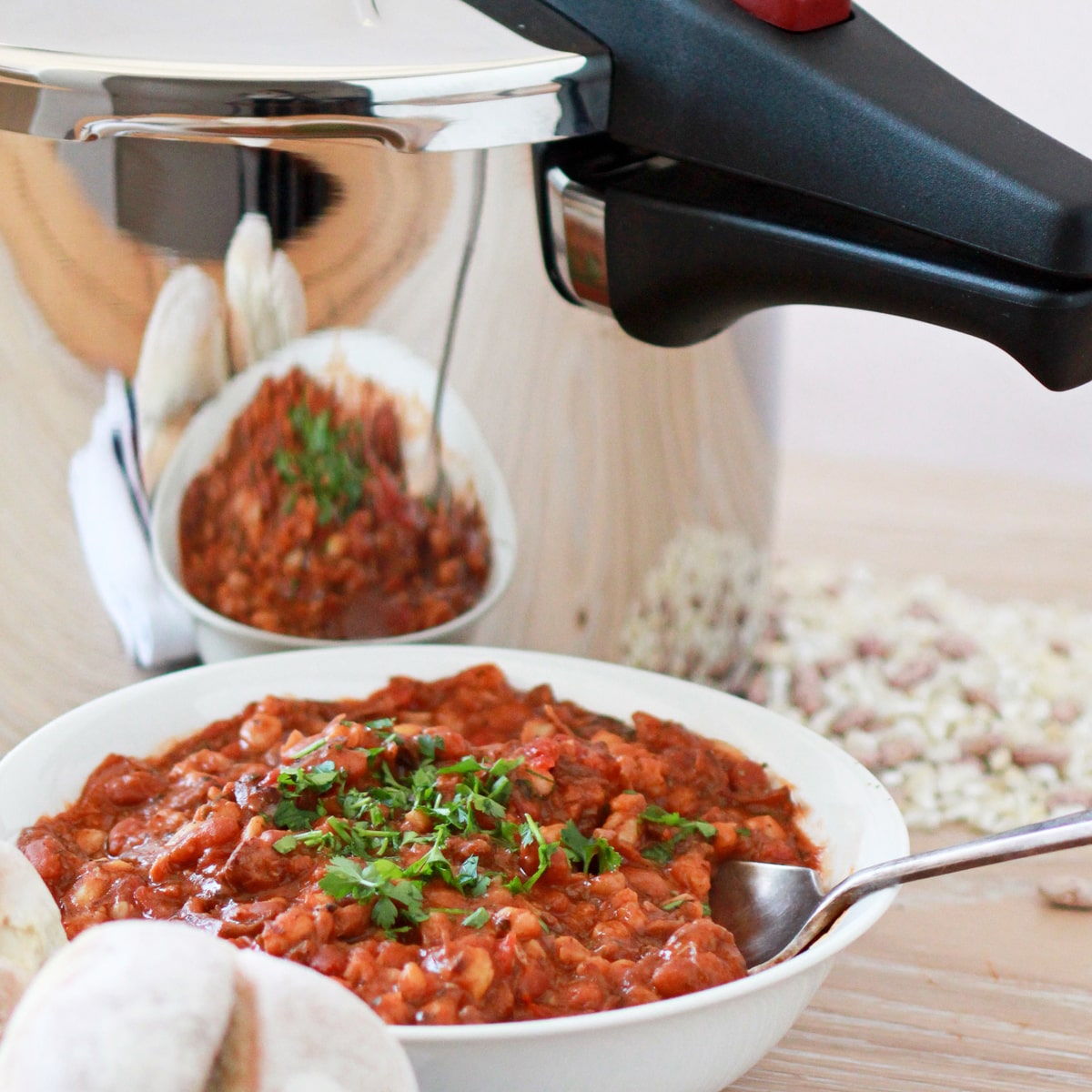 Samp & beans with meat recipe
From The AMC Book, p139
Serves 6 - 8
500 g stewing lamb or beef
1 large onion, chopped
2 cloves of garlic, crushed
3 baby marrows, halved and sliced
3 carrots, coarsely grated
1 celery stalk with leaves, sliced
270 g (350 ml) dry, uncooked samp
200 g (250 ml) dry, uncooked speckled sugar beans
1 litre chicken stock
1 tin (400 g) chopped tomatoes
15 ml dried mixed herbs or origanum
salt and freshly ground black pepper
20 ml fresh, chopped parsley
Method
Heat AMC 8 litre Speedcooker with normal AMC 24 cm lid on, over a medium temperature until the Visiotherm reaches the first red area.
Add meat to unit and allow fat to fry out before turning. Brown on all sides and spoon out. Set aside.
Sauté all the vegetables until tender, then add samp and beans. Stir then add stock, with meat, to Speedcooker.
Seal unit with Speedcooker lid and allow indicator to reach red level. Lower temperature slightly to maintain indicator at this level. Cook for 50 minutes to 1 hour.
Remove the unit from the stove. Allow cooking indicator to drop completely before opening Speedcooker. To do so, press the red safety valve to release any remaining pressure then slide lid open.
Add tomatoes and seasoning. Simmer without lid over a low-medium temperature for 15 minutes or until cooked to your preference. Serve and enjoy!
Tips & variations:
To prepare this meal in an AMC 24 cm High: Soak samp and beans overnight. Follow recipe as above, but simmer over a low heat for 2 - 2½ hours or until samp, beans and meat are tender.
Add spinach leaves, cut into strips, with the tomatoes for an extra boost of veggies.
For a vegetarian dish omit the meat and increase the veggies. Use any veggies of your choice.
Cookware that you could use for this meal: