Samp & Beans in Speedcooker II
This video briefly shows you just how easy it is to use the AMC 8L Speedcooker II. The recipe we used is from The AMC Book, and its one that we are requested to cook repeatedly. Full of flavour, an inexpensive meal, and when using our pressure cooker you don't need to soak the samp and beans first.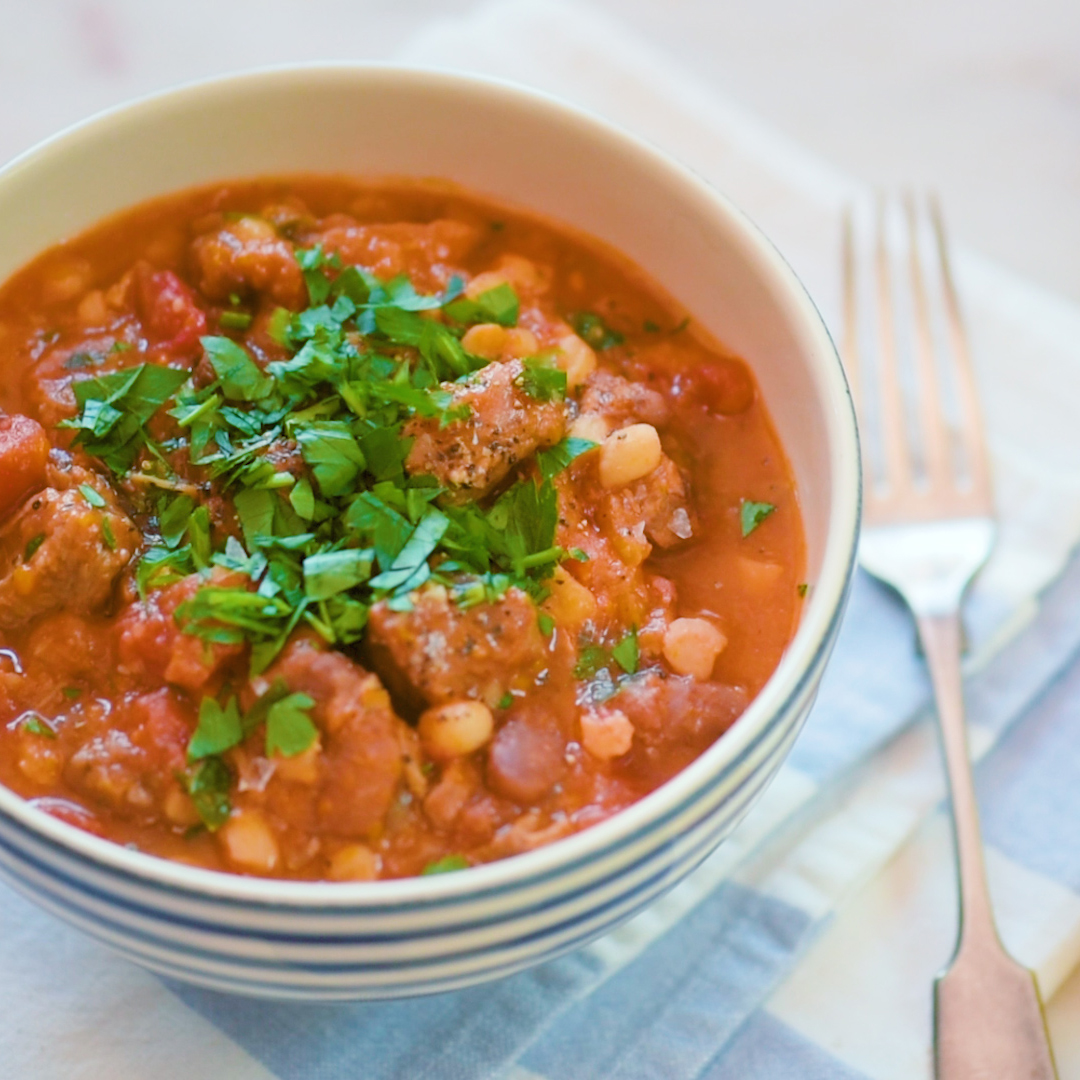 Samp & Beans in Speedcooker II
Serves 6 - 8

500 g stewing meat, excess fat removed and cubed
1 large onion, chopped
2 cloves of garlic, crushed
2 - 3 baby marrows, halved and thinly sliced
3 carrots, coarsely grated
1 celery stalk with leaves, sliced
350 ml (270 g) samp
250 ml (200 g) speckled sugar beans
1 litre (4 cups) chicken stock
15 ml (1 tbsp) dried mixed herbs or origanum
2 x 410 g tins chopped tomatoes
salt and freshly ground black pepper to taste
45 ml (3 tbsp) chopped fresh Italian parsley
lemon wedges to serve
Heat an AMC 8 Litre Speedcooker®ll with a normal 24 cm lid on, over a medium temperature, until the Visiotherm® reaches the first red area.
Add meat to the unit and brown on all sides. Spoon out and set aside.
Sauté all the vegetables for a few minutes and then add meat with samp and beans and stir through. Add stock and herbs to the mixture, and stir well.
Seal unit with the Speedcooker®ll lid, by first aligning the circles on the two long handles. Close the lid to seal. Set the Grey Pressure Setting Valve to the 'high pressure' level.
Check that the Red Pressure Valve on the short handle shows clearly after a few minutes, indicating that the pressure is building. Once the correct pressure has been reached, steam will be released from the Grey Pressure Setting Valve. Reduce the heat to maintain this pressure and to stop the release of steam – ideally you do not want to be releasing pressure while cooking.
Cook samp and beans for 1 hour and remove the unit from the stove plate.
Allow to cool down for 10-15 minutes and release all excess steam by pressing the Red Pressure Release Button. Open the Speedcooker®ll lid by pressing down on this red button and moving the long handles apart.
Add tomatoes and season. Stir well and simmer without a lid over low-medium temperature for a few minutes to heat the tomatoes through. Add parsley and serve warm with lemon wedges.
Tips
Add 2-3 spinach leaves, cut into strips, with tomatoes, if preferred.
For a vegetarian or side dish, substitute meat with 1 x 410 g tin kidney beans and add, with tomatoes, to the dish.
Share our Samp & Beans recipe and video: