Saucy butternut & sweet potato chicken
The butternut and sweet potato in this easy dish cooks down to become a delicious sauce for the chicken. Comfort food at its best! Once you have all the ingredients cooking away, all you need to do is sit back and relax until your casserole is done.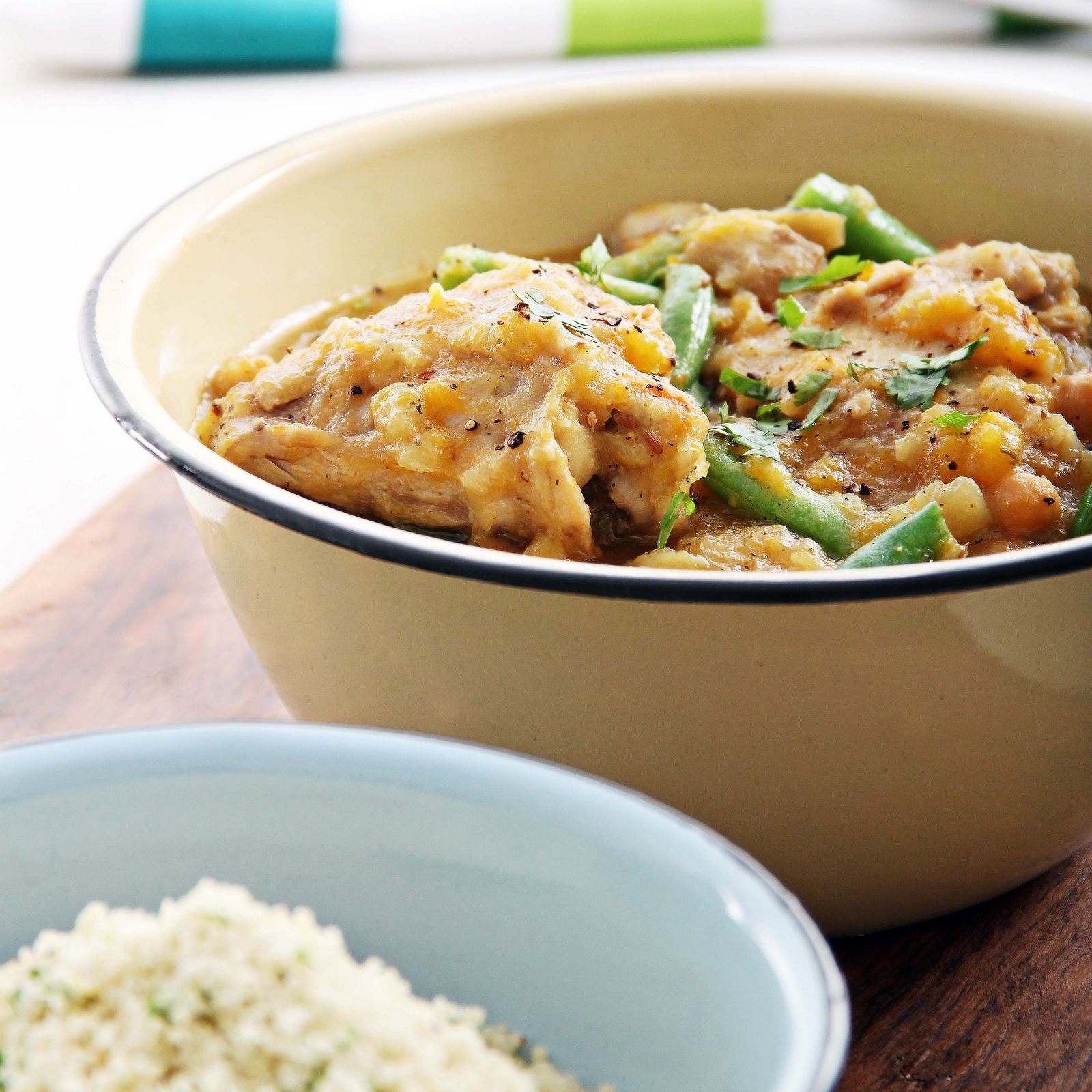 Saucy butternut & sweet potato chicken
Serves 6
6 - 8 chicken thighs
2 onions, chopped
300 g butternut, peeled and cut into 3 cm cubes
300 g sweet potato, with skin, cut into 3 cm cubes
5 - 7,5 ml cumin seeds or 10 - 15 ml ground cumin
1 cinnamon stick
125 ml liquid such as white wine, chicken stock or a combination of both
100 g green beans, cut into thirds
1 tin (425 g) chickpeas, drained
salt and freshly ground black pepper to taste
Method
Preheat an AMC 24 cm High over a medium temperature until the Visotherm reaches the first red area.
Brown chicken thighs, skin side first, until golden brown. Turn and brown other side, then spoon from unit and set aside.
Sauté onions in unit until golden brown. Add butternut and sweet potatoes and sauté for a few more minutes, adding the cumin seeds and cinnamon in the last minute.
Return the chicken to the unit with the white wine or stock. Cover with the lid, reduce heat and allow to cook for 30 - 40 minutes or until the vegetables and chicken are tender.
Add the green beans and chickpeas to the chicken and season to taste. Cook for another 5 - 10 minutes or until heated through, with the green beans still crisp. Season to taste.
As you stir this dish, the butternut and sweet potato will become a purée, making it quite saucy. Serve as is or with a starch of your choice like brown rice or couscous.
Variations:
Substitute the chicken thighs with chicken breast on the bone. Use a pair of kitchen scissors to cut the breasts in half, making smaller portions.
The chickpeas can be omitted or substitute them with a tin of butter beans.
As you stir this meal the butternut and sweet potato will become a puree, making it saucy. Thicken with some flour or maizena if preferred.