Saucy fish & seafood broth
This dish should be rather saucy, so serve it on a starch that mops up all the juices. A quick and easy supper for family and friends alike. We suggest that you use yellowtail or kingklip as they are firm fish and hold up well during cooking.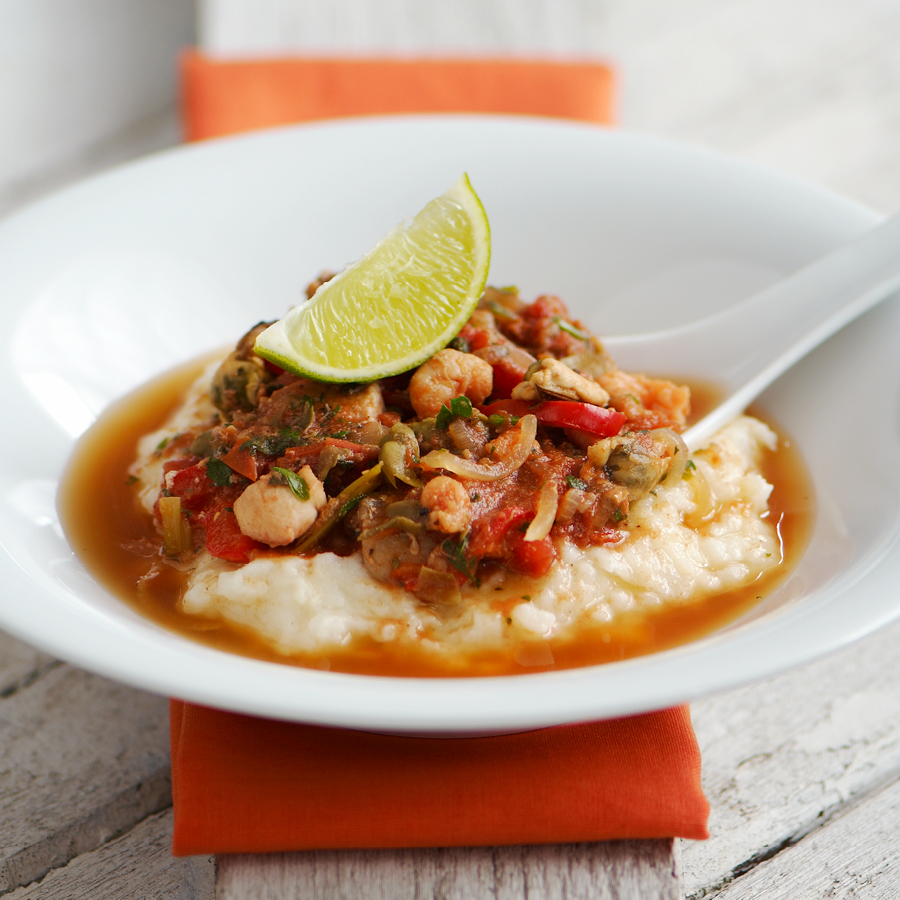 Saucy fish & seafood broth
Serves 4 - 6

1 onion, quartered and thinly sliced
3 - 4 cloves of garlic, crushed
1 red pepper, seeded and thinly sliced
6 - 8 spring onions, roughly chopped
1 red chilli, chopped
30 - 45 ml, fresh ginger, grated
2 tins chopped tomatoes
25 ml tomato paste
30 ml capers, roughly chopped
600 g seafood mix, thawed and patted dry
500 g fresh line-fish, cubed
45 ml each fresh Italian parsley and origanum, chopped
10 - 15 ml lemon juice
salt and freshly ground black pepper
lemon or lime wedges to serve
Method
Heat an AMC 30 cm Gourmet Paella or 30 cm Electric Frying Pan (probe on 6) over a medium temperature until the Visotherm reaches the first red area. Saute onion, garlic and pepper together for 3 - 5 minutes. Add spring onions, chilli and ginger. Saute for another few minutes.
Add tomatoes, paste and capers and bring to the boil. Simmer without the lid over a medium - low temperature for 10 - 12 minutes to reduce the sauce.
Add seafood and fish, mix through and cover with lid. Allow Visiotherm to reach the first red area and reduce heat slightly, gently simmer for 10 - 12 minutes, or until fish and seafood is just cooked. This should be a gentle process, so the Visiotherm should not move past the 12 o clock 'position. If the broth cooks too rapidly, the fish and seafood will be tough.
Add herbs, lemon juice and season to taste. Serve on mash, white or Basmati rice or couscous with lemon or lime wedges.
Tips & variations:
If frozen fish is used, ensure that it is completely thawed and patted dry before adding to sauce.
Substitute capers for 30 ml green olives, roughly chopped.
Share this blog post now!