Spicy red pears
16 March 2020 / Posted in
Sweets
This is an elegant dessert that's easy to make. With pears coming into season, you possibly have most of these ingredients in your kitchen already. Serve this dessert warm, cold or at room temperature with your choice of yoghurt, ice cream or cream.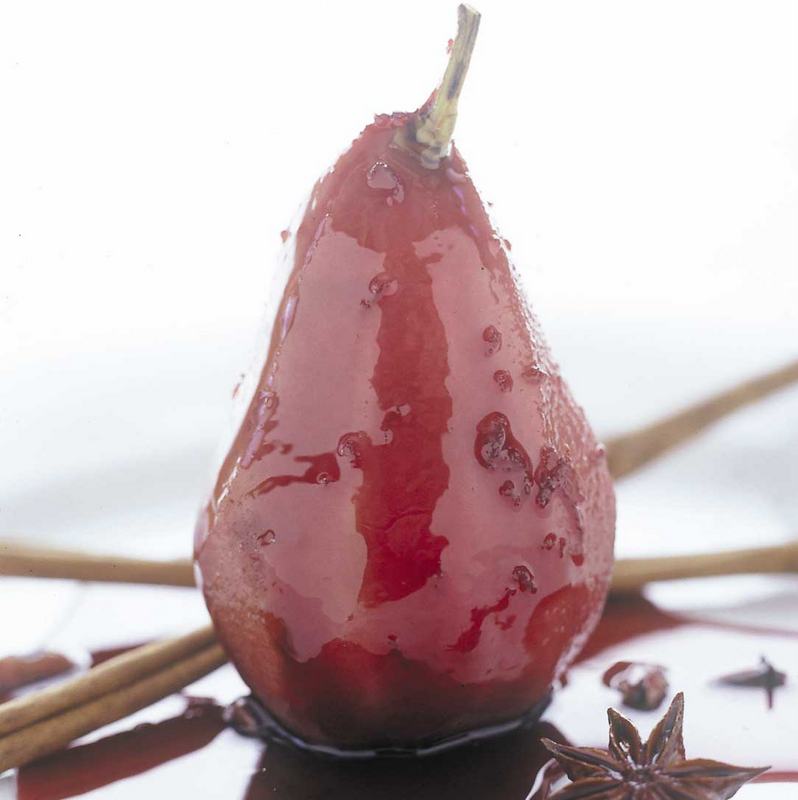 Ingredients
Serves 6

180 g (225 ml) sugar
500 ml dry red wine, apple juice or rooibos tea
200 ml water
5 whole cloves
1 cinnamon stick
4 cardamom pods, crushed
3 whole star anise
7,5 ml fresh, grated orange or lemon rind
6 small pears, almost ripe, peeled, but cores and stems intact
Method
Place sugar, wine and water in an AMC 20 cm Gourmet High and heat over a low temperature. Stir until sugar has dissolved.
Add rest of ingredients, except the pears, and bring to the boil. Place pears in sauce, reduce heat and simmer with lid for 15 - 20 minutes, or until tender. (Visiotherm should stay around 12 o'clock position.) If the pears are not covered with sauce, turn them once during cooking time.
Carefully spoon pears from sauce and set aside. Turn temperature up and allow sauce to boil without lid for 20 - 25 minutes or until a syrup forms. Spoon sauce over pears and cool.
Serve with Greek yoghurt, mascarpone cheese or cream.
Variations:
When using apple juice use only 120 g (150 ml) of sugar.
Other fruit, such as apples, peaches or apricots, can be prepared in a similar way with apple juice or rooibos tea. Or use white wine instead of red wine.
Any other combination of spices which complement fruit can be used for this dessert.
Serve pears and sauce warm with cream or ice cream.
Share this easy dessert recipe now!