Sweet flavoured butters
We all have those moments when we want something sweet. If this is a regular occurrence for you then these sweet flavoured butters are a must for your emergency stash! Use them on your next batch of crumpets, warm muffins, scones or freshly baked bread.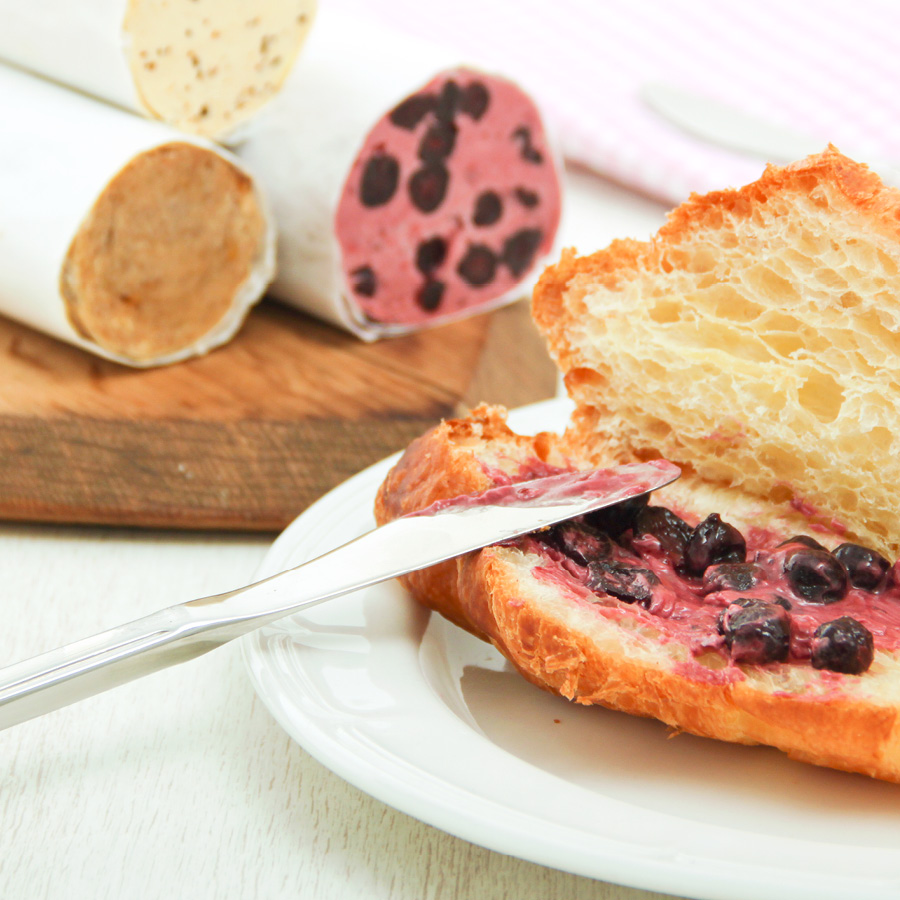 Sweet flavoured butters
Flavour options:
Blueberry butter
15 ml sugar
15 ml water
125 g blueberries
120 g butter
30ml icing sugar
Or use 200 g butter for:
Honey butter
45 ml honey
5 ml ground cinnamon
Coffee butter
15 ml castor sugar
5 ml instant coffee
Blueberry butter
Using an AMC 16 cm Gourmet High heat sugar and water over a medium temperature, stirring until the sugar has dissolved. As soon as it begins to caramalise and becomes light brown in colour, reduce to a lower temperature.
Add berries to syrup. Stir with a wooden spoon and cook for 1 - 2 minutes until berries start releasing their juices. Remove from heat and pour onto a plate, allowing to come to room temperature.
Cream butter and icing sugar, blend until well mixed. Add half of the berries and continue mixing for another 2 minutes (this is to colour the butter). Add the remaining berries and mix for a few seconds, until they burst. Spoon onto a piece of clingwrap and wrap butter to form a sausage and gently shape into an even roll. Freeze for 2 hours or overnight before slicing off butter for use.
Honey & Coffee butter:
Mix soft butter with flavour of your choice in an AMC 20 cm Dome. Spoon onto a piece of clingwrap and place on double layer of foil. Wrap butter to form a sausage and gently shape into an even roll. Freeze for 2 hours or overnight. These butters can be kept frozen for up to 6 months. Slice as needed and keep frozen.
Tips & variations:
Don't mix the berries into the butter until they are at room temperature and don't cool the berries in the fridge as you shouldn't add cold berries to the butter. This will prevent the butter from splitting. If your butter does split, place the bowl over a unit of warm water, stirring vigorously until the butter comes back together.
This butter can be stored in the fridge for 5 days and freezes well, without losing any of its colour. To freeze, wrap and roll in a sausage shape as explained in step 4.
Substitute blueberries with raspberries or strawberries. If berries are out of season, use frozen berries but defrost them first.
Share these sweet butters!