All day frittata
Frittata is a flat Italian omelette. Sautéed ingredients are added to the eggs, a paleo friendly recipe thats can easily be served for breakfast, lunch or a light supper.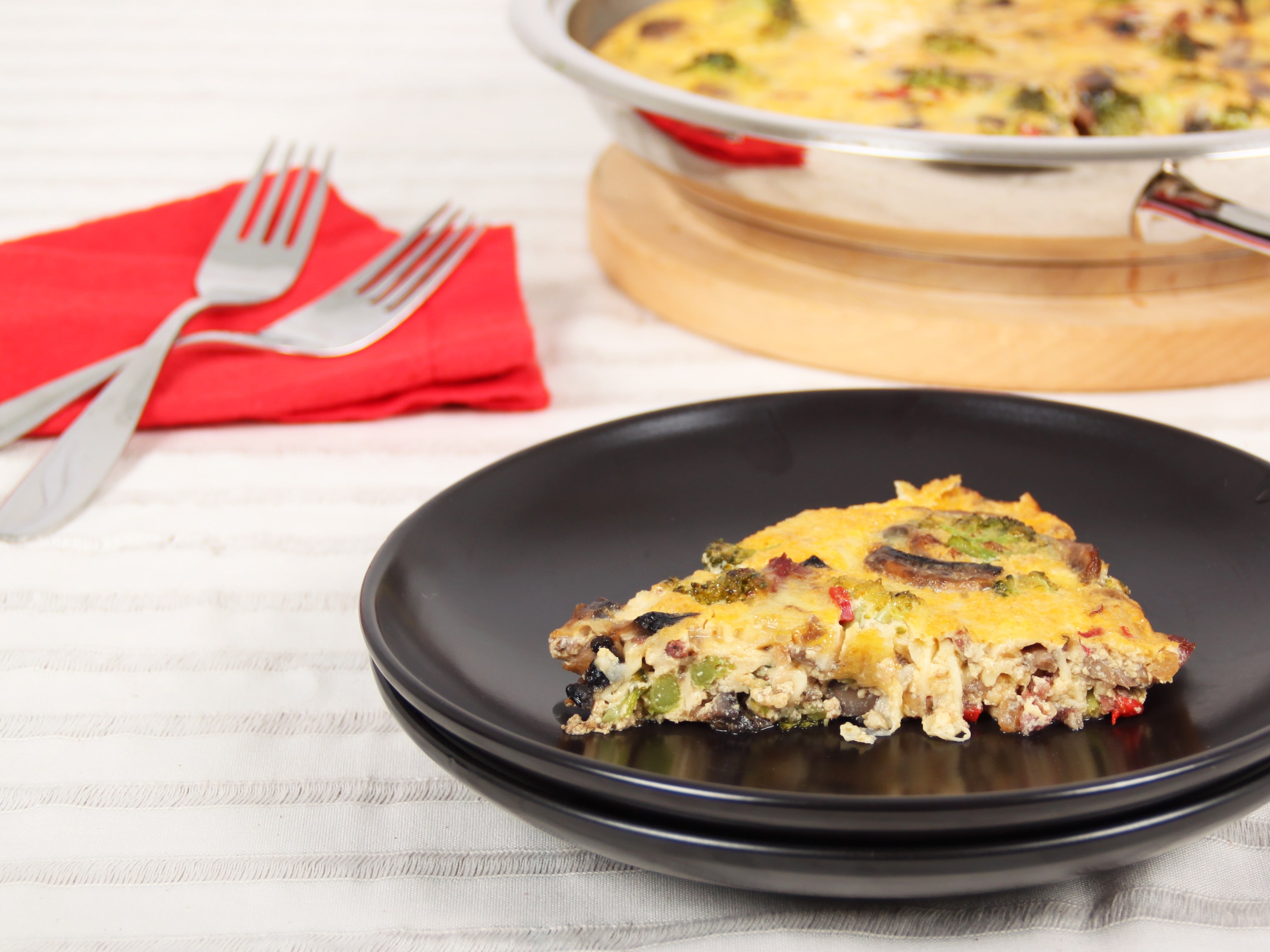 All day frittata
Serves 4 - 6

2 leeks or 1 onion, thinly sliced
1 red or green pepper, seeded and thinly sliced
250 g mushrooms, sliced
2 spicy sausages, or 6 – 8 salami slices, chopped
30 – 45 g (30 – 45 ml) butter or coconut oil
6 extra large eggs
75 g (190 ml) Mozzarella cheese, coarsely grated (optional)
salt and freshly ground black pepper to taste
Method
Heat AMC 24 cm or 28 cm Chef's Pan over a medium temperature until Visiotherm reaches first red area.
Add leeks or onion and pepper and sauté until tender. Add sausages or salami and butter or coconut oil, and allow to melt. Beat eggs together and add cheese, if using.
Pour eggs over leek mixture and stir gently. Cover with lid and reduce heat to the lowest setting. Allow eggs to set completely, this will take about 7 - 10 minutes.
Place in oven (without the lid) and grill for 5 minutes to brown the top. Remove from oven, slice and serve warm or at room temperature with a salad.
Tips & variations:
Pan-fry one small onion, chopped with 500 g thawed chicken livers until half cooked and still pink inside. Add 5-10 ml dried basil, thyme or tarragon, and lemon juice to taste and pour egg mixture over. Continue as above, but don't overcook the livers.
Substitute the sautéed ingredients with other ingredients of your choice, in the same quantities as the main recipe.
Share this all day frittata!