Baby potato and parmesan frittata
If you're short on time in the kitchen and need to prepare a meal in a hurry then this frittata is ideal. A frittata is a typical Italian dish that's similar to an omelette or crustless quiche. You can add any ingredients from meats and cheeses to veggies, or leftovers are ideal. Serve for breakfast, lunch or supper, and fill with lunchboxes with any leftovers.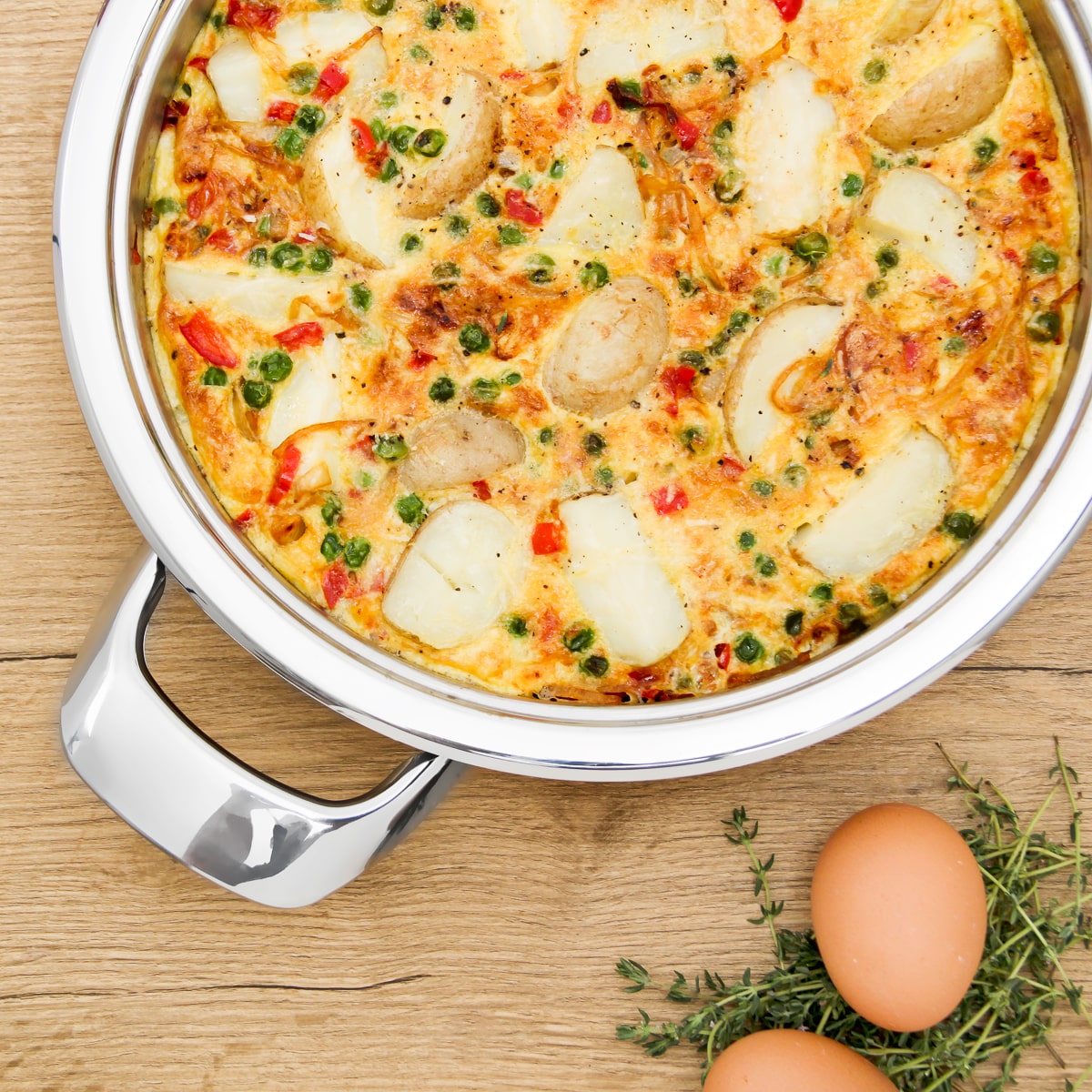 Baby potato and parmesan frittata
Serves 2 - 4
500 g baby potatoes
2 leeks or 1 onion, thinly sliced
1 red pepper, seeded and chopped
½ cup (125 ml) frozen peas, rinsed
6 extra large eggs
100 g parmesan or pecorino cheese, finely grated
30 - 45 g (30 - 45 ml) butter
salt and freshly ground black pepper to taste
Method
Place baby potatoes in an AMC 20 cm Gourmet Low or AMC 20 cm Synergy High* with 50 ml water and heat over a medium temperature until the Visiotherm reaches the first red area. Reduce heat to lowest setting and cook potatoes for 15 - 20 minutes, or until cooked through. Remove from the heat and allow to cool slightly. Once cooled, cut into chunky slices.
Preheat an AMC 24 cm Synergy Skillet* or 28 cm Chef's Pan over a medium temperature until the Thermocontrol indicator is just before the first blue line.
Sauté leeks or onion and red pepper until tender. Add the peas and heat through. Beat the eggs together, add the cheese and season to taste. Add butter to pan and allow to melt. Add the potatoes, then pour the egg and cheese mixture over.
Cover with lid and reduce heat to the lowest setting. Allow eggs to set completely, this will take about 7 - 10 minutes.
Place in oven (without the lid) and grill for 5 minutes to brown the top. Remove from oven, slice and serve warm or at room temperature with a salad.
*If using Synergy, refer to this page to see how the Thermocontrol works.
Variation:
If you don't have oven friendly AMC cookware, do the following: once set on top loosen the egg from sides and bottom with an egg lifter. Place a large plate over the unit and turn frittata over onto plate. Slide frittata back into unit so that cooked side is facing up. Fry for another 2 - 3 minutes.
Share this easy Frittata: