Bobotie
When you think of South African heritage foods what pops into your mind? For us, it always seems to be bobotie. This quick video shows you how to prepare this South African favourite – now a one-pot meal when made in our oven-friendly gourmet range.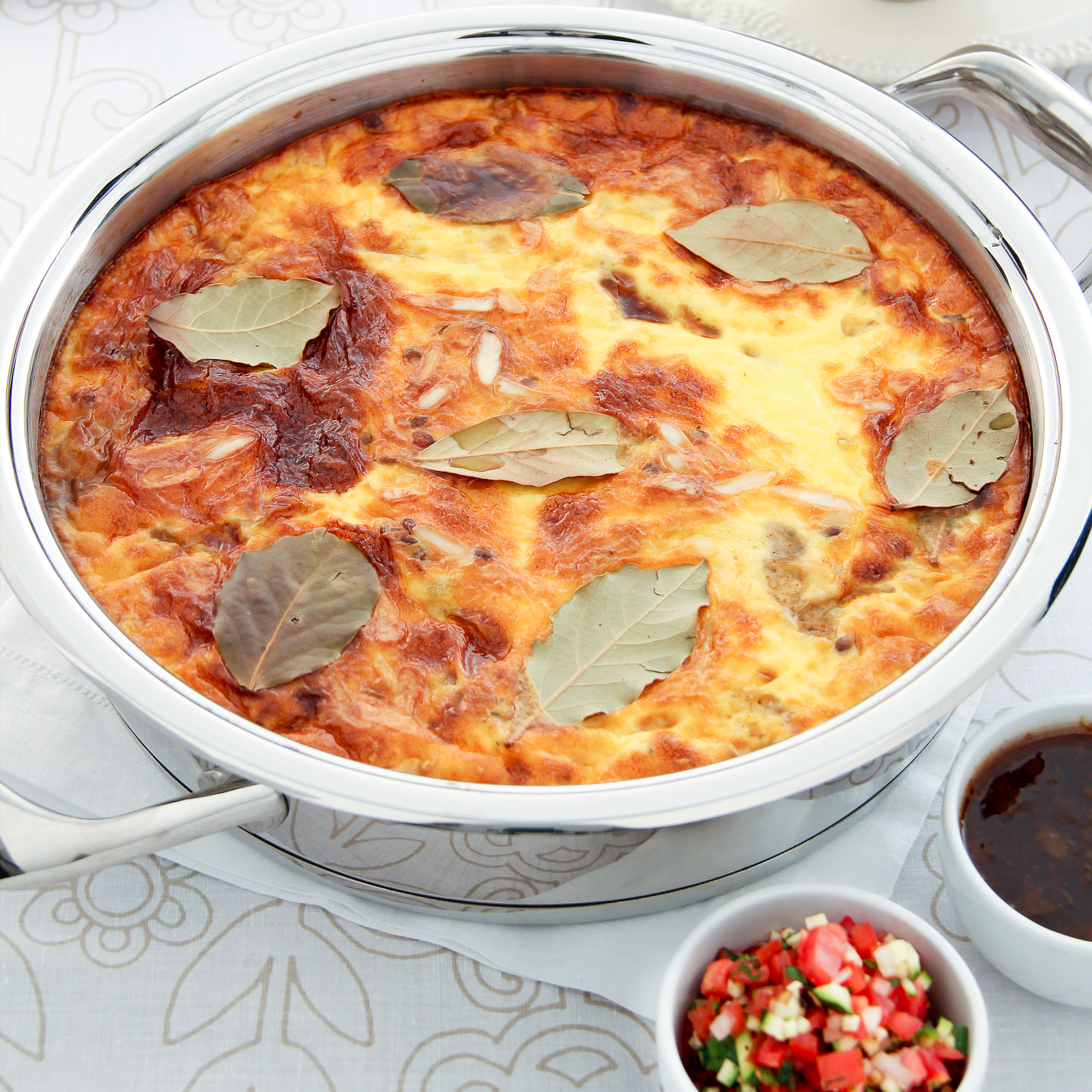 Ingredients
Adapted from The AMC Book
Serves 6

1 kg lean beef mince
2 medium onions, finely chopped
2 cloves of garlic, crushed
20 ml (4 tsp) mild curry powder
15 ml (1 tbsp) each dried mixed herbs, ground cumin and coriander
5 ml (1 tsp) each turmeric and ground ginger
125 ml (½ cup) uncooked oats
125 ml (½ cup) water
20 ml (4 tsp) apricot jam or honey
125 ml (½ cup) raisins or sultanas (optional)
40 ml (8 tsp) red wine vinegar or lemon juice
salt and freshly ground black pepper to taste
Topping
2 extra large eggs
250 ml (1 cup) buttermilk, sour cream or milk
8-10 bay or lemon leaves
50 - 75 ml flaked almonds
Method
Heat an AMC 24 cm Gourmet Roaster over a medium heat until the Visiotherm® reaches the first red area.
Add half the mince and break up with a wooden spoon while browning the meat. Spoon out, set aside and repeat with the rest of the meat.
In the same unit, sauté the onions and garlic until soft. Add the curry powder, herbs and spices and sauté for another 1-2 minutes. Add meat with the oats and water and mix well.
Stir in the jam or honey, raisins or sultanas (if used) and vinegar or lemon juice. Reduce the heat and simmer with the lid for 20 minutes. Season to taste and spread mince into an even layer in the unit.
Meanwhile, preheat the oven to 180 ˚C.
Topping: Beat the eggs and buttermilk, sour cream or milk and season to taste. Pour over the meat and put the bay or lemon leaves onto the bobotie. Sprinkle with almonds and bake 40-45 minutes or until golden brown.
Serve with a tomato and cucumber sambal and chutney.
Share this bobotie recipe!