Broccoli slaw
9 April 2015 / Posted in
Salads
Who doesn't adore coleslaw? Although over the past holiday I made it so many times that I could definitely do with a break from it until I stumbled across this recipe. Definitely not your traditional cabbage and carrot slaw! This is a simple recipe that makes loads and is perfect for your next get together. The original recipe is on Smitten Kitchen, but I've tweaked it to my tastebuds. Feel free to do the same!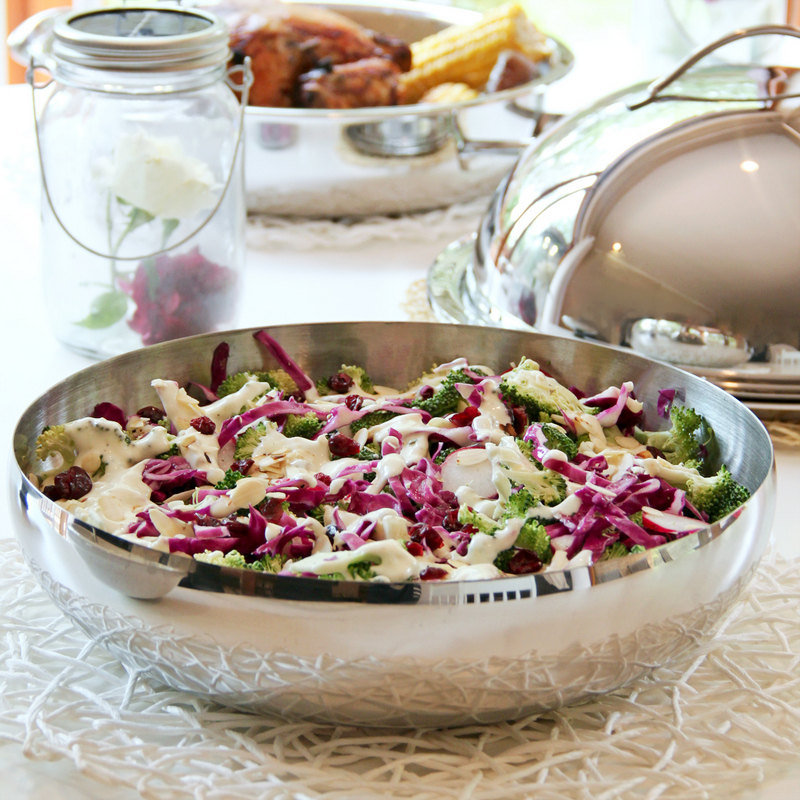 Broccoli slaw
Serves 6 - 8
100 g flaked almonds
1 head of broccoli, trimmed and cut into bite sized pieces
½ red cabbage, thinly sliced and rinsed
75 g dried cranberries
½ small red onion, finely chopped
dressing:
125 ml Greek yoghurt
80 ml mayonnaise
zest and juice of 1 lemon
5 - 10 ml honey
15 ml red onion, finely chopped
salt and freshly ground black pepper to taste
Method
Heat an AMC 24 cm Chef's Pan over a medium temperature until the Visiotherm reaches the first red area. Place almonds in unit and toast until golden brown. Remove from pan and set aside.
Combine dressing ingredients in an AMC 20 cm Dome, seasoning to taste. Set aside until needed.
Meanwhile toss broccoli, cabbage, cranberries, onion and half the toasted nuts and dressing together in an AMC 30 cm Salad Bowl. Drizzle with remaining dressing and nuts just before serving.
Tips & variations:
The broccoli can be substituted with raw cauliflower, or use half a head of each cauliflower and broccoli.
Replace yoghurt in the dressing with buttermilk.
For an easy meal add some leftover sliced chicken to the salad.
Sliced apple or pears can also be a delicious addition.