Broccoli, tomato & herb pasta
This recipe is a quick mid-week vegetarian idea, using just one pot and very little cooking time. The beauty of this dish is that you can change the pasta shape, veggies and seasonings according to your family's preference. You can also add chickpeas or beans to make it more filling or for a non-vegetarian version, stir in tuna, cooked chicken or another protein of your choice. Depending on the weather, it's delicious enjoyed hot or at room temperature as a salad on a warmer day.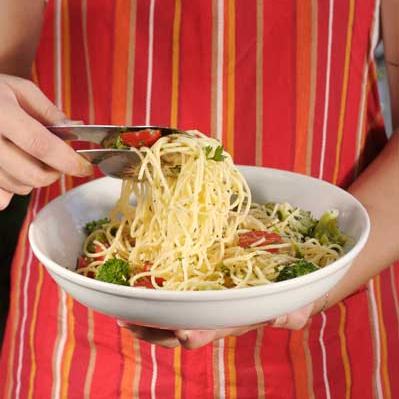 Ingredients
Serves 4 – 6

300-400 g spaghetti, penne or any pasta shape of your choice
200 g broccoli, cut into chunky florets
45 ml (3 tbsp) olive or avocado oil
150 g cherry tomatoes, halved or 15 Peppadews®, quartered
50 ml chopped fresh herbs, like basil, Italian parsley, origanum or a mixture
100 ml coarsley grated pecorino or 2 slices feta, crumbled
lemon juice, salt and black pepper to taste
Method
Add about 3 litres of water and salt to an AMC 24 cm Gourmet High. Cover with a lid and bring to the boil over a high temperature. (This is one of the only times you need to heat AMC cookware on a high temperature.)
Once the water is rapidly boiling, add the pasta and stir through to prevent it from sticking. Don't put the lid back on. Boil pasta for about 15-20 minutes or until almost cooked, but not too soft (al dente).
Add the broccoli to the boiling water just before draining the pasta and cook for a minute or two. Drain with the pasta and place back in the hot unit.
Stir in the olive or avocado oil. Add the rest of the ingredients and gently stir through. Season with lemon juice, salt and pepper and serve hot or at room temperature.
Tips
Any other green veggies like spinach, asparagus, green beans or baby marrows can be blanched with, or instead of the broccoli.
For extra flavour, add the finely grated rind and juice of 1 lemon to the warm pasta with the olive oil.
Any fresh herbs will be delicious in this dish. Try fresh thyme leaves or even dill, when available.
If your family enjoys chilli, add a chopped red chilli to the pasta with the rest of the ingredients for an extra bite.
Credit
Recipes from Heleen Meyer, AMC Brand Ambassdor, Kos is op die Tafel
Photograph: Neville Lockhart
facebook link: HeleenMeyerFood
Share this easy pasta recipe!