Butternut and lentil bobotie
We tweaked a traditional bobotie recipe and turned it into a flavourful vegetarian meal. With traditional sweet and spicy flavours combined with brown lentils and butternut, this bobotie is sure to satisfy hungy tummies. Serve with chutney, sambals and yellow rice.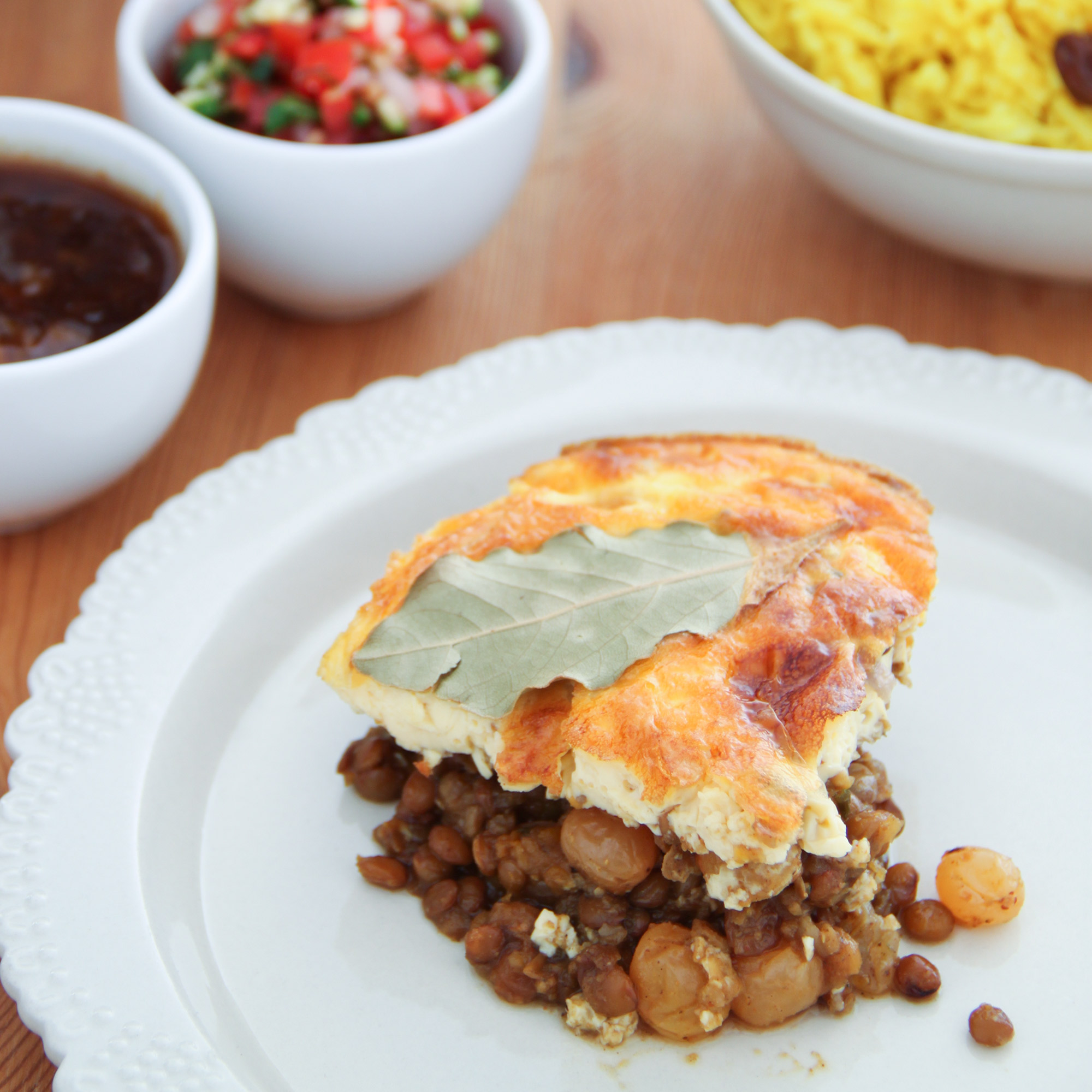 Butternut & lentil bobotie
Serves 4 - 6
2 onions, finely chopped
2 cloves of garlic, crushed
10 - 15 ml fresh ginger, grated or 5 ml ground ginger
25 ml curry powder
2 bay leaves
10 ml ground cumin
15 ml ground coriander
1 cup (250 ml) brown lentils (uncooked and not soaked)
500 - 600 ml vegetable or chicken stock
600 - 700 g butternut, peeled and cut into small cubes
20 ml smooth apricot jam
125 ml raisins or sultanas (optional)
salt and freshly ground black pepper to taste
Topping:
3 extra large eggs
300 ml milk or buttermilk
salt and freshly ground black pepper to taste
5 - 6 bay leaves
25 g slivered almonds
Method
Preheat oven to 180°C.
Heat an AMC 24 cm Gourmet Roaster over a medium temperature until the Visiotherm reaches the first red area. Brown onions for a few minutes before adding garlic, ginger and spices. Sauté for another minute or until fragrant. Add the lentils with stock to unit. Reduce heat, cover with lid and cook for 25 minutes or until lentils are almost tender.
Add butternut, jam and raisins to the lentils. Cover with lid and increase heat slightly if needed, keep a check on the Visiotherm. Cook until butternut is soft and then season to taste with salt and pepper. Smooth mixture down.
Topping: Beat together eggs and milk and season to taste. Spoon egg mixture over lentil bobotie and place bay leaves in bobotie. Bake uncovered for 10 - 15 minutes or until egg custard has set. Serve with yellow rice, chutney and sambals.
Variations & tips:
For a meat option substitute butternut and lentils for 1kg beef or lamb mince. Or alternatively cook 300 - 500 g mince with the lentils. This will bulk up the meal while still including meat.
Substitute butternut with pumpkin or sweet potatoes.
Substitute egg topping with a potato mash to make vegetarian cottage pies.
If you don't have an AMC Gourmet unit, spoon the prepared bobotie into an ovenproof bowl before baking.
Alternatively prepare in an AMC 30 cm Electric Frying Pan; the result will be more moist than if baked in the oven. Heat the probe on 6 and follow the procedure as above. Pour topping over and add bay leaves and almonds. Cover with lid, vent open, and turn probe to Simmer. Simmer for 30 - 40 minutes or until topping has set.
Share this lekker bobotie!