Butternut & sage risotto
Risotto is one of those warming foods that I love to make during winter. It's rich, creamy and oh so comforting – worth every stir that it needs to develop that risotto-like consistency. It has a reputation for being a bit of an effort to make, as it does require your attention at the stove. So when possible, I get the kids entertained in another room, pull up a chair and read a magazine while giving the risotto a top-up of stock and a stir every couple of minutes. Comfort and relaxing food!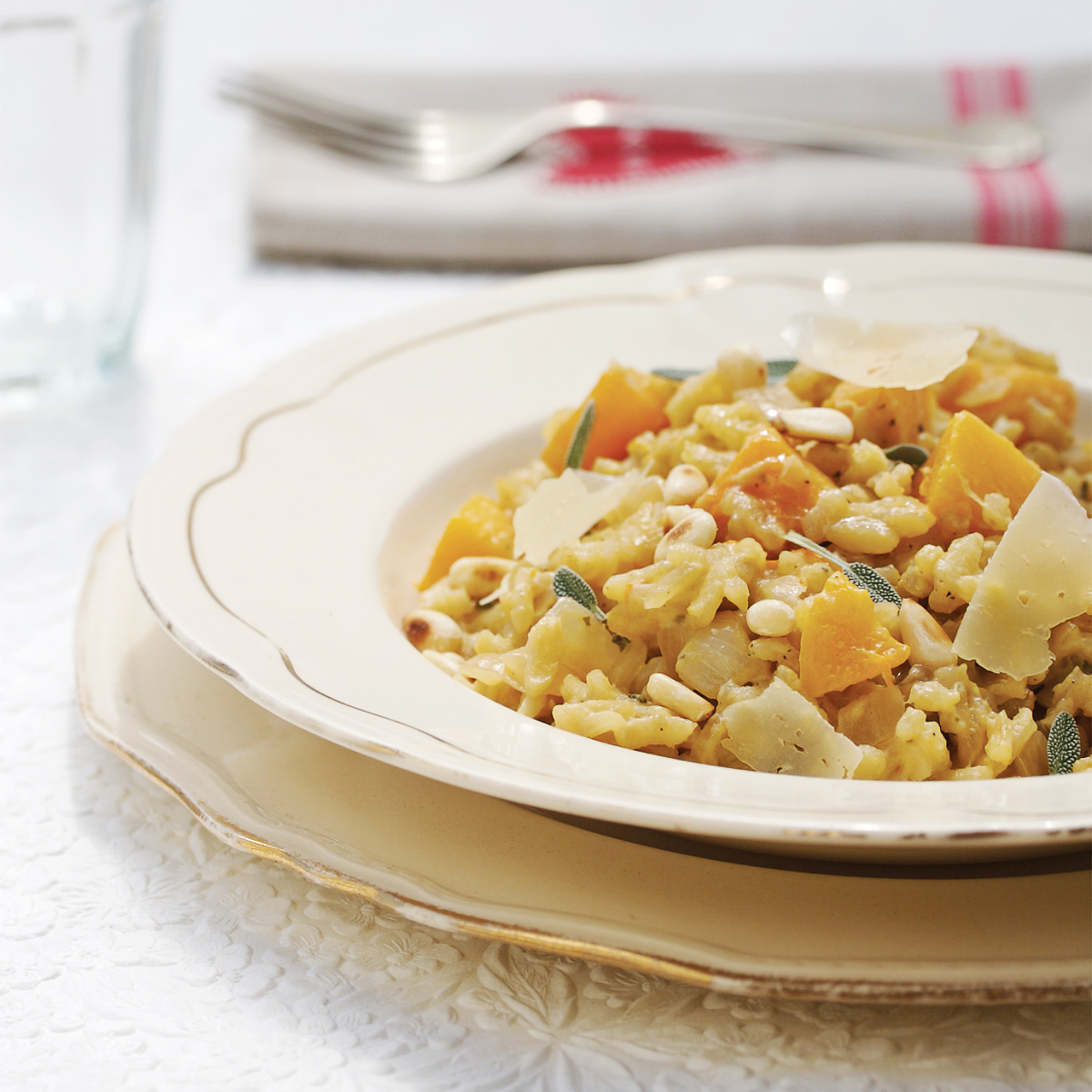 Butternut & sage risotto
Serves 4
50 g pine nuts or almond slivers
2 medium onions, finely chopped
3 cloves of garlic, crushed
300 g butternut, peeled and chopped in 1 cm cubes
1,25 - 1,5 litres chicken or vegetable stock
300 g (375 ml) arborio rice
250 ml dry white wine or use more stock
30 g (60 ml) Parmesan cheese, finely grated
125 ml cream (optional)
20 ml fresh, chopped sage
salt and freshly ground black pepper to taste
Parmesan cheese shavings and olive oil to serve
Method
Heat an AMC 24 cm Roaster over a medium temperature until the Visiotherm reaches the first red area. Toast pine nuts or almonds in unit until lightly brown, spoon out and set aside.
Sauté onions and garlic in Roaster and then add butternut, sautéing for a few more minutes.
Meanwhile keep stock just below boiling point, over a low heat, in an AMC 20 cm High.
Add rice to onion mixture and sauté for 2 - 3 minutes before adding the wine or extra 250 ml stock. Stir and allow rice to absorb all the liquid.
To cook the rice further, add two soup ladles of warm stock at a time, stir and allow rice to absorb liquid before adding more. Keep unit over a medium temperature. The rice should be cooked in about 25 - 30 minutes. Stir gently but not too much as the rice can become stodgy.
Add stock until rice is cooked through then turn heat off. Add cheese, cream, sage and nuts and season to taste. Mix through and serve immediately with Parmesan cheese shavings, drizzled with olive oil and seasoned with black pepper.
Variations:
Substitute butternut with, or add mushrooms, peas or peppers. Other ingredients such as fried bacon, chorizo sausages, cooked chicken or seafood with dill can be used to flavour the risotto. Season with herbs, spices, and lemon juice to taste.
Substitute sage with fresh thyme.
Saffron is often used as one of the iingredients to flavour a risotto. Soak the saffron in a little water to extract the colour and flavour and add with stock to rice. Peas are often added to this version right at the end of the cooking process. Serve saffron risotto as above with the Parmesan, olive oil and pepper.
Cookware that we used in this recipe: