Chicken & parmesan soup
1 August 2016 / Posted in
Soups
If you need to make enough soup to feed a small army, this soup its perfect for you. The AMC 24 cm Gourmet Gigant has a capacity of 9 litres, and it's only when you start cooking that you realise how much that actually is! Adding Parmesan cheese to the soup also gives it a depth of flavour – a warming and hearty soup! And if you don't have a large enough soup pot, enter our competition to win your very own 24 cm Gourmet Gigant here!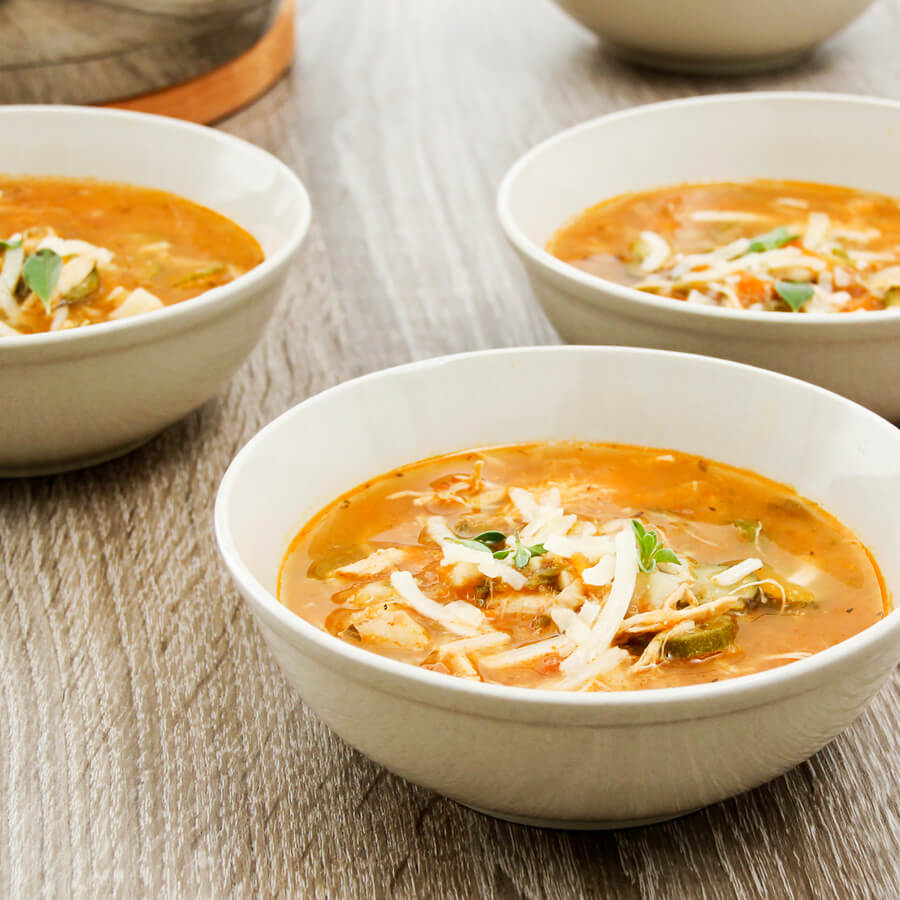 Chicken & parmesan soup
Serves 15 - 20
3 large onions, chopped
3 - 4 cloves of garlic, crushed
6 - 8 carrots peeled and grated
4 celery stalks with leaves, sliced
2 - 3 sweet potatoes, peeled and grated
20 ml fresh basil, chopped or 7.5 ml dried basil
15 ml fresh origanum, chopped or 5 ml dried origanum
1 - 2 small chillies, chopped
2 tins chopped tomatoes
3.5 - 4 litres of chicken or vegetable stock
3 - 4 chicken breasts, skin removed
8 baby marrows, sliced
10 ml fresh lemon juice
200 ml parmesan cheese, and extra to serve
salt and freshly ground black pepper to taste
Method
Heat an AMC 24 cm Gourmet Gigant over a medium temperature until the Visiotherm reaches the first red area. Add onions and sauté for a few minutes before adding garlic and vegetables, herbs and chilli. Don't add the baby marrows at this stage.
Sauté vegetables until tender before adding tomatoes, stock and chicken portions. Cover with lid and bring to a boil, then reduce heat to the lowest setting. Simmer for 30 - 35 minutes or until chicken and vegetables are cooked.
Transfer chicken from cookware to cutting board and coarsely shred. Using a stick blender quickly blitz the soup to a consistency that you prefer. Return chicken to cookware with baby marrows. Leave to simmer for 5 minutes until marrows are tender. Stir through parmesan cheese and season. Serve with an extra sprinkle of cheese and herbs.
Tips & variations:
If you're cooking for kids, perhaps omit the chillies. You can also add 150 ml orzo or small pasta shapes in step 3.
Use any vegetables of your choice in the soup, e.g. replace baby marrows with green beans or small broccoli florets.
Substitute chicken breasts with fillets – thinly slice the fillets and add in step 3.
Share this chicken and parmesan soup!