Chicken Pilaff
Pilaff is a wonderful one dish meal where rice and other ingredients, often including meat, are simmered together until cooked. This delicious meal is perfect to cook with ease and share with friends. And the 30cm Electric Frying Pan is a great pan for this type of cooking due to the large base, even heat distribution and excellent temperature control.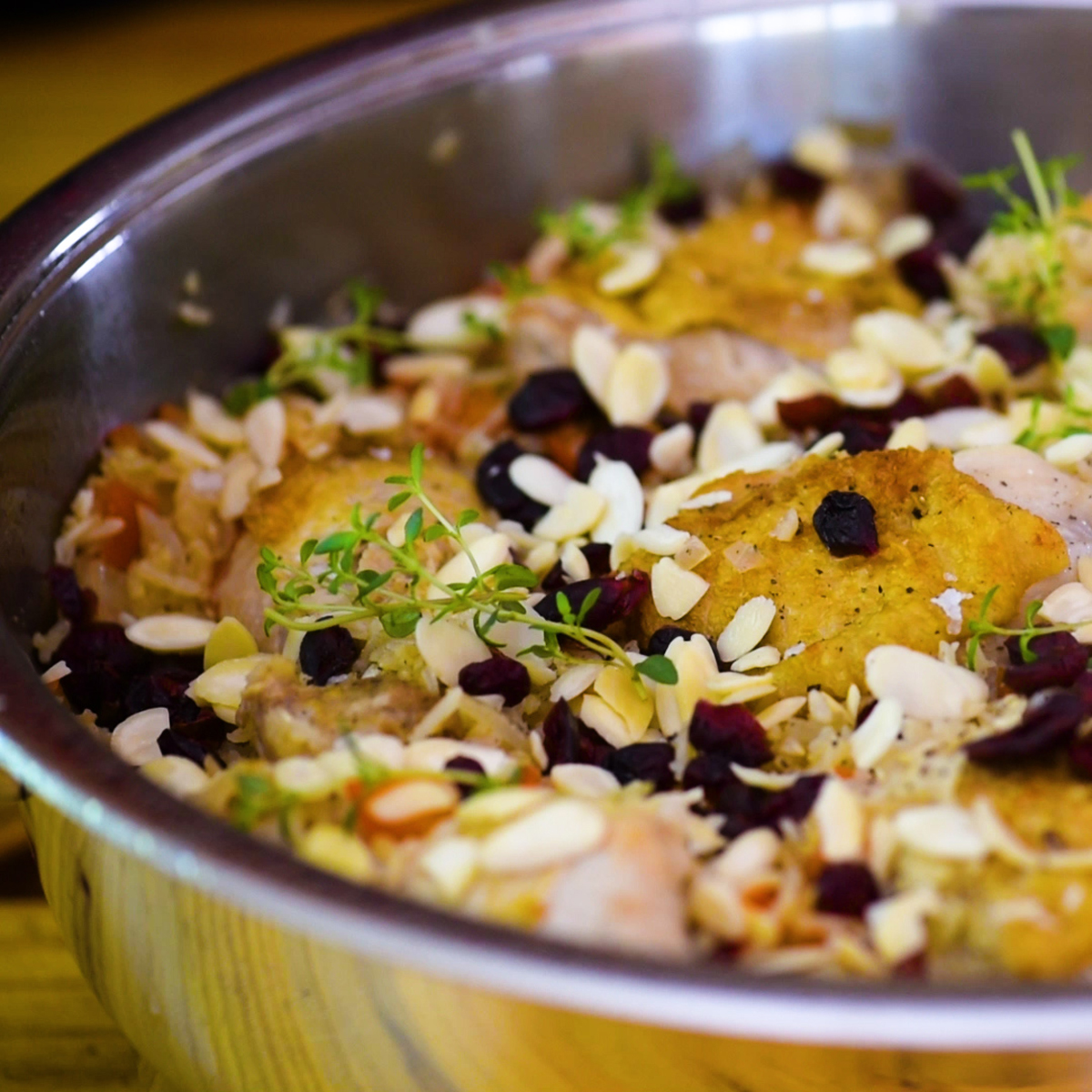 Chicken Pilaff
Serves 6 – 8
4 - 5 each chicken thighs and drumsticks, with skin on
2 medium onions, chopped
2 red peppers, seeded and chopped
15 ml (1 tbsp) grated fresh ginger
2 cloves of garlic, crushed
30 ml (2 tbsp) soft brown sugar
30 ml (2 tbsp) white wine vinegar
500 ml (400 g) uncooked brown basmati rice
750 ml (3 cups) chicken stock
salt and freshly ground black pepper to taste
125 ml (75 g) dried cranberries or sultanas
80 ml (⅓ cup) flaked almonds
fresh thyme sprigs
Method
Heat an AMC 30 cm Electric Frying Pan, with the probe on 6 (medium temperature), until the Visiotherm® reaches the first red area.
Brown chicken pieces, skin side first, until golden brown. Turn over and brown on the other side. Remove from the pan and set aside.
Sauté onions in pan for a few minutes. Add the peppers and sauté until soft. Stir in the ginger and garlic. Add sugar and vinegar and mix.
Add rice and fry for a few minutes. Stir in stock and return chicken pieces to the pan.
Bring mixture to a gentle simmer, then cover with the lid. (Close the vent on the Electric Frying Pan lid.)
Allow the Visiotherm® to reach first red area again and turn temperature down to the Simmer setting on the probe. Simmer for 30 - 40 minutes or until the chicken and rice is just cooked and all the liquid has been absorbed. The Visiotherm® should stay around 1 - 2 o'clock position.
Season to taste. Sprinkle with cranberries, almonds and fresh thyme and serve with a green salad.
Share this pilaff recipe: