Crunchy chicken noodle salad
29 August 2017 / Posted in
Salads
If the idea of summer on a plate appeals to you, then this is your salad! Adapted from the online South African magazine Crush, this is such an easy salad with great flavour, and the toasted noodles and seeds add a delicous crunch. Serve for lunch or a light supper.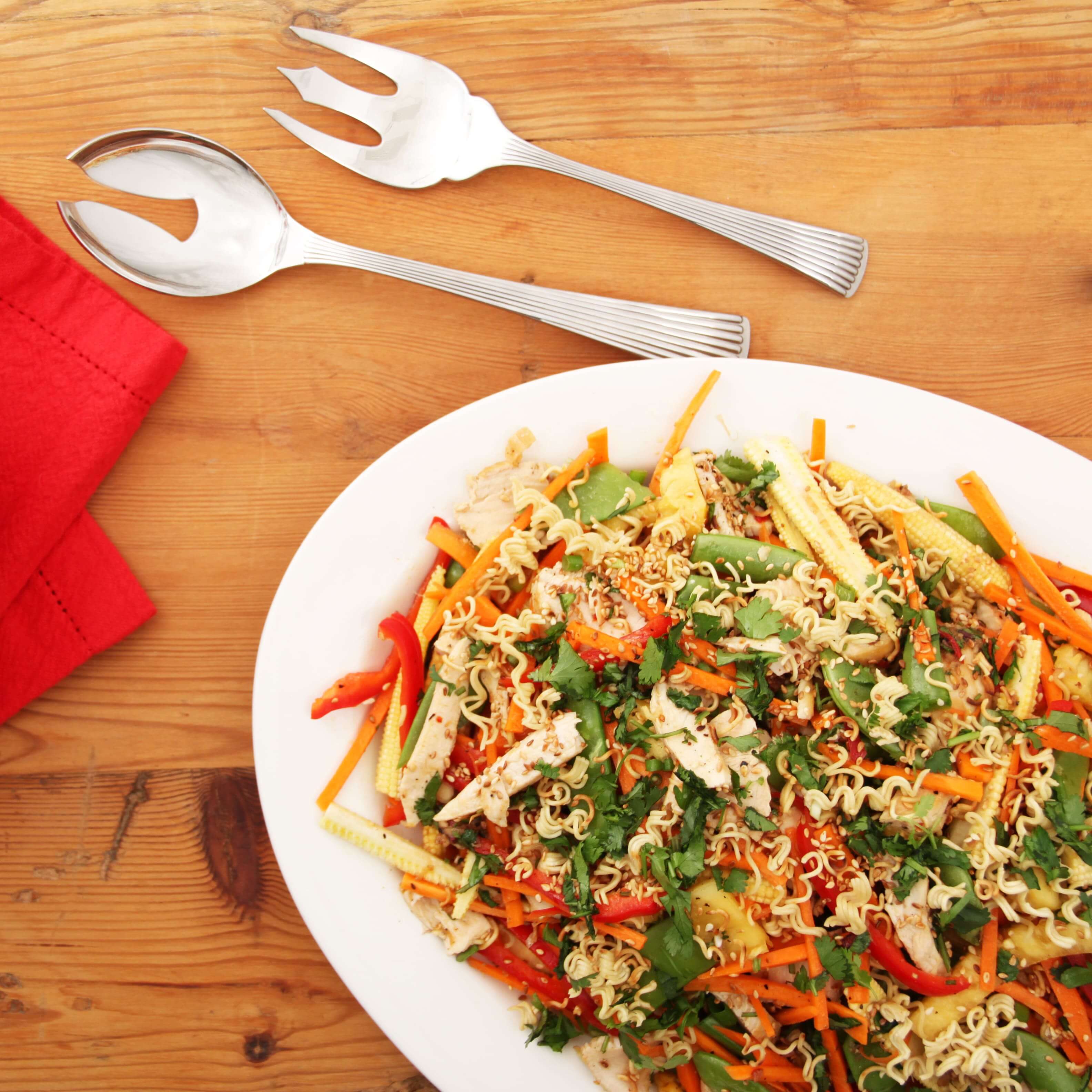 Crunchy chicken noodle salad
Serves 4 - 6

1 packet 2 minute noodles, broken into pieces
40 ml sesame seeds
10 ml oil for frying
2 - 3 chicken breast fillets
1 small pineapple, peeled and thinly sliced
3 large carrots, peeled and thinly sliced
1 red pepper, quartered and thinly sliced
6 spring onions, thinly sliced
125 g mange tout, sliced in half
125 g baby corn, sliced lengthwise
Dressing
45 ml olive oil
45 ml soya sauce
30 ml honey
1 - 2 chilli, chopped
2 cloves of garlic, crushed
10 ml ginger, freshly grated
20 ml fresh lemon juice
15 ml fresh coriander, roughly chopped
freshly ground black pepper, to taste
Method
Heat an AMC 24 or 28 cm Chef's Pan over a medium temperature until the Visiotherm reaches the first red area. Toast noodles until golden then spoon out. Toast sesame seeds till golden brown then spoon out and leave to cool with the noodles.
In the same unit add oil and chicken breasts and fry until golden brown on both sides. Reduce heat, cover with lid and cook for 5 - 7 minutes. Once cooked, remove from heat, leave to cool and cut into cubes.
Meanwhile combine all the dressing ingredients together and season to taste.
Just before serving, combine sliced chicken with all the vegetables, noodles and sesame seeds. Drizzle with dressing and serve.
Tips:
Don't add the dressing to the salad too far in advance as the noodles will become soft.
Substitite mange tout with sugar snap peas or green beans, and substitute pineapple with mango.
Share this crunchy chicken noodle salad!