Features of AMC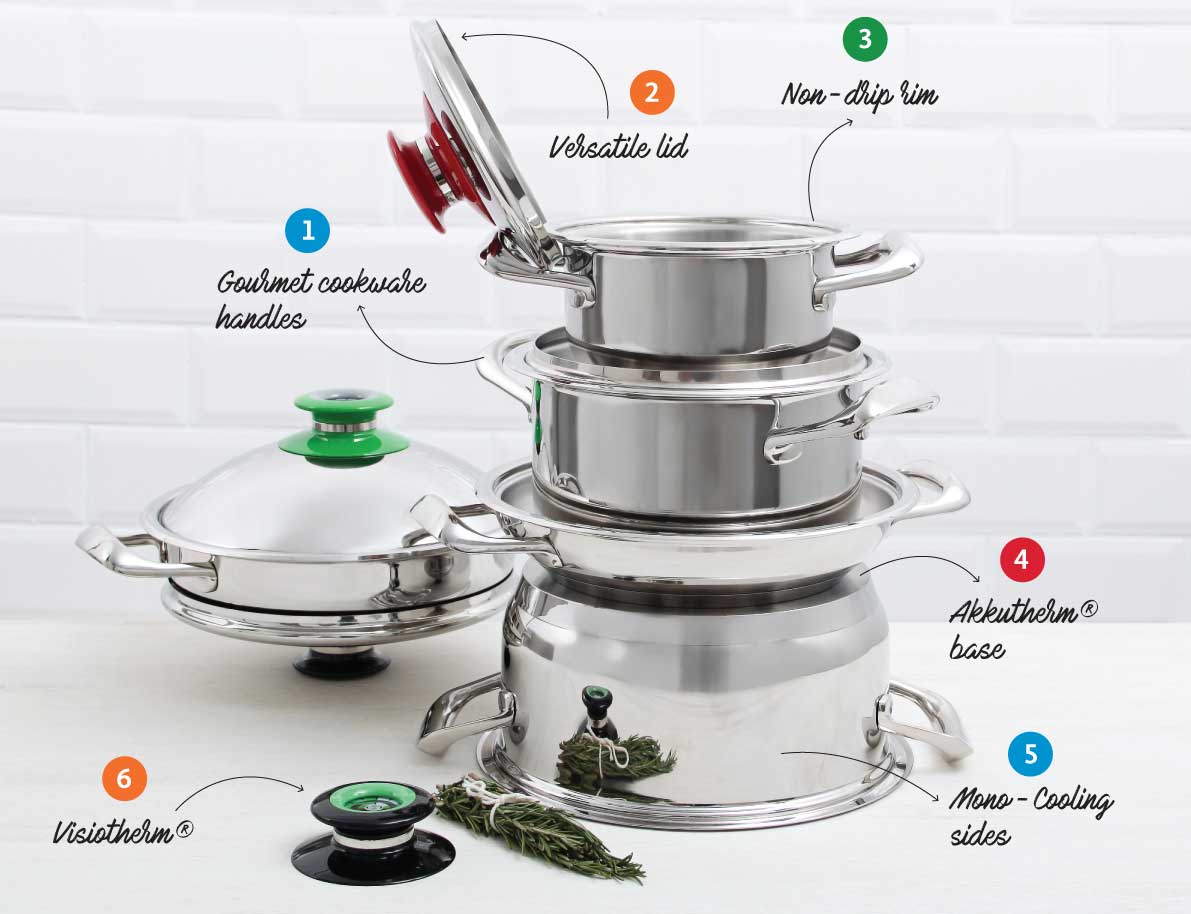 AMC cookware is manufactured from the highest quality 18/10 stainless steel. Our cookware has a variety of features that make cooking effortless.
Gourmet Cookware Handles - Ergonomically designed handles give a good grip and do not overheat when cooking, allowing for easy handling and carrying. This cookware can also be used in the oven for finishing off a meal or grilling. Use oven gloves when removing from the oven.
A versatile lid makes cooking a pleasure - A perfect-fit, weighted lid creates a water tight seal during the cooking process. The lid also has a non-drip design capturing moisture that has collected on its inside surface, keeping kitchen counters clean. The lid fits conveniently between the handle and rim for safe placement while adding ingredients to your meal or stirring. And finally when reversed (lid knob facing down), the lid becomes a stable serving base for your meal.
Non-drip rim - AMC cookware features a narrow design rim that is impact-resistant and designed to pour liquids without dripping. On the inside edge of the rim is a groove that forms a water seal with the lid to ensure that no steam escapes.
Even heat distribution and retention - The AMC Akkutherm® base ensures perfect heat distribution and retention, eliminating "hot-spots"and the need for a hotplate when serving. With the release of new generation cookware in 2009, AMC is also suitable for induction stoves.
Mono-cooling sides assist in the cooking process - The sides of AMC units are a single layer of stainless steel that play a key role during the cooking process as "cooling zones", keeping the cooking temperature just below boiling point and allowing food to cook gently.
Cook smart at the right temperature - The AMC lid knob has a built-in thermometer called the Visiotherm®, which is fundamental in cooking the AMC way. Using the Visiotherm® correctly enables a gentle cooking process that requires less water, fats and oil. The lid knob includes a finger guard design, protecting fingers against a hot lid.