French toast
Although mostly served as a breakfast, French toast can be served as both a sweet and savoury option. This easy recipe is a great light meal or snack. Did you know some alternative names for French toast are eggy bread, Bombay toast, German toast and even gypsy toast. Eat your next batch of French toast with a drizzle of honey or dress it up and turn it into a decadent dessert.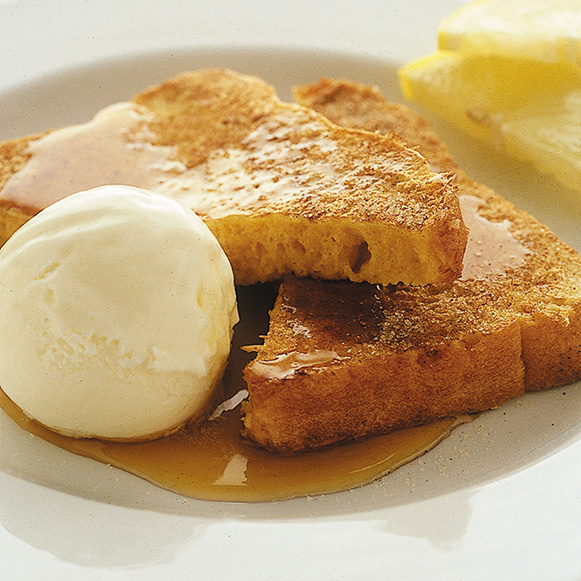 French toast
Serves 6

4 - 5 extra large eggs
15 ml water per egg
pinch of salt
6 thick slices of bread, cut into triangles

Topping:
100 ml honey, golden or maple syrup
75 ml cinnamon sugar
6 - 8 slices of lemon
vanilla ice cream
Method
Beat eggs, water and salt together in an AMC 20 cm Dome.
Heat an AMC 24 cm or 28 cm Chef's Pan over a medium temperature until the Visiotherm reaches the first red area. Lightly grease with oil.
Dip 2 - 3 triangles of bread into egg mixture and fry on both sides until golden brown and egg is cooked. Drain on paper toweling and keep warm. Repeat with remaining bread.
Serve as a dessert with syrup, cinnamon sugar, lemon and ice cream or with savoury toppings.
Variations:
Savoury French toast: Serve with your favourite sandwich spread and cheese.
Serve 250 g streaky bacon, fried until crisp, with syrup or slices of tomato and grated cheese.
Top with slices of banana, dollops of melted chocolate and some toasted coconut.
Share this blog post now!