Low GI fish cakes
If you've forgotten to take meat out of the freezer for your evening meal or have run out of time to get to the shops, don't panic, make fish cakes. These fish cakes are a breeze to make and you probably have all the ingredients in your kitchen already. We've adapted the recipe from Eating for sustained energy 1. The added oats give a lovely texture, help bind the mixture and are also healthier than a more refined grain alternative. Fry up and serve with vegetables of your choice.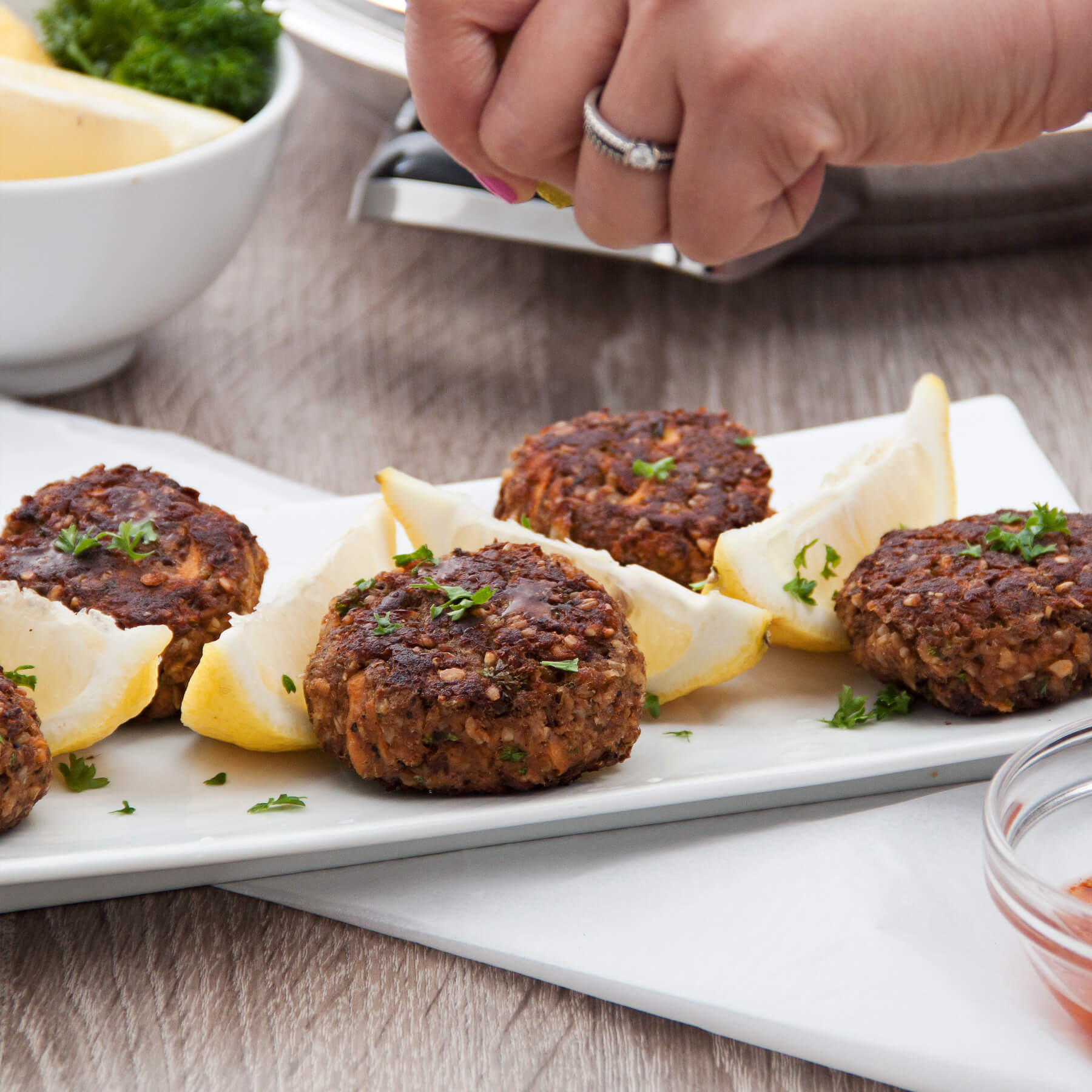 Low GI fish cakes
Makes 10 - 12 fish cakes
410 g (1 tin) pilchards or salmon in tomato sauce
15 ml sauce from canned fish
1 onion, finely grated
1 clove of garlic, crushed
1 carrot, finely grated
5 ml lemon zest
15 ml lemon juice
20 ml fresh, chopped parsley or 5 ml dried parsley
5 ml ground coriander
freshly ground black pepper to taste
250 ml (1 cup) oats
1 egg, beaten
salt and freshly ground black pepper to taste
15 ml oil for frying
Method:
Remove fish from sauce and flake. Place all ingredients, except oil, in an AMC 24 cm Dome. Mix well and season to taste before shaping into patties.
Meanwhile heat an AMC 24 cm Gourmet Dome Fry Pan or 28 cm Chef's Pan over a medium temperature until the Visiotherm reaches the first red area.
Add oil and fry patties on both sides until golden brown, then spoon out. Serve with baby potatoes sprinkled with parsley or a side salad and lemon wedges.
Tips:
Turn these fish cakes into fish burger patties on wholewheat rolls. Top with fresh salad ingredients.
Don't be tempted to add much more of the tomato sauce to the fish cakes. This will result in a much softer mixture that can be difficult to shape and fry.
Preferably use a good quality tin of pilchards or salmon for this meal. Or whatever is in your cupboard at the time!
Pilchards are an excellent source of omega 3, an essential fatty acid.
Share these tasty fish cakes!